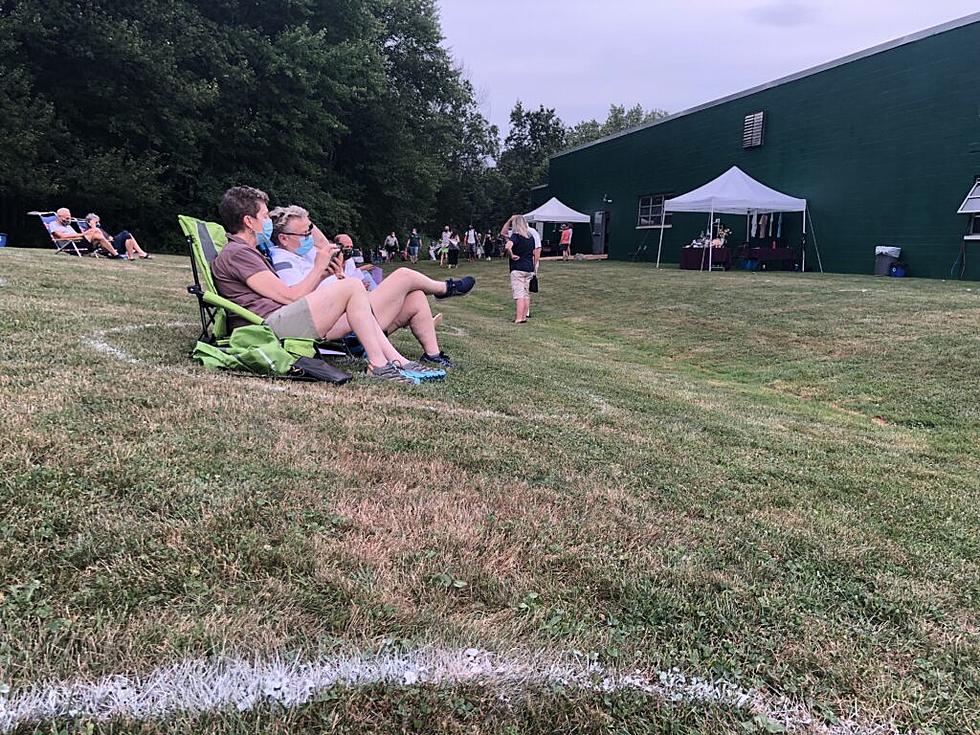 Pods and distance: Shakespeare Theatre opens up
Audience members sit in pre-reserved, widely separated
"pods" painted on the ground. GWEN OREL/STAFF
"Crazy Love!"
Thursday, Aug. 6, 7 p.m.: "Verily, Madly Thine"
Saturday, Aug. 8, 7 p.m.: "Aria da Capo/The Love Doctor"
Sunday, Aug. 9, 4:30 p.m.: "Verily, Madly Thine"
Sunday, Aug. 9, 7 p.m.: "Aria da Capo/The Love Doctor"
The great lawn of STNJ's Thomas H. Kean Theatre Factory
3 Vreeland Road, Florham Park
ShakespeareNj.org
boxoffice@ShakespeareNJ.org, 973-408-5600
By GWEN OREL
orel@montclairlocal.news
I was not entirely kidding when I posted to Facebook last week that I was going to the theater that night, and hoped I would not die.
Like many people, I have been very cautious since the lockdown began.
Groceries are delivered. I wash my hands when I bring the garbage cans out. I have rarely gone anywhere (though last week I ventured out to the bakery, and saw a friend). I'm a little frightened of the mail.
But when the Shakespeare Theatre of New Jersey announced it was going to be presenting outdoor theater over the course of two weekends, it was big news — and their plans seemed sound.
They are presenting alternating paired one-acts and a compilation of Shakespeare scenes, under the umbrella title "Crazy Love!"
The company's non-equity performers, the Shrewd Mechanicals, play in both.
Audience members would be seated in individual eight-foot-diameter "pods" in self-created parties of no more than five. Each of the pods would be six feet from the next. All staff, audience and volunteers would wear masks, except when eating.
There are 35 pods, so the capacity could be as high as 175, but, marketing manager Joe Guerin told me, most pods were reserved for smaller parties. And this was true the night I went; most pods held two or three.
The Madison-based company is one of the first in New Jersey to venture to produce theater this summer, and their situation might be a tricky one to replicate: The non-Equity company of eight has been isolated in company housing since the pandemic began.
(As of this writing, the actors union, Actors Equity Association, has granted permission to just two theaters to hold performances. Both theaters are in Massachusetts: Barrington Stage Company and Berkshire Theatre Group. Barrington Stage is presenting a one-man show inside, with strictly limited and distanced seating, while Berkshire Theatre Group is presenting an outdoor run of the musical "Godspell." No New Jersey professional companies have been cleared for performance yet. AEA has listed testing guidelines for producers on its website.)
The Madison company had been scheduled to tour "Shakespeare Live!" to schools in the spring, but the tours were canceled. Artistic Director Bonnie J. Monte allowed the actors to stay in company housing, and they were provided with opportunities to work at the Theatre Factory (the offices of the company) to help support themselves, in addition to being given a stipend for food.
The production would take place not in Shakespeare Theatre's Greek Theater on the grounds of the College of St. Elizabeth in Convent Station, but in the backyard of its offices in Florham Park, known as the Thomas H. Kean Theatre Factory.
The shows themselves are also short, minimizing the time any audience member might be exposed to anything.
They alternate between a pair of one-acts consisting of "The Love Doctor" by Molière and "Aria da Capo" by Edna St. Vincent Millay, and a compilation of Shakespeare's love scenes titled "Verily, Madly, Thine."
Performances continue through Sunday, Aug. 9.
I WILL SURVIVE
…and so will you, apologies to Gloria Gaynor. I felt safer bringing my chair and setting myself up at STNJ than I have walking down a town street.
You are asked to bring a low-backed chair, rather than a regular lawn chair, for good reason: The hill behind STNJ offices is very low. I'm pleased to report that everyone in the pods had either a low-backed chair or a blanket.
As you leave the parking lot, masked staff direct you to the line, which is marked with white Xs so that people maintain social distance as they enter.
The ticket you pick up is actually your program, which is marked with the number of your pod.
You are then shown to your pod, where you set yourself up. It is very like being shown to your table at a restaurant.
At no point are you really interacting with anyone you did not come with, except for laughing and clapping with them during the show.
The evening I went to (the one-acts) had no intermission, so there was no question of being too close to anyone as they went to buy concessions or gifts — but there were Xs painted on the grass to form lines by those two stands as well.
Some people in the audience did not put their masks back on after picnicking, and were not directed to do so by ushers, but that may have changed (it was the first night) and, in any case, the pods were far apart.
The heat was more of an issue than COVID-19 fears — and the heat was not so bad. Do bring bug spray.
THE PLAYS
Was it worth it? Yes, absolutely. It was a joy to be outside of my own home and hear live laughter around me. Zoom performances just are not the same. Being in an audience is not something that works virtually, when the sounds of the rest of the audience are muted.
While it is a joy just to be outside and in an audience, it is an added joy to be able to say that the plays I saw are worth it (and while I will not be attending the Shakespeare love scenes, since that is so firmly in the wheelhouse of the company, it is a pretty safe bet that they will be fun).
Of the two plays, for me the Molière was stronger: Like every Molière play, it is based on the idea of young lovers trying to outwit a controlling parental figure. 
In this case, young Lucinda has fallen for Clitandre, but her father, Sganarelle, wants her never to marry. She feigns illness, Clitandre pretends to be a doctor, and voila. As always, there is a clever servant arranging things. 
_______________________________________________________________________
READ: 'LONG LOST PLAY' AT SHAKESPEARE THEATRE IS SMART AND SILLY
READ: MAGICAL, AFFECTING 'RAINMAKER' AT STNJ
_______________________________________________________________________
The company plays in high comedic style, with lovely clear touches from Monte's direction. As the controlling father, Sganarelle, Jeffrey Marc Alkins shows dignity with a soupcon of tyranny and a good dash of loving blindness. Billie Wyatt's sighing Lucinda is a scream, sweetly making eyes at Isaac Hickox-Young's handsome Clitandre and showing resourcefulness while portraying innocence. Skye Pagon, as saucy Lisette, the clever servant, gets the last word, and the best laugh: She is an actress to watch.
"Aria da Capo" is rather less successful. Monte describes the verse play as a "masterpiece" in her program notes, but while it was hailed as one in 1919, it has not really held up. The poet wrote it when she was just a few years out of college, and it has the faults of its time and her youth: The anti-war fable is overly symbolic, even pretentious. 
But it is also pretty and not too long. Its faults are not Monte's, though her directing it in the high style of declamation in which it is written (it is written in verse) does it no favors.  
It takes its title from a musical form of the 17th century, in which a composition is divided into three sections: The second contrasts the first, and the third repeats the first.
Here the first part is a kind of harlequinade, a comedy based on commedia dell'arte. Moliere's plays are also based on Ccmmedia, the 16th- to 18th-century Italian style of comedy that relies on well-known character types; this may be why Monte paired the two.
Columbine (Ellie Gossage) and Pierrot (Christian Frost) sit at a banquet table and bicker, existentially:
"Is it Tuesday, Columbine? I'll kiss you if it's Tuesday."
They are interrupted by Cothurnus (Jeffrey Marc Alkins, serious and fierce) who insists on staging a scene about two shepherds, Thyrsis (Dino Curia) and Corydon (Isaac Hickox-Young) who play a game that there is a wall between them. Yes, the actors talk about acting the play; a metatheatrical device that was fresh at the time.
Now that you have heard the word "wall," no doubt you know where this is going: a parable about how walls create war and enmity. 
Watching the shepherds become greedy and distrustful is too predictable to be deeply affecting, although the meta-theater Millay uses when the actors seem to forget lines that keep the feud going is an interesting technique.
Three "zanies" change the set around.
Having the actors discuss the plays as they go, and Pierrot and Columbine's circular talk, invokes high modernism, and even Beckett's little tramps (which it long predates).
It's not really enough to keep your interest — but my goodness the stage pictures are beautiful, as are the costumes (Monte designed the costumes, set and sound).
An image of Pierrot and Columbine sitting on a crescent moon, while the shepherds continue their play, is particularly striking.
They worry about going back to their comedy they had been playing, with dead shepherds under the table, but Cothurnus tells them just to bring the tablecloth down and keep going.
And when he says "Play the farce, the audience will forget," the message feels all too fresh.