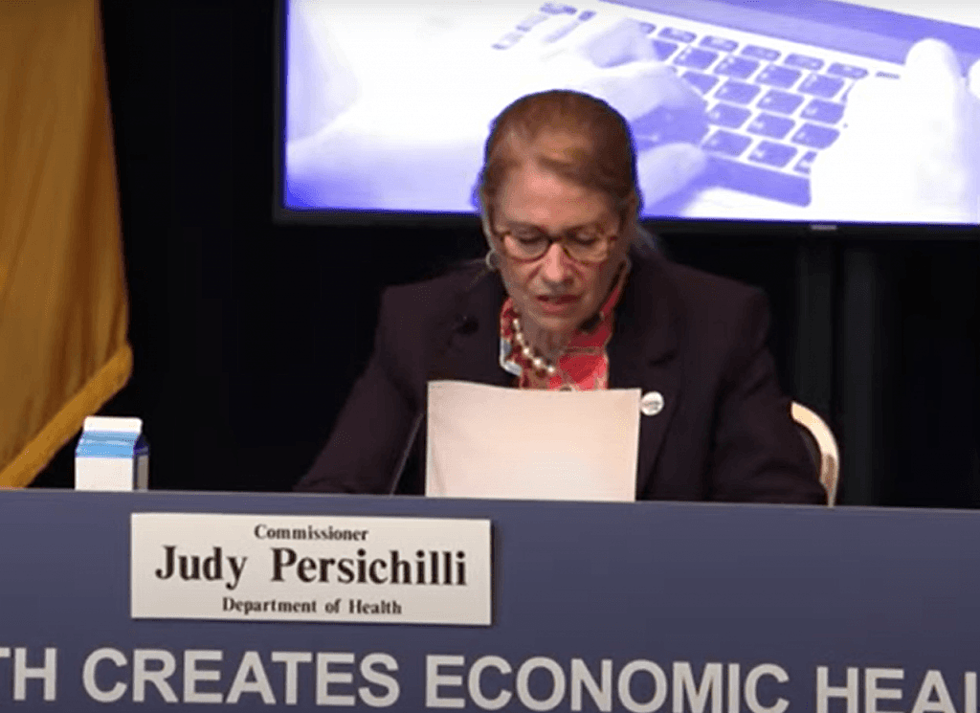 COVID-19: New Jersey presents probable death numbers along with confirmed deaths
COURTESY STATE OF NEW JERSEY Health Commissioner Judith Persichilli speaks during a Thursday, June 25 press briefing in Trenton.
By ERIN ROLL
roll@montclairlocal.news
In addition to the confirmed 13,010 COVID-related deaths to date in New Jersey, another 1,854 residents are believed to have died due to complications with the virus.
The new numbers bring New Jersey's COVID-related death toll to 14,872, Gov. Phil Murphy said.
New Jersey officials, after poring through death and medical records, will now start including probable COVID-19 deaths on a weekly basis. Until today, June 25, officials reported daily on only confirmed deaths related to the virus, along with confirmed positive cases.
In addition to the 26 new deaths reported today, state health officials said today that New Jersey has 1,854 believed to be COVID-19 related deaths.
Ed Lifshitz, the Department of Health's communicable disease service director, said that probable death numbers consisted of three categories: deceased patients who had received a less specific form of a COVID-19 test; patients who died in an area of a confirmed outbreak, such as in a long-term care facility, and were showing symptoms but were not confirmed; and deceased patients whose symptoms were identified through a review of death certificates.
Lifshitz said that local health departments play an important role in conducting an investigation into a probable COVID-19 death.
Lifshitz also said that a review of death certificates did not indicate any COVID-19 cases in New Jersey prior to the state's first documented case on March 4.
TODAY'S NUMBERS
Health officials reported 406 new COVID cases on Thursday, up from 317 on Wednesday, bringing the state total to 170,196 cases.
The 26 new deaths reported represent a drop from the 31 deaths reported on Wednesday.
Last night, hospitals reported 1,182 patients, with 252 patients in critical care and 210 ventilators in use. Hospitals admitted 56 new patients and sent home 108 patients.
Wednesday's hospital numbers represent a drop from Tuesday night, which saw 1,196 patients, 275 critical care patients and 214 ventilators in use. That day, hospitals admitted 77 patients and sent home 110 patients.
The positivity rate from tests taken on June 21 of 3.65 percent and virus transmission rate of 0.88 show a slight increase from a positivity rate of 2.83 percent and a virus transmission rate of 0.86 reported yesterday.
Sixteen counties, primarily in the southern region of the state, have seen an increase in the virus transmission rate, and that region also has the highest positivity rate at 5.39 percent. By comparison, the northern region has a 2.26 percent positivity rate.
While New Jersey still ranks lower than many states, 41st place for overall daily cases, the state still ranks eighth for daily hospitalizations and fifth for deaths per capita.
Essex County officials reported 45 new cases, up from  Wednesday's 22, which now totals 18,653. Officials also reported 15 new COVID-related deaths, now totaling 1,772 deaths. Wednesday, county officials revised its death count downward by five.
On Thursday, Montclair health officials reported that the numbers of cases and deaths were unchanged from Wednesday's count: 441 cases, and 51 deaths.
State health officials reported one additional case of multisystem inflammatory syndrome in children, bringing the total to 45 cases.
REOPENINGS
This week, state officials announced that museums and libraries will be able to reopen on July 2. Other businesses, such as gyms, do not have a timeline in place.
The Department of Education expects to release guidance tomorrow on the reopening of schools. However, Murphy said that there is no one-size-fits-all guidance for every school district, and that district superintendents will be given flexibility on the best course of action for their respective districts.
New Jersey, New York and Connecticut are encouraging travelers entering from states with high COVID-19 infection rates to get tested, and to self-quarantine for 14 days upon arrival. Essential workers traveling to New Jersey as part of their work are exempt, Health Commissioner Judith Persichilli said.
The eight states are Alabama, Arkansas, Arizona, Florida, North Carolina, South Carolina, Texas and Utah.
Murphy said that the state cannot stop travelers at the state line. "We can't stop you at the border, just because you've got a certain license plate. It's America - you can't do that." But he called the self-quarantine recommendation a "bully pulpit" to encourage people to do the right thing.
Murphy also rejected allegations that the three states were retaliating against other states, like Florida, for calling for a quarantine on Tri-State residents earlier in the outbreak. "We have gone through hell. If you include now the probables, even more likely folks who have died from this...we are trying desperately not to go back through that hell," Murphy said, adding that New Jersey takes no joy in the COVID-19 increases that other states are experiencing.