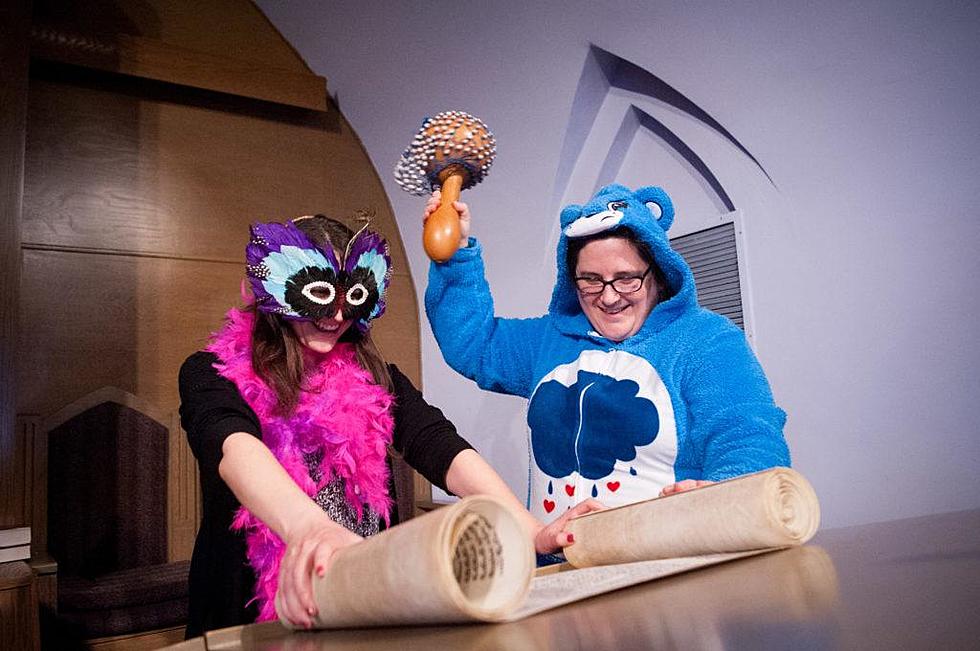 Purim is a carnival of identity
Rabbinic Intern Lily Lucey and Rabbi Ariann Weitzman read the Megillah. KATE ALBRIGHT/FOR MONTCLAIR LOCAL
Purim celebrations
Wednesday, March 20-Thursday, March 21
Check synagogue calendars of Bnai Keshet, Shomrei Emunah, Temple Ner Tamid and Chabad Montclair for Megillah reading times.
Purim Carnivals:
Shomrei Emunah, Sunday,
March 17, 11 a.m.-1 p.m.
Bnai Keshet, Sunday, March 17, 11 a.m.-2 p.m.
Temple Ner Tamid, Sunday, March 24, 11 a.m.-2 p.m.
Chabad Montclair presents "Purim in the Stadium," Wednesday, March 20,
6:30-9 p.m., Montclair Women's Club, 82 Union St.
Temple Ner Tamid presents "Spiel Night Live," Saturday, March 23, 7 p.m.
Shomrei Emunah is at 67 Park St. Shomrei.org.
Bnai Keshet is at 99 South
Fullerton Ave. Bnaikeshet.org.
Temple Ner Tamid is at 936 Broad St., Bloomfield. Nertamid.org.
Email Rabbi@chabadmontclair.org for information.
By GWEN OREL
orel@montclairlocal.news
Who do you think you are?
Are you always the same?
On Purim, Jews all over the world dress up, make noise to drown out the name of the enemy in the story of Esther: and investigate identity, says Rabbi Ariann Weitzman, of Bnai Keshet.
Weitzman loves the holiday.
Lily Lucey, rabbinic intern and assistant education director at Shomrei Emunah, loves it too. Children love the holiday, with its costumes, noisemakers, hamantaschen (three-sided cookies shaped like Haman's hat, or ears), and arts and crafts.
Grown-up children also love the day.
Compared to Rosh Hashanah, Yom Kippur and Pesach (Passover), Purim is not a major holiday. But, the rabbis agree, it's majorly fun.
And it has implications about who Jews are and can be, too.
The holiday begins on the evening of Wednesday, March 20, and lasts for a day. Purim carnivals will take place this Sunday at both Bnai Keshet and Shomrei Emunah.
"In the actual life of my family, it's pretty major," Weitzman laughed. "[My children] start asking me in June about the bouncy castles for the carnival. My 3-year-old would like to be Elmo, and my 7-year-old is going to be a Care Bear, like me."
A DIFFERENT
MORALITY TALE
Purim is in TaNaKh, or the Jewish Bible, which includes Torah, prophets, and "writings." The Book of Esther, called the Megillah, or Megillat Esther, is in the writings section. (Magilla Gorilla takes his name from it, as does the saying "the whole megillah." The word in slang tends to mean a big, long story, a big deal, a big shot.)
The story goes that Persian King Ahasueros married beautiful Esther, who was Jewish (but not publicly so), after he cast off Queen Vashti for not coming when summoned to a drunken gathering. Then his advisor Haman, miffed that Esther's uncle Mordecai did not bow to him, planned to kill all the Jews in the empire. Esther summoned her courage and spoke to Ahasueros without being summoned, and while Ahasueros could not undo his earlier command, he allowed the Jews to defend themselves. They did, and won. Haman and his sons are killed. The holiday takes place on the 14th day of Adar.
Queen Vashti is a heroine of Jewish values, although she is not Jewish, Weitzman said, by refusing to appear before her husband's drunken friends. Yet she's punished for it. That shows that "this is not going to be a regular morality tale."
During the Megillah reading, the tradition is to drown out the name "Haman" with noisemakers, or [Yiddish word] gragers. People also shout and stamp their feet.
The name Haman does not come up the first three chapters. Suspense grows.
The congregation is supposed to hear every word, Weitzman said, which means readers must wait in between bouts of noise until things settle down again.
Both Bnai Keshet and Shomrei Emunah will have a team of readers, and interject Purim Shpiel (Purim play) scenes throughout. Readers will tell jokes, or teach "made-up Torah," Weitzman said.
Shomrei Emunah has asked everyone to come dressed as animals, Lucy said. An Inter-generational band, with players aged 6 to 100, will play in between chapters.
CELEBRATING
STEPPING UP
Weitzman pointed out that Purim and Yom Kippur share the word "Pur," which means "lot" in Hebrew. Purim is the "feast of lots," because Haman picked a date for his intended massacre by casting lots. Yom Kippur also has lots in it: during the days of the Temple, the decision of which of two male goats would be killed and which would live was done by casting lots. The day itself is a day of judgement for all.
But where Yom Kippur is solemn, a day of repentance, Purim is a celebration of a victory. "If Yom Kippur is about getting as real as you possibly can about who you are, Purim is the opposite," she said.
________________________________________________________________________
LOOK: CHABAD MONTCLAIR'S PURIM PASTRY PREP
READ: NEW RABBINIC INTERN AT SHOMREI EMUNAH
________________________________________________________________________
"Purim is about being someone else. It's about letting go of any kind of boundaries in your life. There's a tradition of cross-dressing, and costumes in general, being someone else."
Drinking is another Purim tradition, a way of letting go a little, she said.
Like Hanukkah, Purim is a story of the Jewish diaspora. This one subverts the narrative of oppression, Weitzman stressed: it's a story of resistance and victory, she said.
And, it's fun, Lucy said.
"I love the community aspect of it. We can have the fun, the drama of it all. What I find is the kids learn a lot from being in a Purim Shpiel. They understand the significance of one Jewish person's role in the community, and being able to step up and be a leader."
What about the fact that Esther "passes," not coming forward as a Jew, for a long time?
Even today, children can relate to that, Weitzman said. "That feels very real," she said. "And Esther's  moment of heroism is 'coming out' as a Jew. It's an honest story about how difficult that might be."
The carnivalesque aspect of Purim is built into the holiday, said Lucy, because of the masquerade aspect to the story.
"It's a different kind of celebration. Like the Shakespeare thing, where you are not recognizing everyone," she said. She has had students ask "Who are you?" when she arrived in class.
NEVER JUST ABOUT US
Giving "shalach manos," or gifts of food, is another part of the holiday. This week, students at Shomrei Emunah will stuff Shalach Manos bags.
"It's never just about us," Lucy said.  Shalach Manos asks people to consider the deeper meaning of the holiday, and what it means to reach out.
One of the things that Mordecai says is that you have to give gifts to friends, and gifts to the poor., Weitzman said. "So it's also a major Tzedaka [charity] holiday. If somebody asks you for Tzedaka on Purim, you're not supposed to say no."
Weitzman loves giving food gifts. "I like an excuse to go to somebody's house and bring them food, when nothing bad is happening to them. They're not grieving, and they're not sick. It's just, I love you!"
Both rabbis were struck by the timing of Purim during the calendar too. Where the candles of Hanukkah add light during Winter Solstice, Purim brings in warmer weather with an explosive carnival. It's a holiday of trying things on, Lucy said.
"It's kind of leading into a rebirth," she said. "We get to spring and Passover, and this is sort of on the edge of that." The holiday is one of trying things on.
"Who are you going to be, when you come out of this?"