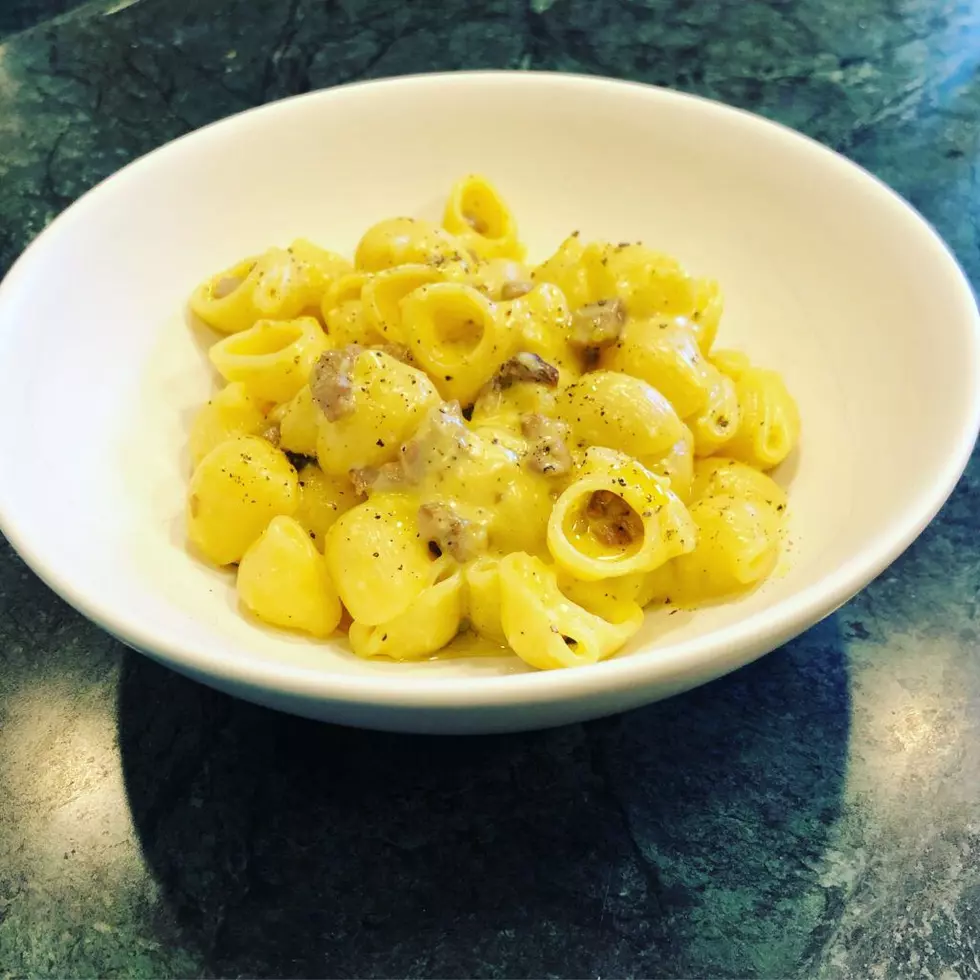 Recipe of the month: Carbonara, easy and yummy
Carbonara is easy and delicious. STEVEN DESALVO/FOR MONTCLAIR LOCAL
By STEVEN DESALVO
For Montclair Local
In "Recipe of the Month" food writer Steven DeSalvo shares a recipe Montclairians might enjoy making. DeSalvo has a degree in hospitality business management from the University of Delaware and has worked extensively in restaurants and hotels. If there is something you want to know how to make, or if you've eaten a dish at a local restaurant that you are dying to make at home, drop us a note at culture@montclairlocal.news.
When you compare ease to deliciousness, carbonara has to be my all-time favorite pasta. 
Carbonara is essentially a breakfast pasta, with the main ingredients being cheese, guanciale (an Italian product made of cured pork cheek that can be difficult to find in the U.S.; I know that it is sometimes available at Rosario's in Watchung Plaza. I like to substitute bacon, see below) and eggs. 
The concept of whipping in raw egg in a way that it doesn't cook and become grainy may be intimidating, but I have a couple of tricks that make this pasta a no-brainer. 
This recipe makes roughly four portions, depending on how hungry you all are.
Ingredients
 4 egg yolks, whipped together in a stainless-steel bowl and put in the refrigerator. The reason I put them in the refrigerator is to increase the temperature difference between the hot pasta and the eggs, making it less likely for them to scramble.

 Salt

 4-5 oz. bacon (about six strips of thicker bacon), cut into ¼-inch cubes. As I mentioned earlier guanciale is traditional, but I like to use bacon because it is smoked rather than just cured, so there is a more-intense flavor.

 1 lb. of your favorite pasta, typically spaghetti, but I like lumache, which are basically curled rigatoni that collect a LOT of the sauce.

 2 cups starchy water, reserved from the pasta cooking liquid.

 Fresh-cracked black pepper

 ¾ cup grated Parmesan. Pecorino is typically what is used, but I prefer the flavor of Parm. Feel free to go 50/50 or even entirely Pecorino if you prefer.

 Extra-virgin olive oil
________________________________________________________________________
READ: RECIPE OF THE MONTH: STUFFING TO WARM THE HOLIDAYS
READ: RECIPE OF THE MONTH: SAUSAGE, ESCAROLE, AND BEANS WILL KEEP YOU WARM
_______________________________________________________________________
Instructions
1. After whipping the egg yolks together and placing them in the refrigerator, bring a large pot of water to boil. Use approximately 2 tablespoons of salt in the water. It should have a hint of salt flavor, but just a hint.

2. Cook the bacon in a large saute pan until it is slightly brown but not burned or hard. Remove the bacon from the pan when it is finished and turn off the heat; leave the rendered fat in the pan.

3. When the water is at a rolling boil add the pasta. If the package gives instructions on a cooking time for al dente pasta you can follow those. If it does not, my usual rule of thumb is two minutes less than what is listed on the package. If you are using fresh pasta it will only take a minute or two. However, be sure to always taste the pasta before removing it so that you can be sure it is to your liking.

4. Remove your 2 cups of pasta cooking water when there are about two minutes left of cooking time on the pasta. You certainly won't need 2 cups, but I like to have extra because when you drain the pasta all of the cooking water will go into the sink. 

5. Return the pan with the bacon fat in it to medium heat.

6. Drain the finished pasta and add it directly to the pan with the bacon fat; add about half of the pasta water. It will look very watery, but do not worry.

7. Toss the pasta in the water and bacon for about 30 seconds to get it completely coated; crack in a lot of black pepper.

8. Remove the pan from the heat and put it on a burner that wasn't used at all.

9. Stir in the grated cheese.

10. Stir in the whipped egg yolks very rapidly so that they don't spend too much time in any one place in the pan. Use a spatula to get all of the yolk out of the bowl.

11. The sauce should be rich and creamy and coat the pasta really nicely. It should not be watery anymore, as the cheese and egg should thicken it perfectly. Feel free to stir in more pasta water if you think it should be a little thinner.

12. Be sure to adjust the seasoning to your taste and then finish with extra-virgin olive oil.
Carbonara is one of my favorites to make for a crowd because it is so easily scalable. Try this carbonara recipe and let us know how yours turned out.