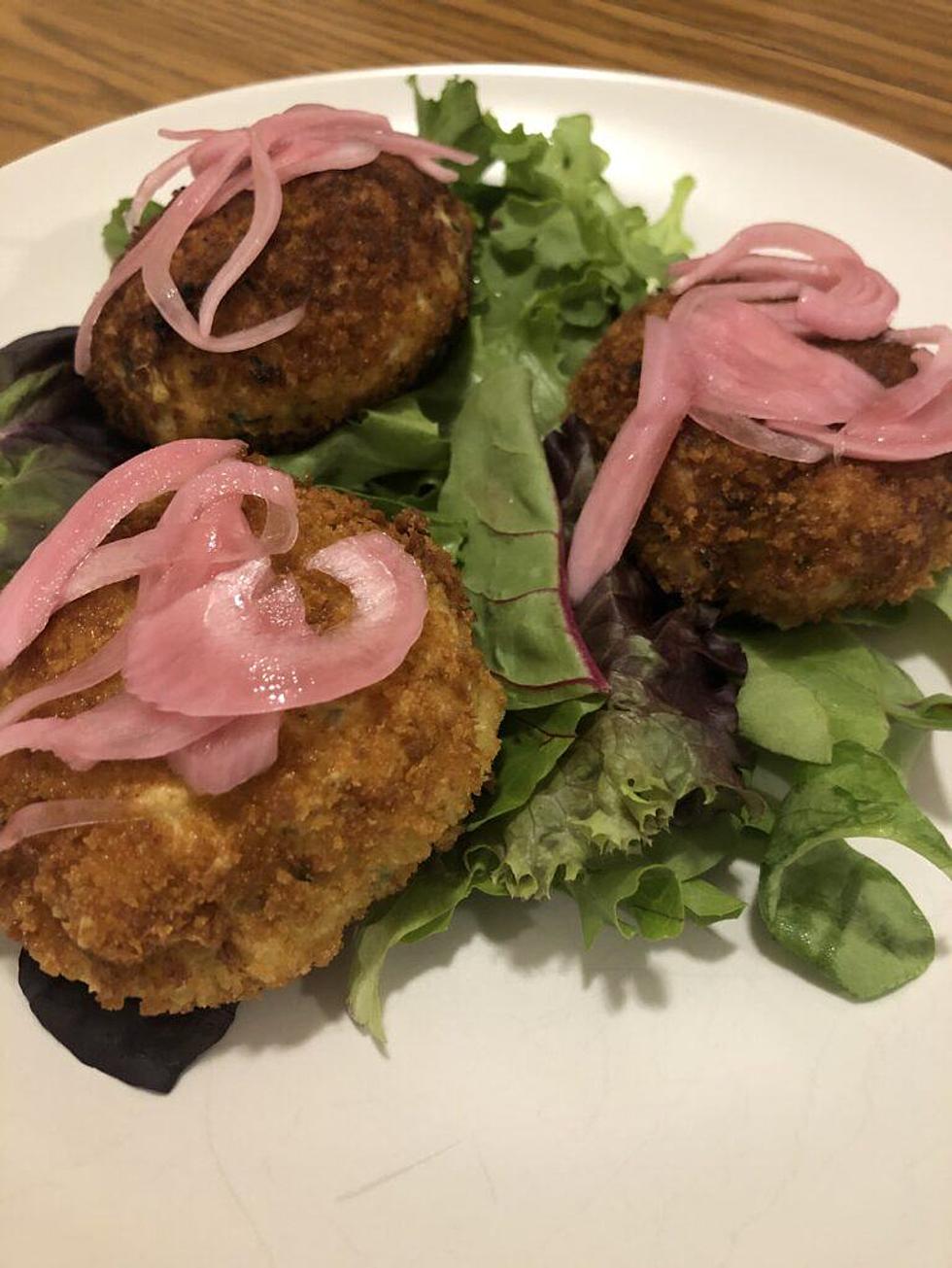 Recipe of the month: crab cakes taste like summer
Crab cakes are not hard to make, and taste like summer. STEVEN DESALVO/FOR MONTCLAIR LOCAL
By STEVEN DESALVO
For Montclair Local
In "Recipe of the Month," food writer Steven DeSalvo shares a recipe Montclairians might
enjoy making. DeSalvo has a degree in hospitality business management from the University of Delaware and has worked extensively in restaurants and hotels. If there is something you want to know how to make or if you've eaten a dish at a local restaurant that you're dying to make at home, drop us a note at culture@montclairlocal.news.
I am not ready to say goodbye to the warm weather. This recipe is the perfect way to give summer the proper send-off. 
Crab cakes are often intimidating to home cooks because crab is so expensive. They are thought of as something that is better to order at a restaurant. Not anymore! The longest part of this entire recipe is the breading process, which is also the hardest part, and most of you are familiar with the process of breading things -- anything from eggplant to chicken cutlets. 
This recipe is for six large crab cakes. I don't like to use any filler, so the yield is slightly smaller than if you added vegetables or bread crumbs to the filling. It is all personal preference, but I feel that a crab cake should just be crab and herbs.
Ingredients
For the filling:
1 pound cooked crab meat, squeezed of its excess liquid. Any kind of crab is fine, from claw to super-lump. I typically use lump simply because I find that the pieces get broken down when you mix the filling, so spending extra money on bigger pieces is not necessary.
2 tbs. mayonnaise 
1 tbs. Dijon mustard
2 tbs. finely minced parsley
1 tbs. finely minced tarragon
1 large shallot, finely minced
Juice of 1 lemon
1 tsp. seasoned rice vinegar. It is OK to use any light-colored vinegar, just add a teaspoon of sugar or honey if you use an unseasoned vinegar.
Salt and pepper to taste
1 egg yolk
For the breading:
2 cups all-purpose flour
2 cups bread crumbs, any kind is fine!
2 eggs, mixed
A large container of any vegetable oil for frying
_______________________________________________________________________
READ: RECIPE OF THE MONTH: FIRE UP THE GRILL, WITH SUMMER SALMON
READ: RECIPE OF THE MONTH: EASY LINGUINI, FROM THE CUPBOARD
______________________________________________________________________
Instructions
In a large bowl mix together the crab meat, mayonnaise, mustard, parsley, tarragon, shallot, lemon juice and rice vinegar. 

When the mixture is cohesive, taste it and season with salt and pepper to taste. When it is to your liking, add the egg yolk.

Stir in the egg yolk and let the mixture stand while you prepare your breading station. 

Pour the flour and bread crumbs onto plates and flatten their respective piles out. Keep the mixed eggs in a shallow bowl that has a wide edge. Season the flour with salt and pepper.

Divide the crab into six equal-sized pieces. (If you are like me, you can use a kitchen scale to weigh them so you can be sure of their distribution.)

This is technically the hardest step. You're going to want to condense the portion very tightly so that everything sticks together, so you get rid of excess liquid, and there are no air pockets to speak of. I suggest you do this over the sink. Make sure the portion stays together, so handle it gently after you form it. Once you do this to all six, be sure to wash and dry your hands.

Take a crab cake and place it onto the flour plate with one hand (this is now your wet hand), use your other (dry) hand to sprinkle flour on top of it so that you can use your dry hand to flip the crab cake and get it completely covered in a thin layer of flour. Use your dry hand to transfer it to the egg mixture. Now use your wet hand to cover the crab cake in egg. Finally, use your wet hand to transfer the crab cake to the bread crumb plate, where you use your dry hand to complete the process. I know that this could seem incredibly confusing, but I promise it is so much easier to keep one hand wet and one hand dry, this way you avoid any clumps in your flour and bread crumbs, which makes for a much more professional-looking crab cake. 

Prepare a plate with a few layers of paper towels for the finished product. Heat about 1 inch of oil in the saute pan of your choice. If you use a smaller pan you won't need as much oil, but you may have to do a couple of batches, so pick your poison. To tell when the oil is hot enough toss a bread crumb into it. If it starts bubbling immediately that means it is ready to go.

Cook the crab cakes until golden brown on each side. Be sure to regulate the temperature of your stove so that the outside doesn't brown too quickly before the inside has a chance to get hot. I like to shoot for 3 minutes a side. Remove them to drain on the paper towel plate when they are done.
Serve them hot and quickly! You can garnish them with whatever you like. I had some pickled onions and green goddess dressing lying around, and they both worked perfectly with the crab cakes. Other options include hot sauce, tartar sauce, remoulade or even plain.
Also, feel free to switch up whatever herbs you use, and you can even add hot sauce to the filling to make for a spicier experience. Reach out and let us know what you come up with.\