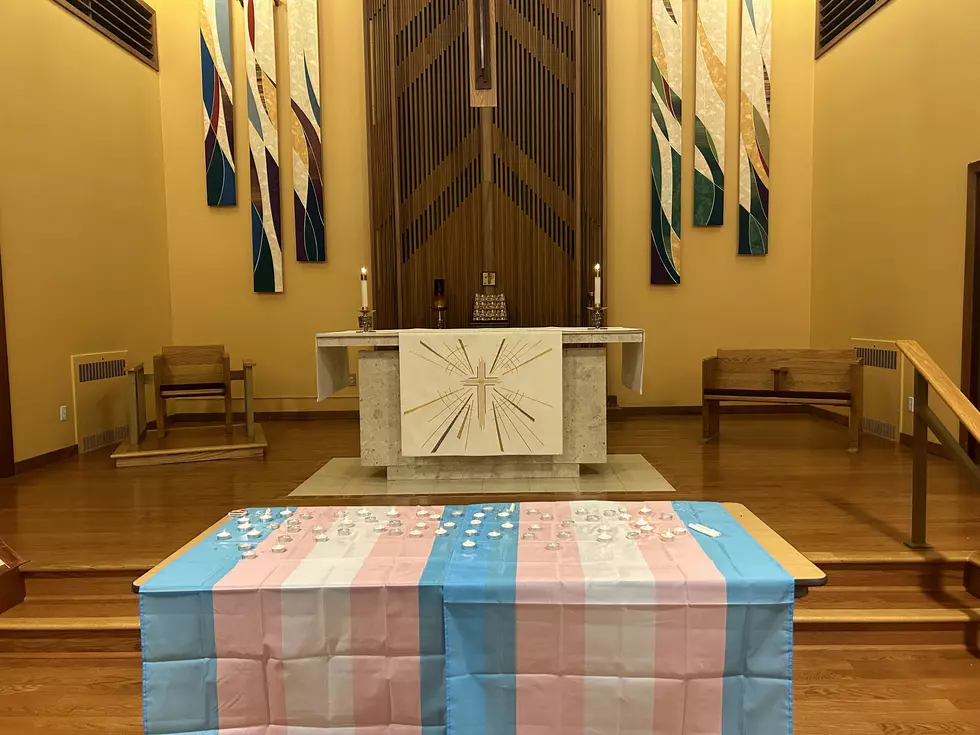 Remembrance of trans lives lost at First Lutheran Church
Fifty-seven candles were lit to honor the lives of those lost in the past year. (Talia Adderley/Staff)
A day after a horrific attack on an LGBTQ nightclub in Colorado, the Montclair Interfaith Clergy Association held its sixth annual Transgender Day of Remembrance service on Sunday evening to memorialize individuals who have died because of anti-transgender violence and bigotry.
The Transgender Day of Remembrance – which was scheduled before the attack in Colorado Springs on Nov. 19 – brought members of the LGBTQ community and their allies to the First Lutheran Church of Montclair.
The gathering consisted of musical selections by the Interfaith Choir and the reading of a poem called "Dead Name" by Mariah Ayscue.
In a particularly somber moment of the service, the names of 57 transgender individuals who had died since last year's Transgender Day of Remembrance were read. Of the 57 names, 48 were murdered and nine died by suicide. Thirty-nine of the names belonged to people of color. Thirty-four of the individuals, including seven teenagers, died before the age of 30.
Candles were lighted as the names, the causes of death and the names of loved ones who remember them were read.
Chris Budin, a board member of Garden State Equality, an organization dedicated to advocating for LGBTQ people in New Jersey, offered testimony. He talked about his experience with coming out later in life.
"I came out at 36 years old," Budin said. "It's been a terrifying journey. And I've finally come out the other end and realize it's also a superpower."
Another speaker, Jamie Lynn, shared her experience of losing her 12-year-old son, Damien Lopez, to suicide after he was bullied for being trans. As a result of his death, Lynn started an organization called Damien's Voice to honor her son and advocate for the protection of trans kids.
The killings in Colorado were not far from the minds of those at the event.
On Saturday night, 22-year-old Anderson Lee Aldrich walked into Club Q in Colorado Springs and opened fire into the crowd before club patrons were able to wrestle him to the ground, according to news reports. Police say that it's too early to classify the shooting as a hate crime.
Out Montclair's executive director, Peter Yacobellis, said in a statement: "We at Out Montclair are disgusted and sad to hear about yet another attack on an LGBTQ+ establishment, where innocent lives have been lost. While the details of the Colorado Springs attack are still emerging and the motive remains unknown, as an organization that exists to create safe spaces for our community, attacks like this will naturally and sadly create fear."
With its multiple programs catering to teenagers, families, seniors and singles, Out Montclair aims to create a safe space for those in the LGBTQ+ community in Montclair.
Yacobellis, who is also a member of the Montclair Township Council,  continued by saying: "We believe that being ourselves and being heard is the only way we'll ever truly be understood. We'll never stop gathering and finding the community we desperately need. Thank you to all of our allies for supporting us."
Meanwhile, the lead pastor of First Lutheran Church, the Rev. Margarette Ouji, said she was happy that her church was able to provide a space to hold the Transgender Day of Remembrance.
"It was just an honor," Ouji said. "It was an honor to be able to do that as a queer Iranian pastor and with everything going on in the world."
She added: "It's devastating what happened last night, and I felt a sense of relief that we were able to have this open space for people to come and grieve and share their stories. Especially in a house of worship, where people haven't always been welcomed and accepted."