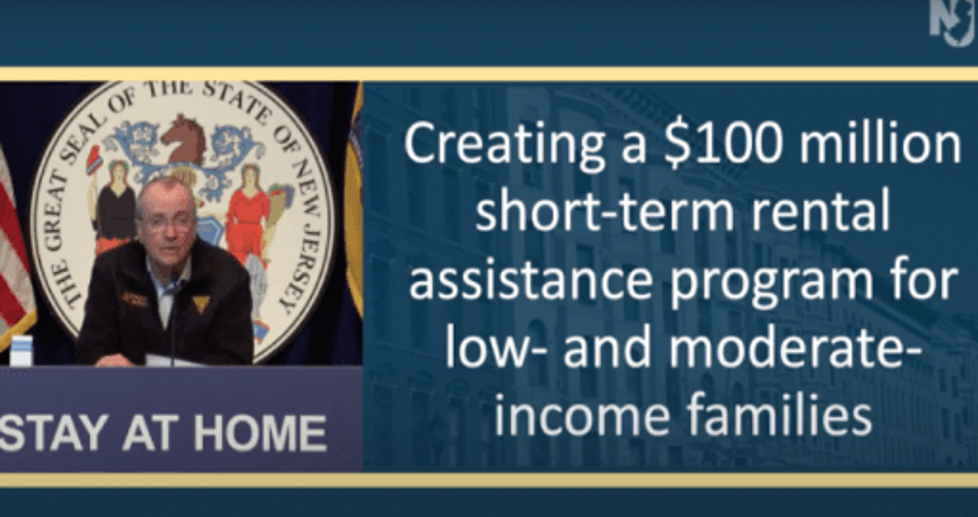 COVID-19: Rent help is on its way
Gov. Phil Murphy announces a rent relief program for those who have been affected by COVID-19.
BY JAIMIE JULIA WINTERS
winters@montclairlocal.news
To protect renters during the economic downturn due to the pandemic, the state issued a no-eviction order and allowed security deposits to be used for rent payments. Montclair imposed a rent-increase freeze. 
Now qualifying residents who have lost their jobs or a portion of their wages can get help paying the rent.
On Friday, May 29, state officials announced the creation of the COVID-19 Short-Term Rental Assistance Program, in which at least $100 million, primarily in federal CARES Act funding, will be earmarked for rental assistance. 
The program will provide rental assistance to low- and moderate-income households that have had a substantial reduction in income as a result of the pandemic, including people who are homeless or at risk of homelessness, said Lt. Gov. Sheila Oliver.
"So, we know that many of our residents are experiencing financial hardship as a result of the pandemic, due to the loss of their jobs or reduced hours," Oliver said. "As a result, many of these individuals have never had to ask for financial help before, but they're finding themselves in a situation where they aren't able to make rent on the first of the month.
RELATED: Housing advocates concerned with longterm effects of COVID on renters
IN CASE YOU MISSED IT: Residents can get a haircut, dine outdoors
"We have heard the calls for help from renters loud and clear, and we understand the enormity of the problem. Therefore, we are very pleased today to be able to announce that relief is on the way."
Twenty percent of the funding for this program will serve those who are very low-income, homeless, or at risk of becoming homeless with up to 12 months of rental assistance. Households in this situation will be prioritized. 
The remainder of the participants will be selected through an online lottery system that will open up in July, and it will provide those individuals with up to six months of rental assistance. The lottery will give preference to households that earn less than 80 percent of the area median income within their county.
While the Short-Term Rental Assistance Program website will launch on June 15, the program will open for applications in July and begin paying assistance in September.  
Payment will go directly to participants' landlords. As part of the landlord contract, the state Department of Community Affairs will encourage landlords to agree to a reasonable payment plan for any rent in arrears, not to evict for any arrearages accumulated prior to the start of temporary rental assistance, and not to evict due to unpaid rent for six months after the end of assistance.
These households will be selected by DCA through the Coordinated Entry process in each county's Homeless Management Information System. 
Deirdre Malloy, Montclair's Housing Commission co-chairperson, said the rent help may be a little late since it won't reach the landlord until September. 
"The application and the approval process could take weeks to process and then subsequently more time to get payments to affected renters and landlords," said Malloy.  "We won't know that for sure until later, in the early fall, unfortunately. Challenges are ongoing with people being furloughed."
Qualifying households will be expected to pay 30 percent of their income toward rent, and the program would pay the remainder, up to the DCA's fair market rent payment standard. 
For the remainder of the funding, DCA will administer an online lottery in July. When the lottery is opened, residents can submit applications and participants will be selected from the pool of applicants through a randomized process based on eligibility and the lottery criteria. 
In Essex, the maximum income limits to qualify are $54,959 for a one-person household, up to $78,500 for a four-person household. Essex had the third-highest income allowance behind Hudson, starting at $55,250, and Hunterdon, Middlesex and Somerset counties, starting at $57,800.
Applicants selected through the lottery will be eligible to receive up to six months of short-term rental assistance. Should further funding become available, DCA will serve additional households.
To help families reach self-sufficiency, case management, financial planning, and other assistance will be provided by the program. At the three-month mark, the household budget will be reviewed to determine if assistance is still needed. Assistance that is no longer required will be used to serve additional families.
Malloy said the key to getting help to the right people will be notification and coordination.
"There really must be an administrative coordination to process and to notify anyone who can benefit (not just those who are well connected to resources and information) and compliance for approvals notification of this entire process," she said. "This coordination must include notice to the courts for those who qualify and be retroactive to renters, again who qualify, that may be facing eviction in order to prevent eviction," she said.
In addition to the new program, the DCA is urging households in need to apply for the Low Income Home Energy Assistance Program (LIHEAP), which helps people pay for their home energy bills.  
Rental assistance eligibility requirements:
Must be a New Jersey resident;

Maximum income up to 80 percent of area median income;

Must have been current in rental payments as of March 1;

Must be able to provide proof of impact of COVID-19 beginning on March 9, when Governor Murphy declared the state of emergency;

Must have been laid off, had work hours reduced, be on unpaid leave to take care of children due to school and day-care closures, and/or lost income because they were forced to self-quarantine for 14 days. 
The COVID-19 Short-Term Rental Assistance Program website will launch on June 15 with additional information at www.nj.gov/dca/divisions/dhcr/offices/shorttermrap.html.