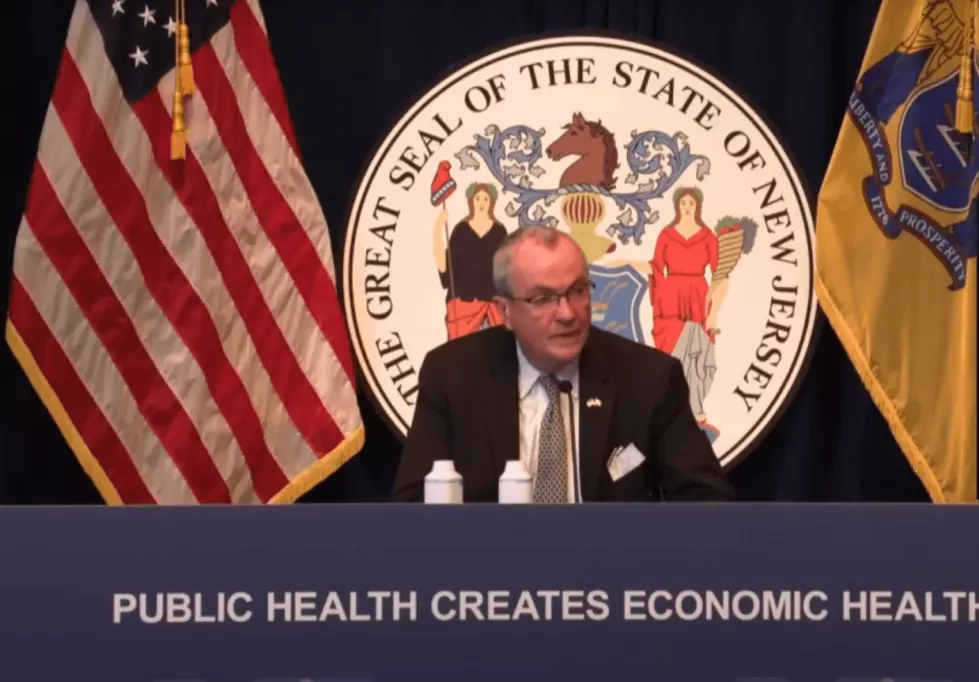 COVID-19: Restaurants mark first day of indoor dining; schools prepare to reopen
COURTESY STATE OF NEW JERSEY Gov. Phil Murphy speaks at a Friday, Sept. 4 press briefing in Trenton.
By ERIN ROLL
roll@montclairlocal.news
Friday saw New Jersey's restaurants reopen for indoor dining, six months after the start of the pandemic. 
Gov. Phil Murphy said in August that the state hoped to have indoor dining reopen in time for the Labor Day weekend. 
Murphy acknowledged that the restaurant industry has been experiencing many difficulties over the past six months, and said the state wanted to do what it could to help. 
He said the state will not be able to expand indoor dining limits if restaurant owners and managers violate the rules. However, he added that the majority of owners and managers have been abiding by the rules set forth in his executive orders.
Restaurants switched to takeout and delivery-only in March, at the start of the pandemic. In the spring, restaurants were allowed to offer outdoor dining, as long as tables were positioned to allow social distancing. 
Indoor dining was set to resume on June 22, but state officials decided to delay it after seeing spikes in COVID-19 cases in states where indoor dining had resumed. 
Movie theaters and indoor recreation venues have been allowed to reopen as well, but are subject to limited capacity. 
AMC has posted the reopening dates for its theaters on its corporate website. In Essex County and Passaic County, AMC Wayne 4 near Willowbrook Mall is open, Clifton Commons is set to reopen on Sept. 7, and Essex Green in West Orange is set to reopen on Sept. 10. 
Murphy also noted that Sept. 4 marked six months since New Jersey confirmed its first case of COVID-19. 
Next week, school is expected to start in many districts, including Montclair. 
The Department of Education has received a total of 804 reopening plans. Of those, 607 have been completed, 180 have been returned for revision, and the remaining 17 have not yet been reviewed. Murphy said the department is working to get the remaining plans reviewed and approved as soon as possible. 
Of the 607 completed plans, 384 districts will be starting the school year on a hybrid plan, 59 will be doing in-person instruction, 172 will be doing all-remote learning, and 22 will be operating on a combination of different reopening models. 
Murphy said all of New Jersey's 21 counties, with the exception of Atlantic County, have at least 15 percent of their recommended number of contact tracers at work. 
The governor urged residents to cooperate with tracers, and noted that more than half of the people whom tracers have contacted have not cooperated. "Please take the call. None of them are on a witch hunt," Murphy said. 
Today's numbers
As of Sept. 4, health officials reported 478 new cases, compared to 349 on Sept. 3, bringing the state total to 193,422. 
The positivity rate stands at 1.81 percent, down from 2.19 percent on Sept. 2. The virus transmission rate has increased to 1.03, up from 0.96 on Sept. 2.
Officials reported seven new deaths, the same number reported on Sept. 3. The number of confirmed deaths currently stands at 14,195, and the number of probable COVID deaths is at 1,783. Hospitals also reported 13 additional deaths that have not yet been confirmed as COVID-19. 
Hospitals reported 466 hospitalizations, including 99 critical-care patients and 40 ventilators in use, compared to 504 hospitalizations, 98 critical-care patients and 36 ventilators in use on Sept. 2. 
Essex County health officials reported 20,234 total cases on Friday, up from 20,184 reported on Sept. 3, an increase of 50 cases. The number of deaths has been revised downward, from 1,867 to 1,864. 
Montclair health officials reported eight new cases on Sept. 3, bringing the total number from 513 to 521. Officials said the eight new cases were all individuals in long-term care. The number of deaths remains at 54.