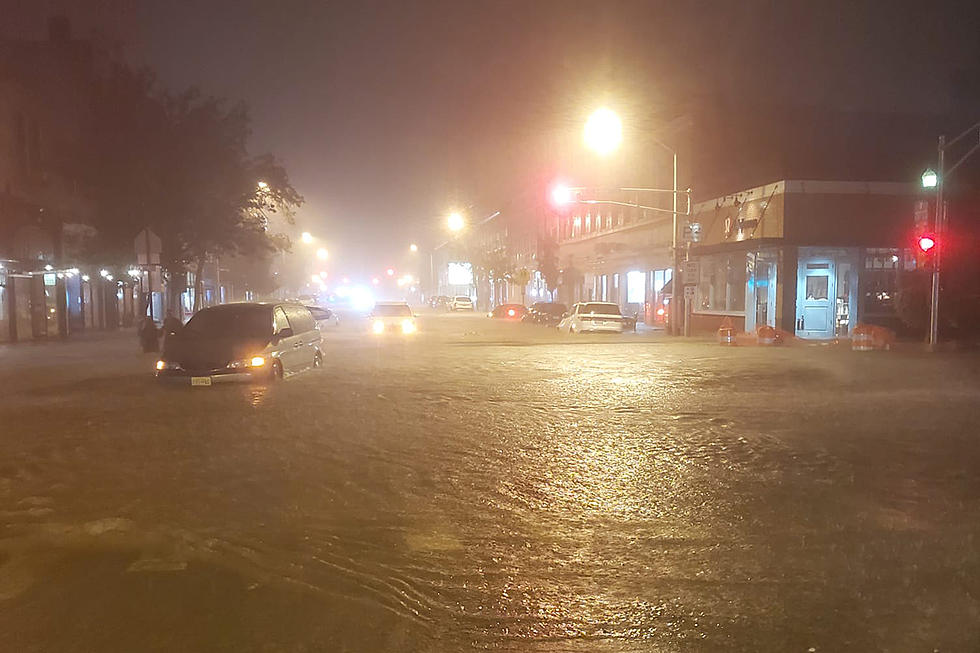 Roads flooded, cars trapped, basements underwater in Montclair Wednesday: 'It's bad everywhere'
Aminah Toller took this photo of Bloomfield Avenue and Park Street in Wednesday night's serious storm, as the remnants of Ida moved through the Montclair Area.
Roads and basements throughout Montclair were flooded Wednesday night as the remnants of Ida — the deadly storm that made Landfall in Louisiana Sunday afternoon as a Category 4 hurricane before weakening — moved through the area.
Several cars were trapped in roads, according to residents who saw their streets turn into de facto rivers. The Montclair Fire Department was working to help residents with extreme basement flooding, but the delay could be hours because of heavy demand, Mayor Sean Spiller said on Facebook Wednesday night.
This post will be updated often Wednesday night.
Several area highways flooded as well. As of around 11 p.m., New Jersey's 511 service was reporting all lanes of Route 280 eastbound around Exit 8 in West Orange remained closed, as were the eastbound ramps to exits 9 and 10. Flooding was closing lanes in several areas of the Garden State Parkway, the New Jersey Turnpike and Routes 1 and 9 as well.
A National Weather Service flash flood watch was set to remain in effect until 2 p.m. Thursday. A flash flood warning, suggesting a more imminent threat of floods, was also in effect through 11:45 p.m. Wednesday night.
A tornado watch was in effect until 1 a.m. Thursday morning as well.
NJ Transit said Wednesday night all rail service with the exception of the Atlantic City Rail Line was suspended due to weather-related issues. Bus and light rail service would be subject to suspensions, detours and delays, it said.
Also around 11 p.m., PSE&G's online power map said more than 550 customers in Montclair were without service. There were more than 10,000 throughout Essex County without service as well.
"Everywhere that floods is flooded and then some," Councilman Peter Yacobellis said Wednesday night. "It's not good, across the board."
Burnside Street, which has suffered serious floods several times before, was in bad shape, he said. But it was far from alone.
"I hear basements flooded and concern about possible first floor damage," he said. "But it's bad everywhere. "Church Street, Valley Road. Lots of 911 calls. Several vehicles got stuck. No one hurt as far as I know."
In a Facebook post Wednesday night, he described the flooding as "widespread and devastating for the entire town and region."
"The focus right now is on ensuring no loss of life, including preserving the ability for emergency vehicles to get around," he wrote. "Any vulnerable points in town have flooded and then some — too many to close off quickly enough."
He wrote the storm is a reminder Montclair is "at the foot of a mountain which topographically is the bottom of the bowl."
"It is heartbreaking to see so much damage to property, possessions destroyed, cars ruined and to think about the environmental impact of all of the chemicals and debris ending up in the water," he wrote. "For now, let's get through the night without any loss of life or serious injury, including for our crews who haven't rested for hours. Be safe and smart and careful."
Mayor Sean Spiller, in a Facebook post late Wednesday night, urged residents not to drive through moving water. He said those who experience emergencies in their homes should call 911.
Débora Hostins, who works at Samba Montclair, saw flooding not only in the restaurant, but throughout the parking garage to its rear, just off Park Street. She took video of waters rushing into the garage, reaching up alongside several cars still parked there.
Edwin Lopez, on Grove Street near Mt. Hebron Road, said it appeared the nearby river had crested and flowed onto Grove Street and Lasalle Road.
"Houses on [the east] end of Grove and those on Lasalle have to be taking on water but no way of knowing how bad," he wrote to Montclair Local. "MPD stationed a car on Mt. Hebron but cars are still driving through."
Joni De Los Santos shared with Montclair Local a video by her brother, Jed Paul De Los Santos, taken near the Shell gas station on Bloomfield Avenue, near Pine Street.
"The flooding was rising to the point they had to stop [at] Shell and wait it out," she wrote. "Thankfully the drains by the fire department were fast and they were able to drive home back home down the street at around 9:45 p.m. The Montclair Post office near Pathmark had drains spewing out water."
Edmond Francois reported seeing three cars stuck in the area of Chestnut Street and North Fullerton Avenue. He said the Montclair Township Fire Department was on the scene.
Andrew Garda, a reporter for Montclair Local, saw heavy flooding on North Willow Street and Claremont Avenue. He said he tried to venture out into the area, but the water was already ankle-deep.
Esther Friedman, at the corner of Orange Road and Hillside Avenue, was among those suffering basement flooding. She shared this video:
The Park Street YMCA announced Wednesday night it would be closed the next day because of the flooding caused by Wednesday's storm.
The Dry Goods Refillery on Bellevue Avenue said late Wednesday night on Facebook it was postponing its planned grand opening to assess damage and protect its customers and staff.
Gov. Phil Murphy Wednesday night declared a state of emergency in connection with the storm, across all 21 New Jersey counties. The declaration allows the state to mobilize certain resources throughout the storm.
"Tropical Storm Ida is severely impacting all areas of our state," Murphy said. "The safety of our residents is our main priority, and we urge everyone to be informed of local weather conditions and to stay off the roads."
Ida wreaked havoc on virtually all of New Jersey Wednesday, with flash flood, hazardous weather and tornado watches and warnings spread throughout the state. The National Weather Service also confirmed multiple tornados touched down in central and southern New Jersey. Passaic Mayor Hector C. Lora told NJ.com one person in his community had died in connection with the storm. Trenton officials were urging residents to evacuate as the nearby Delaware River continued to rise, NJ.com also reported.
— Includes reporting by Louis C. Hochman, Talia Wiener, Jaimie Winters and Andrew Garda