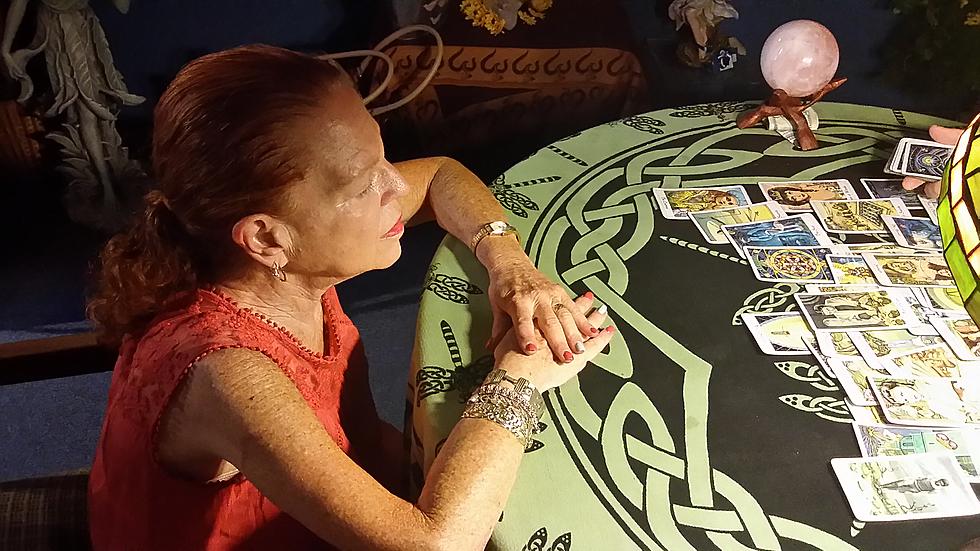 Robin's Nest: Baking bread, tarot cards read
Robin looks at the spread of cards. ROBIN WOODS/FOR MONTCLAIR LOCAL
By ROBIN WOODS
For Montclair Local
It was a hot and steamy early morning in Montclair as I headed over to Le Petit Parisien at 6:30 a.m. I was excited to have my first professional French bread baking lesson from
owner Arben Gasi, who purchased the seven-year-old café in March 2018 from the original owners.
Arben, now a local, is a self-taught bread baker. After moving here from France, he said that he couldn't find the quality of bread and croissants that he enjoyed so much. A field-service engineer by trade, he spent three years experimenting with and perfecting the sourdough bread recipes he found online. What started out as a hobby, turned out to be a career change for him.
Arben is passionate about bread making. He describes sourdough as "a living thing and a much more complex ecosystem than wheat." Baking is a science lesson, too. Although his baguettes and varieties of French breads are not gluten-free, sourdough is fermented and naturally degrades gluten proteins.
The day I visited, he had set up the croissant dough and some of the bread dough when he arrived at 2 a.m., as he does every day. Croissants take two days to complete, including rolling out the dough and buttering layer after layer. Plugras French butter is used, a word which literally "more fat." French butter has at least 82 percent butterfat and is a beautiful yellow color, unlike the whiter lower fat American equivalent. Arben hopes to source more locally produced ingredients when available.
The first croissant coming out of the oven, after baking for 15-16 minutes, was just about the most wonderful thing I've ever eaten.
_______________________________________________________________________
READ: ROBIN'S NEST; FIT TO BE TIED, UNDERWEAR AND OUTER
READ: ROBINS NEST; NEVER HAVE I EVER, UNTIL NOW
_______________________________________________________________________
We used the mother dough (sourdough) to bake baguettes, pain de campagne (French country bread), spelt, buckwheat, six-grain flax seed and pain au chocolat. You can find seven or more varieties of bread each day.
Do what I did: purchase a full loaf of bread (fig and walnut is my current favorite), and ask café manager Susan Fine to cut off a few slices for you, with butter or French preserves on the side. Sit outside and enjoy with café au lait or an espresso. Try not to finish the rest of the loaf sitting on the table near you, or share with others.
Take home some macarons or pastries made on site by baker and sous chef Sol. She makes them taste even more wonderful than they look. A regular breakfast and café menu is also available if you want to have a sandwich or salad. Live a little.
INNER LIFE IN CARDS
Further down the block on Church Street, I went into the beautifully decorated and aromatic Blu Lotus Metaphysical Center, which opened in 1995. Montclair residents Joe Longo and Craig Sloan own the business and believe the mind is powerful, so it's important to tell yourself nice things. From ceiling to floor, the shop is stocked with oils, bath salts, incense, candles and healing stones, all essential elements for harmonious living.
I came in for a Tarot card reading with Billy Camal, who considers himself to be a psychic medium and "empath," with the ability to read the mental or emotional state of others through the use of the cards. Camal said he felt the energy as a young kid. "It's a gift," he said.
The quiet private room, with a sliding glass door, was a feast for the eyes, with a turban design fabric dropped ceiling, glittering crystal lights and a Buddha fountain. The devil in me had to make a quip about the "Peeing Buddha," but I'm just that kind of gal.
With an open mind, I watched him lay out the Cosmos Tarot card deck in a Celtic cross formation. There were so many cards to remember, but  Camal told me about the meaning of the first deal of cards on the table. Cards facing me were more auspicious, and he surprised me by saying that I have learned to "stay in my own lane, and go ahead with life," which is something I've been working on for a few years. I was comforted by hearing that I have a large support network "up there" made up of women who watch over me all the time. I'm not so sure about "welcoming a new boy" into my life. I'm not planning on having another baby in the future, and don't know any close family members who might be keeping a secret from me. Time will tell. I chatted with  Camal as he dealt out dozens of more cards. He takes what he does seriously, and is not a gimmicky entertainer. I appreciated finding out that people around town speak very highly of me. Well, shucks!
Blu Lotus also holds yoga and meditation classes, and Chakra cleanses for customers, downstairs in the very large shop. I'm reliving my life as a flower child with newly-purchased sage and patchouli incense burning throughout my house. Longo and Sloan keep various healing rocks and gemstones in their pockets, which I always have with me in a velvet pouch.
Everything old is new again, and I made bread and got metaphysical all in the same morning.
In this column: