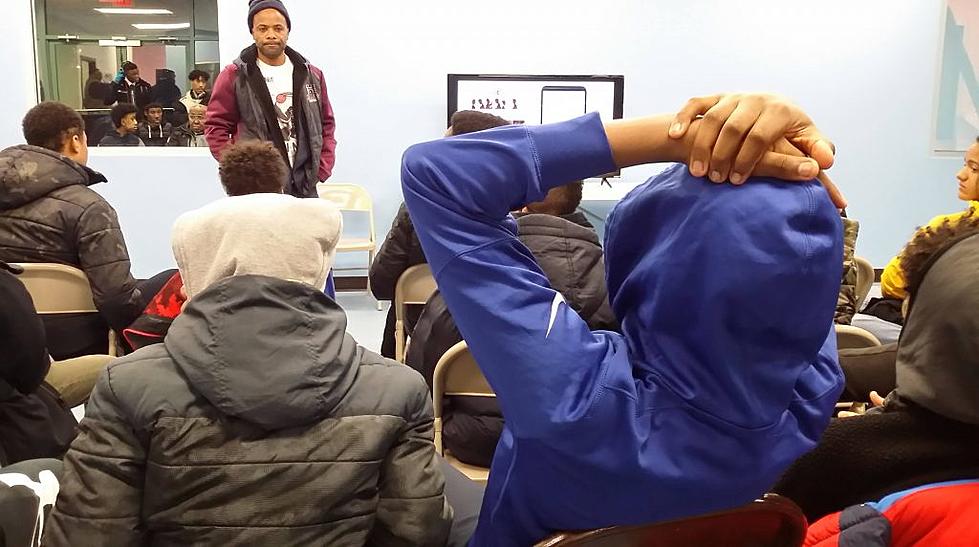 Robin's Nest: Brother to Brother to barrister
Corey Alexander and his mentees at Brother to Brother presentation. ROBIN WOODS/FOR MONTCLAIR LOCAL
By ROBIN WOODS
For Montclair Local
Robin Woods is a local girl-about-town, writing about activities, stores, restaurants, and interesting people that catch her eye. She's written memoirs and personal essays as well as music and fashion columns for various NYC newspapers.
Got something you think should be in Robin's Nest? Write to us at culture@montclairlocal.news.
I sat in on a Tuesday evening session with Brother To Brother Teen Mentoring program and learned about the importance of fostering safe, nurturing and positive relationships between adult male mentors and young mentees. The mission is to help them become productive and empowered young men of their communities.
I talked with founder Joe Davis, who's been involved with B to B since 2007. The 501(c) 3 nonprofit recently received a $12,100 Community Development Block Grant, which will be used to expand the program, take young men on college tours, and hold workshops on teen dating violence prevention, mindful breathing (meditation) and anger management.
Joe is an extremely dedicated person who simply describes himself as being "a very spiritual person, a praying, God-fearing man." He's involved five days a week with B to B along with his job as a security guard at Montclair High School.
It was like corralling exuberant puppies in a field getting the 33 young men to sit down to listen to the speaker that day, who was Hillside NJ Guidance Counselor Cory Alexander Jones. The topic that day was social media and cell phone overuse. I stayed for the presentation, and learned that an average of 4.7 hours a day is spent on the phone. Cory mentioned the dangers of becoming too confident while talking online, and making plans to meet strangers in real life. The video and bullet points seemed to sink in, as fidgeting and tossing of basketballs ceased when Cory asked the mentees to go online to take a test to see how well they listened. Bam! Phones came out, and all were intent on winning the $25 Dunkin' Donuts gift card.
________________________________________________________________________
READ: ROBIN'S NEST; FEEDING MY SOUL AND BODY
READ: BROTHER TO BROTHER PANCAKE BREAKFAST
________________________________________________________________________
Other than the male mentors from law enforcement, education, small business and government, there are two exceptional women involved with BTB: Parent Liaison Gloria Brown and Board of Directors member Natalie Pitts. They keep day-to-day operations running smoothly, and know that young men are always hungry. Toni's Kitchen supplies a light dinner and snacks each Tuesday at 11 Pine St., with pizza and salads purchased when they play basketball at the Bullock School off site. Birthdays are celebrated once a month with a huge sheet cake, and the young men head home at 7:30 p.m. after a long and busy day.
Brother to Brother's annual Father's Day Awards Breakfast will be held on Saturday, June 15, from 9 to 11:30 a.m. at Montclair High School.
LOCAL LAWYER
From mentors to municipal affairs, I visited attorney and Township Council member William "Bill" Hurlock at his Bloomfield Avenue office to discuss how he wears two hats, as the First Ward
Councilor and the managing partner at Mueller Law. Elected in 2012 to the council, he's been an attorney since 1998. He and I have become friends over the years.
Born and bred in New Jersey, Bill is the first one in his family to go to college, and always wanted to be a lawyer. "At age 10 or 12, I used to sneak in the back of the court to watch the proceedings. I was born to be boring," he told me. He spent his junior undergraduate year at University of London Birbeck College, received his law degree from American University's Washington College of Law, and has offices in Montclair, New York City, Georgia and Texas. At 19 years old, he worked in the House of Commons and learned the difference between the British and American legal systems. In Great Britain, the loser pays all attorney and court costs. In America, each party pays their share, he explained. He's Bill the Barrister, a litigator who represents whistleblowers, enforces consumer protection laws, and files mass tort cases. A former federal prosecutor, he kiddingly said his two children don't want to become attorneys. Why? Because "you work too hard for too little money."
On to his work as a Township Councilman. Montclair Township government operates under the Faulkner Act, adopting a "council-manager" plan. Council members are directly elected, with the council-appointed manager acting as chief executive and administrative officer of the municipality. Bill explained that council members cannot contact municipal department heads directly, because "we don't want politicians in charge of day-to-day operations." Even though Montclair has a nonpartisan form of government, Bill almost ran for Congress against Mikie Sherrell in 2018. He decided not to because he is not discounting another Township Council run or statewide elections.
He enjoys working with the younger generation, and has Montclair High School and Montclair State University interns in his office. There are many things Bill always wanted to accomplish on the council, including creating a better parking system in town and paying down the debt. It's a seven-day-a-week job, and he is most proud of the annual First Ward Beautification project at the Alonzo Bonsal Wildlife Preserve and Presby Iris Gardens.
Are there perks for sitting on the council? It's more of an honor, as he can't accept any comps to events or freebies, and gets no special treatment if he gets a parking ticket.
"As a lawyer, I'm going to follow the law all the time. I won't cave in to pressure because 200 people want something. There's a difference between what's legal and what's wanted," he said. He cast a dissenting vote regarding the Sanctuary City designation for Montclair, since "ignoring the law is not the issue. You must follow the law whether or not you agree with it." I admire his ability to be on an even keel without emotions guiding his votes. He's a good listener and deep thinker. Plus, he's always nattily dressed and wears some spiffy socks.
In this column: