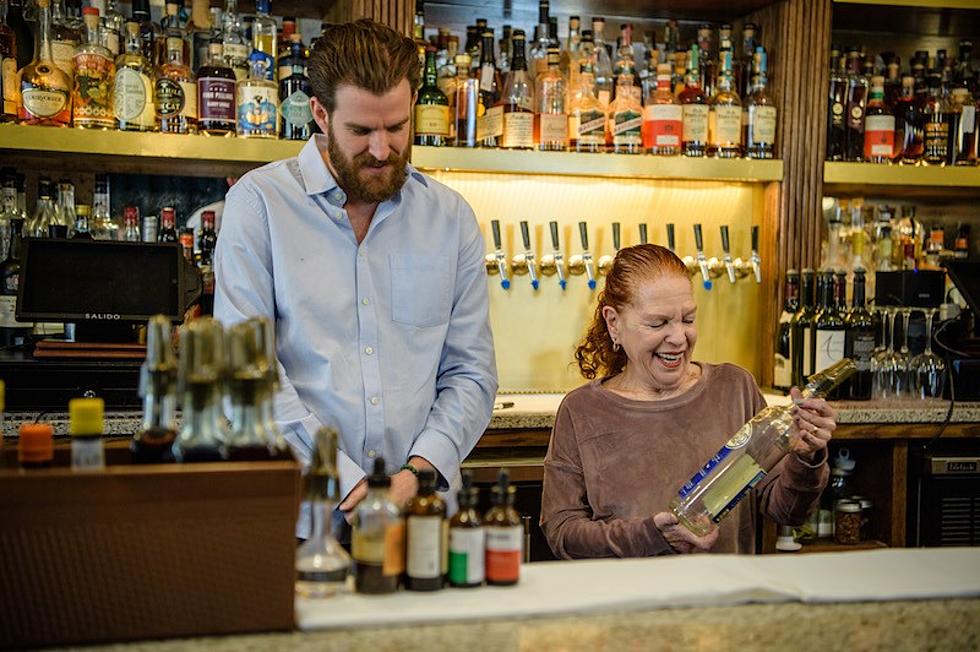 Robin's Nest: a drink and a flower, for the New Year
Robin Woods with BeverageDirector Gabriel Rieben at the Montclair Social Club. NEIL GRABOWSKY/FOR MONTCLAIR LOCAL
By ROBIN WOODS
For Montclair Local
Robin Woods is a local girl-about-town, writing about activities, stores, restaurants, and
interesting people that catch her eye. She's written memoirs and personal essays as well as music and fashion columns for various New York City newspapers. 
Got something you think should be in Robin's Nest? Write to us at culture@montclairlocal.news.
The holidays are here again, and we're getting ready to eat, drink and be merry. I've walked by Montclair Social Club many times, and wondered what it was and what goes on in there. I had a long chat and tour of the site with proprietor Jason Miller, early in the morning before things got too hectic. It's an evening venue, opening at 4:30 p.m. daily other than for Sunday buffet brunch, 11:30 a.m.-4 p.m. It was nice to have the run of the place and explore every nook and cranny.
An attorney by background, Jason has worked in the areas of business, finance and entertainment law. "My passion was not just to open a restaurant, but a bar with live entertainment," he said. The two buildings on Bloomfield Avenue were vacant for almost a decade until Jason renovated, from 2015 to opening Montclair Social Club in June of 2018.
The décor is classic, clean and not fussy, with lots of dark wood and beautifully covered banquets in an auburn-colored soft fabric. I appreciated the fact that the décor matched my hair, and I blended right in. Jason agreed it's annoying to have loud music playing while you're trying to hold a conversation or enjoy your food and drink, so he keeps the noise level relatively low until after 9 p.m. when you're welcome to dance in front of the stage and bar areas. 
Beverage Director Gabriel Rieben joined us before his shift to show off his training and ability to make over 200 types of cocktails, many from his own recipes. You might be more familiar with the title bartender, but Jason refers to him as "my liquor chef." I'm a lightweight when it comes to drinking, and I must remain sober during interviews. I was invited to go behind the bar with Gabriel to learn a thing or two about mixing a drink and remembering all of the various ingredients in a Bellini, Negroni, and make a signature cocktail called Life Begins Right Now. Gabriel, who studied hospitality and management for five years outside of Paris, France, where he was born, made his way to New Jersey after working all over the world, including a stint at Epcot Center at Disney World. 
________________________________________________________________________
READ: ROBIN'S NEST; COFFEE, CHABAD AND HANNUKAH
READ: ROBIN'S NEST; PUMPKIN EATER?
________________________________________________________________________
I marveled at the selection of wines, liqueurs and aperitifs. The signature cocktail is made from blended Scotch, biscotti liqueur, brandy, and chicory pecan bitters. I was careful to put in the exact drops of bitters, while Gabriel took out a portable smoking apparatus and added a bit of mystery and entertainment to the cocktail with cherry wood chips. With an empty stomach and just a cup of coffee in me, I took a few careful sips. The drink was strong, but I did pick up back notes of the biscotti, cherry and a smoky taste. In a pretty glass, the drink was a work of art as well as a potent potable. 
Jason surprised me by taking me upstairs for a sneak peak of his next project under renovation as a private event space, opening in spring of 2020. Montclair Social Club will be able to host weddings, bar and bat mitzvahs, charitable and corporate events there. It's larger than most estate homes in town, and will also have a built-in stage, bar, kitchen and bathrooms. Kudos to Jason for having a seven-stall bathroom for women downstairs, because you know you've been caught waiting in line to "go." I will go back there to try a simple drink or two, and stuff myself from one of the many Sunday buffet brunch stations. Jason said he's "still realizing the dream."
BE MORE ENTERTAINING IN THE NEW YEAR
Now that I have a few new drink recipes in my repertoire, I want to have more parties in my home. Flowers always make the difference, and Rebecca Merritt of RMerritt Production showed me how to put flowers and greens together in beautiful and unique ways. 
She's always loved flowers and what she calls "the transformation of space," and learned from a flower wholesaler while living in Kentucky. She moved to Montclair three years ago. She showed me how to up my game with simple, unusual arrangements, using containers that we all seem to have at home. I fell in love with a ceramic gnome, and wanted to fill his head with flowers. Using red roses, white and pink peonies, a huge stalk of cymbidium orchids and Italian ruscus greenery, Rebecca gave me a pro tip that made all the difference.
Everyone has Scotch tape on hand, and she showed me how to make a square grid with it at the top of the container before we put the flowers in. It apportions the space for flowers for you, and allows for different height levels. Be creative, and use a soup tureen, teacup or vase that's sitting in your kitchen. You can buy flowers in a supermarket, and put in lots of greens for color and stability.
Rebecca said, "To give your blooms of choice a high end look, use tone on tone or a single type of flower." Floral design insider tip: chrysanthemums are in again, and are very reasonably priced. Always unwrap your flowers and give them an hour or two of hydration after snipping off an inch or so from the stems. Each time you change the water, snip off more of the stems so that the flowers can take long drinks. Add floral food packed with some flowers, but don't use the whole packet at once. Peonies open quickly, so get them in the soft bud stage so they'll last longer. We also used red roses which looked like they were made of velvet. Rebecca's a perfectionist when it comes to floral design, and she reminded me to put in enough flowers so that there are no visible empty spaces in the arrangement.
Her favorite flower is the Free Spirit rose, with varieties of coral and hot pink. She made me laugh when she said "My husband knows that he can never send me flowers because of my likes and attention to detail in arrangements." My new favorite is a big stem of pink and white cymbidium orchids with many blooms that Rebecca purchased for our tutorial. It's expensive, but lasts a long time and is a showstopper.
With so many parties and family events to come, find your host's favorite flower and bring or send lots of them. More is more with flowers, and Rebecca's elegant and beautiful touch is found at large events and fundraisers, as was seen at the Montclair Art Museum Gala in 2018. 
A toast to you, with a large bouquet of gratitude, dear readers for being so loyal and giving me wonderful feedback. Just wait and see what 2020 has in store. I'll be exploring Montclair more and more.
In this column: