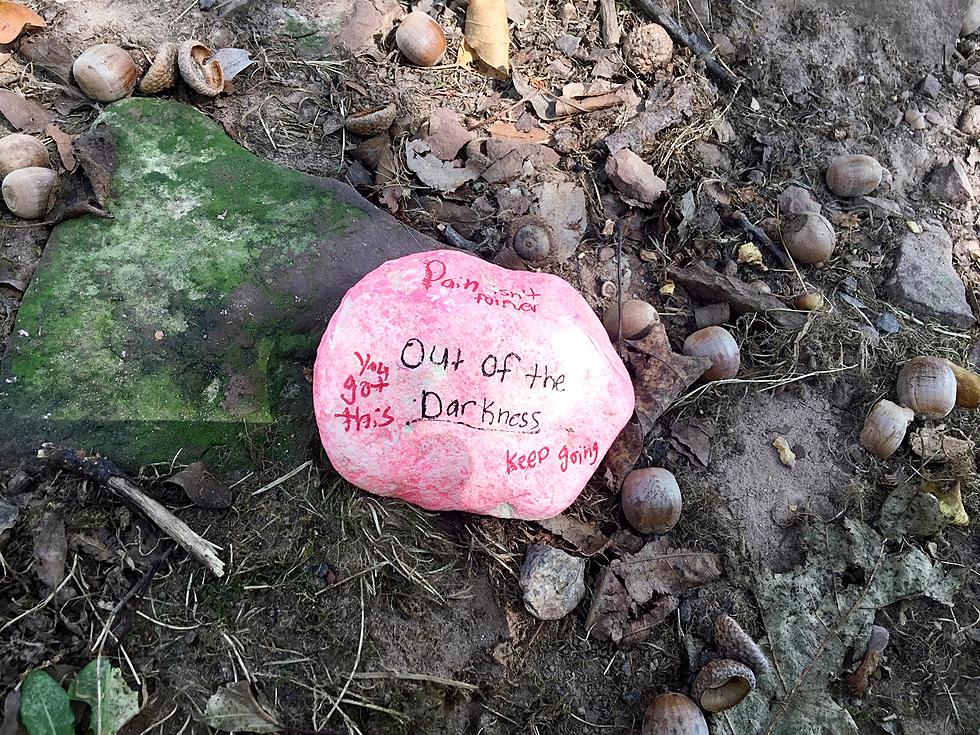 Rocks for Hope coming to Brookdale Park
A colored rock in Brookdale Park. This fall, students from Lacordaire plan to set out more painted rocks with positive slogans on them in the park, as part of an ongoing community service project.
PHOTO BY ERIN ROLL/STAFF
By ERIN ROLL
roll@montclairlocal.news
The next time you are walking in Brookdale Park, keep an eye out for something small and colorful on the ground. It may be a rock with an encouraging message painted on it, like "You are worth it," and "You are loved."
That rock may well be the handiwork of a students from Lacordaire Academy. Students will be setting out rocks with slogans around the park as part of a series of volunteer projects this fall. The project is known as Rocks for Hope.
The official start date for Rocks for Hope is Sept. 28.
Several rocks are already present in the park, however, with some of them being placed around the time of the Eastern Essex County Out of the Darkness Walk on Sept. 14, which helped draw attention to suicide and suicide prevention.
The idea of leaving painted pebbles with sayings tucked around parks began with the Kindness Rock Project. The trend was started by Megan Murphy in 2015 who wrote "You've got this" on a rock and left it on a beach on Cape Cod. After a friend found it, she started leaving more rocks with inspirational messages behind. It is now a global viral trend where people, usually children, paint pebbles or cobbles and leave them for others to find and collect. Photos of the painted rocks and hints of where to find them are often shared on Facebook groups.
Karen Coussoulis is a Lacordaire parent who helped spearhead the Rocks for Hope project. To celebrate Lacordaire's 100th anniversary, the school launched Lacordaire Cares, a series of volunteer projects to encourage students to help out in the community. Other planned projects include helping out with the backpack program at Toni's Kitchen, and a collection of toiletries and food for area homeless people, Coussoulis said.
The big challenge was finding volunteer projects for Lacordaire Cares that students from all grade levels could do, Coussoulis said. Lacordaire's students range in age from Pre-K to high school, but most community volunteer projects in Montclair will only allow students who are at least 12-years-old to participate. But during a school community meeting at Lacordaire, a parent suggested painting rocks with positive slogans, mentioning that the idea had been done in other places.
"This idea is something we've done on a smaller scale on campus," Suzanne Biliscka, the head of Lacordaire's Lower School.
The project was deemed to be appropriate for younger students, and reflective of the school's mission. "We try to be positive in nature, supportive of one another."
On Sept. 28, Lacordaire will have a clean-up day at Brookdale Park, where students will pick up garbage around the park. After the cleanup work is done, students will go to a designated "craft station," paint rocks, and then deploy them around the park.
September is a good time of the year to do it, Coussoulis said. The person who finds a rock could be a child having a bad day, or it could be someone who is experiencing serious problems in their lives.
The month of September coincides with Suicide Prevention Awareness Month, and the month of October will be Mental Illness Awareness Month. Biliscka said that mental health awareness was not quite the primary reason for doing Rocks for Hope, but she said it is a topic that Lacordaire pays attention to. "Mental health is something that we try to be cautious of as faculty," she said.
Coussoulis said the goal was to help students imagine that a small action could make someone else, most likely a total stranger, a little bit happier.
"Someone can be having a bad day, walking through the park, picking up a rock [the students] made and it brings a smile to their faces," she said.