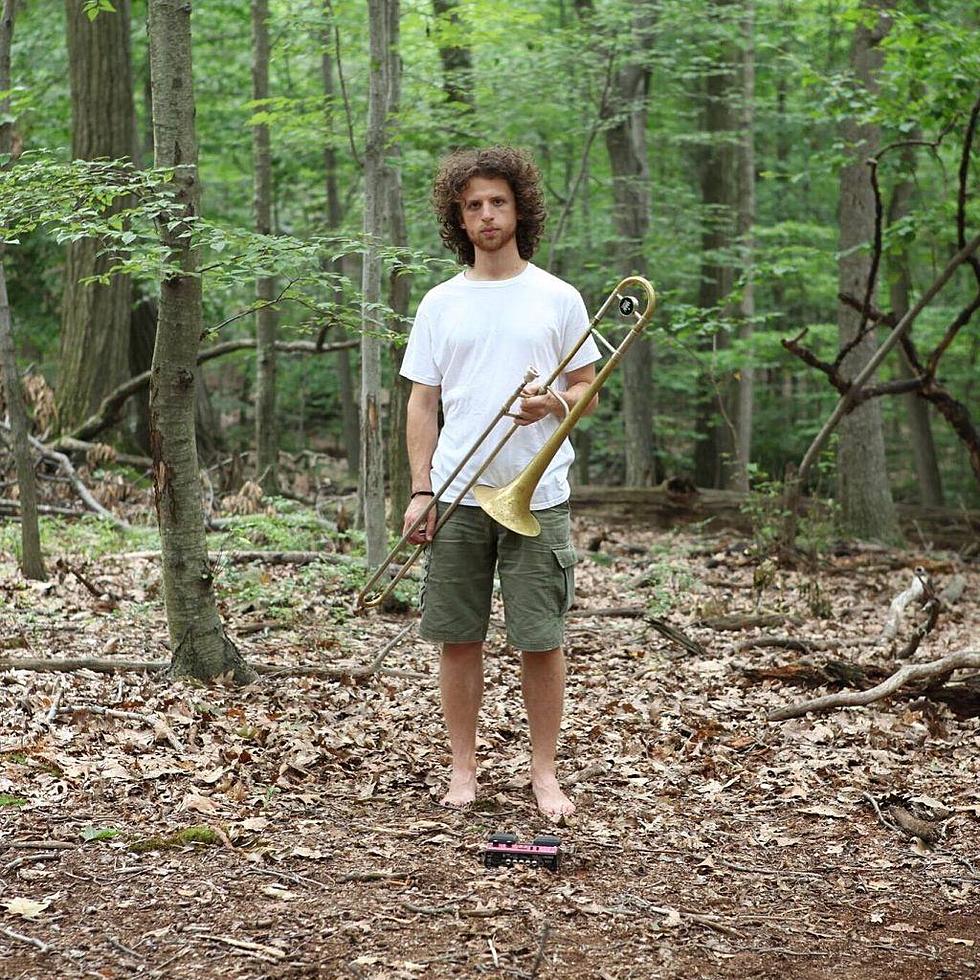 Sammy Mellman takes quarantine as a muse
Sammy Mellman holds his trombone, during a music video shoot, before quarantine. COURTESY ETHAN CANTOR
By NATE BAUER
For Montclair Local
Nate Bauer is a Montclair High School senior.
Sammy Mellman is a Montclairite and plays the guitar, drums, and trombone. A 2013 graduate of Montclair High School and 2017 graduate of Oberlin College, where he majored in musical studies, Mellman released a song titled "That Bird" on March 21 about being in quarantine in Montclair. The acoustic track is available for download on his Bandcamp site, sammytrombone.bandcamp.com.
His music can be purchased there, and listeners can name their price. He released another song, entitled "Magnolia," on April 28. Sammy said he is also working on his debut album, which will be released in the upcoming months.
Let's talk about 'That Bird.' In the description of the song on Bandcamp, you attribute some inspiration for the song to Roger Bailey. Who is that?
He's a friend from the summer camp that I work at. Toward the start of the quarantine, he posted a status update on Facebook with something along the lines of "Everyone's inside, but I can still hear the bird's song outside. I wish I could be that bird." I was like: "Oooh, that's nice. I'll use that!" (laughs)
The song's lyrics also mention walking around the block. What's your favorite walking path in Montclair?
I live close to Brookdale Park, I like to go down there a lot. And actually I'm working on another song right now that's about the county park trail! I've been walking that path a lot since quarantine started. That trail runs all the way from Branchbrook Park in Newark, and then it goes all the way up to West Orange. It runs through Brookdale, Yantacaw Brook Park, Tuers Park, and some other Montclair locations. Aside from that, I do like to wander around a bit, just like exploring streets that I don't usually walk down.
_______________________________________________________________________
READ: ONLINE AT THE OUTPOST; THURSDAYS AND SATURDAYS
READ: ONLINE MUSIC CLASSES BRING PEOPLE TOGETHER IN A VIRTUAL WORLD
READ: TOWN SQUARE: MEMORIES OF ADAM SCHLESINGER BY FELLOW MONTCLAIRITE WARREN ZANES
_______________________________________________________________________
You mention reading books in the song, what have you been reading recently?
I sadly don't get to read as much as I'd like to. I recently did read the Michael Pollan book "How to Change Your Mind." It's about the history of psychedelic mushrooms. It was very interesting! I also started reading "The Secret Life of Trees" by Peter Wohlleben.
What music have you been listening to recently?
I've been listening to some songs by my friend Kevin Sloan, and the new Fiona Apple and Sarah Siskind records. I've been getting into the Beach Boys recently, too. I used to know, like, "Good Vibrations" and all the surfer rock hits, but more recently I've learned some lesser-known songs, like "The Warmth of the Sun," a gorgeous ballad that my dad introduced me to. Brian Wilson was truly brilliant, a real musical genius.
What do you listen to for inspiration?
It's hard to say what inspires me directly … I think while I'm working on a song, I tend not to listen to much else in that mind-set. But ideas come from all over. I've found lots of inspiration from chords and melodies while singing barbershop quartet harmonies. I think I've been very directly influenced by a lot of the lyrics and melodies of old songwriters like Connie Converse and some modern rock music like Pinegrove.
How do you personally approach songwriting? Do you start with the harmony or the lyrics?
I love writing chords and harmonies, but most recently, when I have a rough poem or lyric idea that I like, I'll try to come up with a melody for it. The song's harmony and structure tend to take shape from there as I sing and play around with the melody at the piano. That's how "That Bird" started.