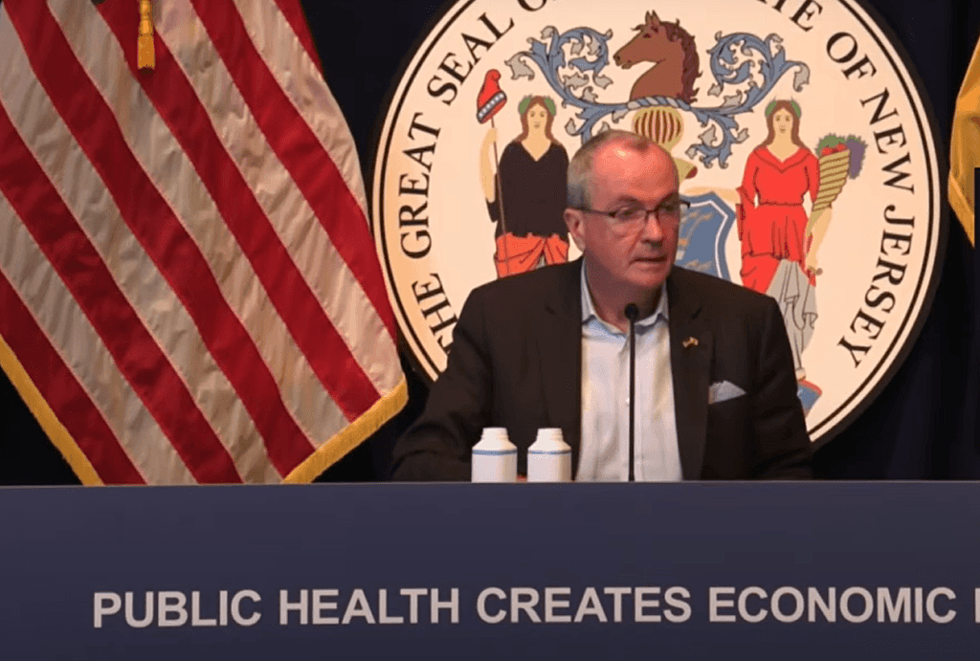 COVID-19: Schools, districts declare reopening plans to DOE
COURTESY STATE OF NEW JERSEY Gov. Phil Murphy speaks at an Aug. 24 press briefing in Trenton.
By ERIN ROLL
roll@montclairlocal.news
Most of the 745 school districts that have filed plans with the Department of Education will be opening up with a hybrid model in the fall, Gov. Phil Murphy announced at Monday's debriefing. 
As of Aug. 24, the Department of Education had received a total of 745 reopening plans from school districts and non-public schools. Of that number, 251 were completed and approved; 389 were reviewed and sent back for revisions; and 105 still needed to be reviewed.
The DOE has released information concerning 686 of the plans, with 436 seeking hybrid learning, 180 beginning remote-only, 59 planning in-person only and  11 districts seeking a combination plan, opening some schools within the district on a hybrid plan and other schools going remote-only. 
Montclair announced on Aug. 13 that it will open with an all-remote model on Sept. 10. The initial plan was to open the schools on a hybrid model with two cohorts of students taking turns having in-person instruction. 
Gov. Phil Murphy said the state was grateful to all school and district staff, families, and other stakeholders for their work and their understanding.
Restart and Recovery Commission
Monday's press briefing included a short statement from Shirley Tilghman and Kenneth Frazier, the co-chairs of the New Jersey Restart and Recovery Commission. The commission was founded to advise state officials on how to help different sectors of New Jersey's infrastructure and economy, including public transportation, education, public safety, small businesses and the arts, recover from the economic fallout of the COVID-19 pandemic. 
The commission includes two Montclair residents: former Homeland Security secretary Jeh Johnson, and Evie Colbert, a founding board member of Montclair Film.
Colbert founded the Arts Working Group to advise the state on how to help the arts sector recover from the pandemic. 
Tilghman and Frazier said the commission would continue working alongside state officials over the course of the pandemic. 
Indoor dining and reopenings
Murphy reiterated that officials hoped to resume indoor dining soon. 
Restaurants have been able to offer outdoor seating, with six-foot distances between tables, but indoor dining was postponed from an anticipated June 22 reopening after officials became worried about COVID-19 spikes in other states that allowed indoor dining to resume. 
Tilghman said there was no one metric alone that could determine when New Jersey could reopen indoor dining, gyms and other facilities. 
She also noted that New Zealand, after going 100 days without any new cases, began to experience new cases again after reopening eateries. 
"The virus is still here. It has not gone away," she said. 
Today's numbers
As of Aug. 24, New Jersey health officials reported 225 new cases, compared to 313 on Friday, bringing the total to 187,719.
The rate of transmission is 0.85, which Murphy said marked the third consecutive day that the rate of transmission was below 1. The transmission rate on Friday stood at 1.04. The positivity rate for tests conducted on Aug. 20 was 1.33 percent, compared to 1.42 percent from tests conducted on Aug. 17. 
Officials confirmed three new deaths, compared to 13 on Friday, bringing the state total to 14,120 confirmed deaths. Monday's report of confirmed deaths was the lowest since Aug. 10, which saw the reporting of four confirmed deaths. The number of probable deaths stands at 1,829. Hospitals reported nine deaths within the past 24 hours, but have not yet confirmed them as COVID-19.
During the tributes, Murphy paid tribute to Montclair State University shuttle bus driver Lunisol Guzman and her husband, Ismael Lugo Jr., both of whom died from COVID-19 in May. 
Hospitals reported an increase in hospitalizations which last were at 446 on Sunday night, including 66 critical care patients and 27 ventilators in use. On Thursday, hospitals reported 221 hospitalizations, including 61 in critical care and 32 ventilators in use. 
Health Commissioner Judith Persichilli said there was one new case of multisystem inflammatory syndrome in children, bringing the total number of cases to 56.
Essex County health officials reported an increase of 48 cases since Thursday now totaling 19,923. Officials also reported six new deaths since Aug. 21, bringing the total to 1,859 as of Aug. 24.
On Aug. 24, Montclair health officials reported that the number of cases remained at 492, which was the same number reported as of Aug. 23. The number of deaths remains at 54.