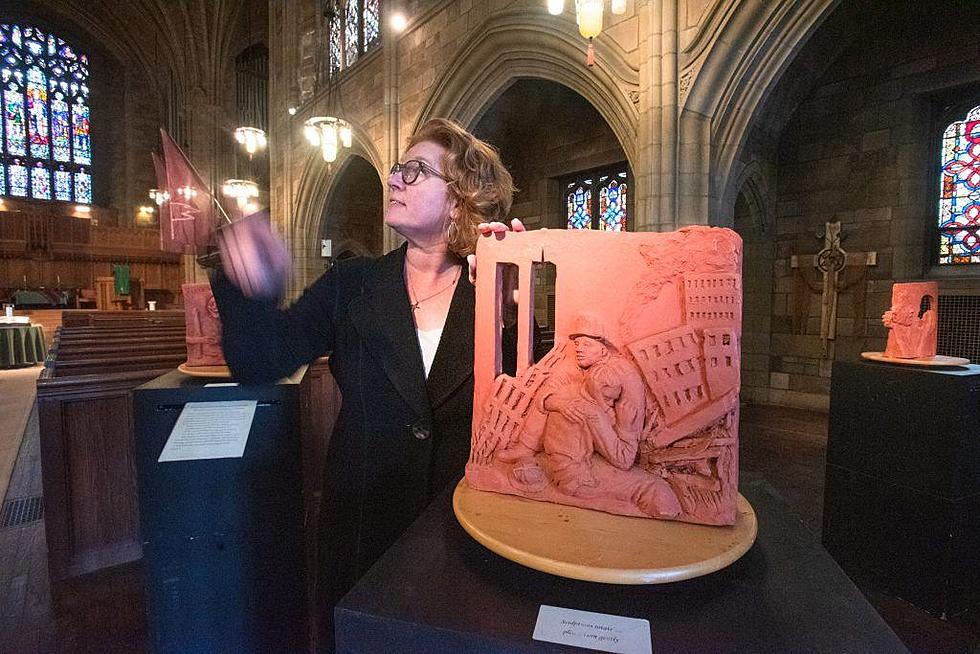 Sculpture for the soul at First Congregational Church
Rev. Anne Ralosky explains artist Rev. Dr. Charles McCulloch's interpretations of one the sayings of Jesus in a modern bas-relief clay tablet, on display at The First Congregational Church. ADAM ANIK/FOR MONTCLAIR LOCAL
The Rev. Charles McCullough
Conversation and presentation
Sunday, March 10, 12 p.m.
First Congregational Church
40 South Fullerton Ave.
By GWEN OREL
orel@montclairlocal.news
Art and religion can be two ways of looking at an issue.
That's how the Rev. Charles McCullough feels about his work as a sculptor and painter, and about his work as a minister.
The eight terra-cotta sculptures at First Congregational Church that make up his series "Beatitudes" are two-sided. The small square pieces that represent blessings Jesus gave, and sit on revolving plates on top of pedestals sitting in the church main Sanctuary. Since they are fragile, they are removed for Outpost in the Burbs or Montclair Literary Festival events. They are visible on Labyrinth Walks on Wednesday evenings (6-8 p.m. in the Sanctuary) and whenever the front doors of the church are open.
One side depicts the first part of a Beatitude, the other, the conclusion.
This Sunday, March 10, FCC will host McCullough in a conversation about his work, and FCC will unveil a new sculpture of Jesus that the artist is lending to FCC for the season of Lent, and discuss his latest book, "Picture This."
"Picture This" is a collection of McCullough's drawings, with text that explores his experience as an artist with dyslexia.
SPIRITUALITY AND POLITICS
FCC Senior Minister Ann Ralosky met McCullough and became familiar with his art when both were serving on a regional board of the United Church of Christ, of which FCC is a member.
"And it was during a time in this church's life when I was doing a lot of preaching on the politics of Jesus, and much of Jesus's parables have a strong political connection."
By political, she does not mean partisanship but "politics as the art of how we decide to live together," she said. "Jesus had a lot to say about how we live together."
"Normally, people divide things up," McCullough said from his home in Hopewell, N.J. "It's all together for me.
"We are all involved in political efforts even though we may not know that. It affects our personal and spiritual life. I emphasize the visual, while others emphasize the verbal and written forms of communication."
He says in a pamphlet about his work that he does not draw boundaries between what might be called religious or humanistic or political.
One side of "Blessed are the mourners, for they will be comforted" shows a sorrowing person. The other shows that mourner being comforted, the comforter represented by a cut-out of empty space in the shape of a head.
In his 2012 book, "The Non-Violent Radical," McCullough describes how this particular sculpture was inspired by the death of a good friend from leukemia. He reflected on the image of his friend's wife stroking his face during her last goodbye.
"In this two-sided relief sculpture, my friend is still present and real though his image is in negative space symbolizing the spiritual realm where he lives eternally. His spouse's hands embrace him. On the reverse side, the larger hands of God in turn comfort her."
"Mercy," which depicts "Blessed Are the Merciful, for They Shall Receive Mercy," shows an exhausted fireman on 9/11 rescuing a woman on one side, and being comforted by another fireman on the other.
"My job [on the national staff of UCC] was in adult education," he said. "I tried to convince people to increase spiritual connections to the holy and divine, but to apply that to political activity.
"Jesus grew up and was finally murdered by the Roman Empire." That empire often crushed humanity out of people, he said. "Jesus came to restore that humanity and resist the powers of Rome.
"We're called to do the same thing any time government crushes people, or keeps them from being fully human beings. He was executed by Rome because he resisted."
_______________________________________________________________________
READ: WALKING THE LABYRINTH: A PERSONAL, MEDITATIVE JOURNEY
READ: REENACTING THE SUBLIME ON PALM SUNDAY
______________________________________________________________________
McCullough strives to emulate Jesus's messages in his own preaching and teaching. "I help people to connect those things. I stress the value and importance of the visual image."
The 10-foot high sculpture of Jesus crucified also has different ways of looking at it, Ralosky said. As a Protestant church, FCC would not usually have an image of Jesus on the cross (Protestant churches show empty crosses). But this sculpture shows Jesus' arms outstretched to a span of about five feet.
Depending on how you look at it, she said, it's either a familiar depiction of Jesus with his arms on the cross, or "like Jesus in a spirit of jubilation a person, with their arms reaching up. So we are hoping that the transformation from Good Friday which is the most solemn acknowledgement of our complicity in the forces that brought Jesus to the cross to Easter Sunday, when we will be draping him in white, and hopefully it will have that joyful look."