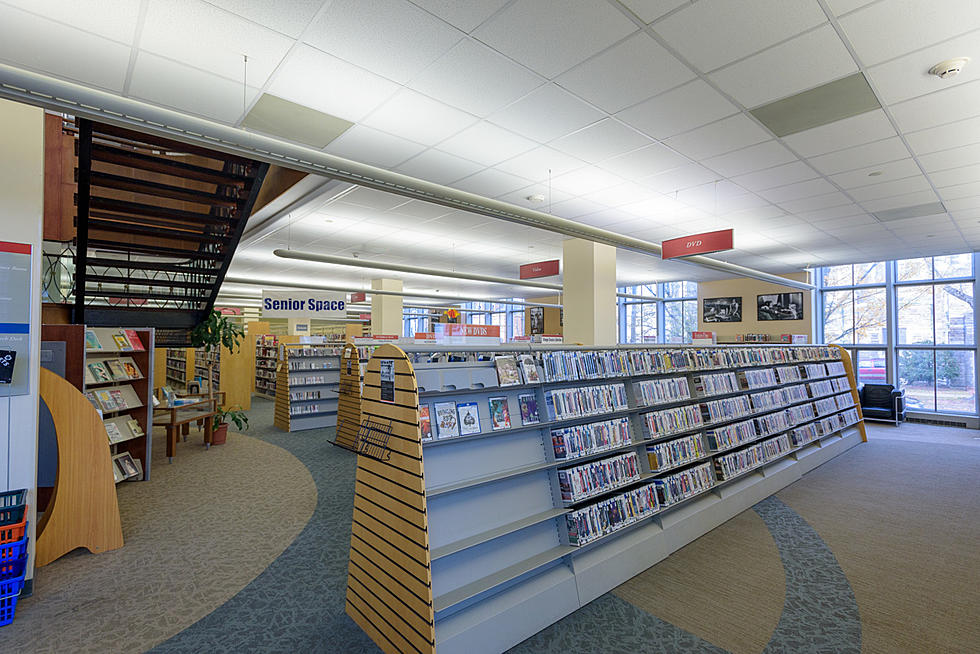 Search starts for new Montclair library director
The Montclair Public Library's ground floor houses the senior space, popular new titles, local authors, banks of multimedia racks with videos by genre, and access to the auditorium and art gallery. (Adam Anik / For Montclair Local)
By LOUIS C. HOCHMAN
hochman@montclairlocal.news
The search to replace Montclair's library director has only just started. And members of the library's board of trustees aim to cast a nationwide net as they look for Peter Coyl's successor. 
Coyl left the two-branch Montclair library in December to become the CEO and director of the 28-branch Sacramento Public Library.
The Montclair Public Library's board of trustees' personnel committee is reviewing search firms that it can employ to find a next director, board President JoAnn McCullough said this week. Once that list of firms is narrowed down, the trustees will decide if any that make the cut are the right fit, McCullough said. If one is, the work to find a new director will begin from there.
"And then once we're interviewing the candidates, we have to decide: Do we also want to present them to the township? To the Friends groups (library support organizations)?" she said. "This is a direction that the firm usually will help give. "
In the meantime, day-to-day operations are in the hands of interim and assistant director, Selwa Shamy, who came to Montclair in 2018 after 13 years with Somerset County's library system.
The search comes at a complicated time for the library, which has seen its budget rolled back in the pandemic, and which is in talks with township officials over a proposal that could see trustees lose some effective control of their institution. 
The township last year authorized a $31,500 forensic audit in which consultants say they found half a million dollars of overstated expenses and other issues. Library officials counter that those findings are wrong in several places and were based on a draft budget. They've taken issue with descriptions of how the library handled furloughing several workers in the pandemic and the closure of the Bellevue Avenue branch into part of 2021, and the financial impact of each — considerations Mayor Sean Spiller has said prompted the up-close look at library finances. 
Under state law, the township is required to provide the library with a certain minimum of funding based on the tax base — a level that would come to $2.8 million in 2022. But the Township Council's finance committee and the township's administration have proposed an arrangement that would hold back any funding beyond that, unless some management decisions that usually fall to the library's trustees are made subject to township approval.
It's been a point of contention for some on the Township Council, and for library supporters who protested outside the main branch in November. So far, there's been no vote by the council on the proposal.
The township has only recently begun its budgeting process for 2022. Library officials are hoping for a little bit under $400,000 in discretionary aid, for a total of about $3.2 million, Coyl previously told Montclair Local. That would be $100,000 more than the library wound up seeing budgeted in 2021.
But McCullough said she doesn't think the politics of the situation will interfere with the search for a new director.
"It's not a really big concern of mine. The Montclair Public library has such a strong reputation, and it is in a community that is strong," she said. "It is our feeling that the search committee can make certain that the message is strong, around the township and the services. … I don't personally have a big concern about selling the library to any candidates."
As to the budget and power structure, McCullough said she's optimistic about ongoing talks with township representatives. A meeting was last held in December, she said — "and that was a meeting we left feeling good about." Another is likely to be scheduled soon, McCullough said. She said a concern about the financial impacts of the furloughs came down to a "miscalculation" that she believes was cleared up in those talks, and she hopes the parties can come to terms.
For a next director, she said, the trustees are looking "for someone who understands the infrastructure of libraries and how they run." They want someone who's a strong communicator, able to promote library programs — "and of course, that also includes with the township" — and expand them through needs analysis, McCullough said. They'd like a strong strategic planner as well. 
"We're already in the 21st Century. If we can have someone that will continue to move us forward, that's what's best," she said.
McCullough, whom Spiller reappointed to the library board last week, remains in her president role until at least Jan. 24, when the trustees will meet to select their officers for the coming year.
Joining the board for the first time will be Geoffrey Borshof, whom Spiller appointed to fill a seat that had been open for a year. Borshof, a political consultant and a founding partner of the Mosaic Strategies Group, is a former state director for Obama for America and a former statewide volunteer director for Hillary Clinton's 2008 run.
By press time, he hadn't yet returned calls to his company seeking comment on his new role with the library board.