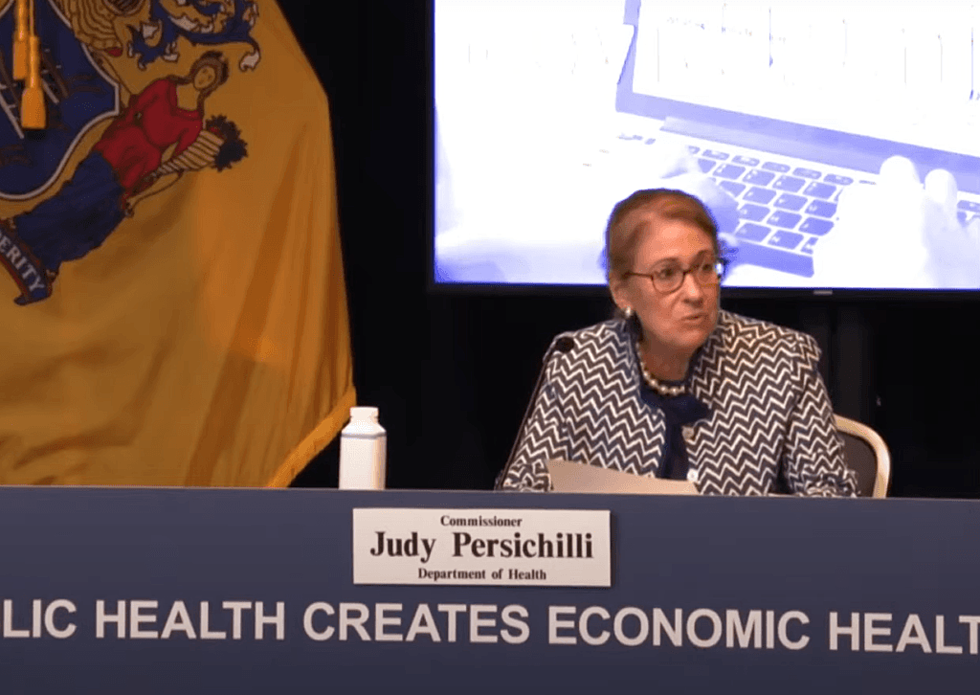 COVID-19: New Jersey sees 1,301 new cases as officials fear second wave
Health Commissioner Judith Persichilli speaks at a Oct. 8 press briefing in Trenton.
By ERIN ROLL
roll@montclairlocal.news
New Jersey is bracing for the prospect of a second wave of COVID-19, as health officials report the highest number of new daily cases since late May.
On Thursday, Oct. 8, health officials reported 1,301 new cases, compared to only 522 reported on Oct. 5. This brings the state total to 211,148 total cases. 
The last time cases broke 1,300 was on May 29, with1,394 new cases, said Gov. Phil Murphy. 
Eleven more deaths have been reported today, compared to only two on Oct. 5. The state death toll is now at 14,373. The number of probable deaths has risen from 1,787 to 1,788
The state positivity rate has climbed from 2.62 percent on Oct. 5 to 3.69 percent. The virus transmission rate saw a slight drop from 1.27 on Oct. 5 to 1.22 on Oct. 8. 
Ocean County and Monmouth County continue to lead in case counts. However, Murphy said Bergen, Essex, Union and Hudson counties have all seen more than 80 new cases each today. 
Ocean County reported 285 new cases, with 206 of those being in Lakewood. The majority of those new cases are in white, non-Hispanic males between 19 and 49 years of age, and some of the cases may be associated with religious gatherings or celebrations in late September, Health Commissioner Judith Persichilli said. 
Additionally, she said the Department of Health is monitoring increases in cases in college-age people in Monmouth and Middlesex counties, with communal housing arrangements believed to be a contributing factor.
"We are anticipating a second wave," Persichilli said. If people do not continue to practice social distancing, wash their hands and wear masks, "this wave has the potential to become a surge."
While health officials are stockpiling personal protective equipment, medical worker staffing could pose a problem if health care staff fall ill. Additionally, the out-of-state doctors, nurses and medical professionals who came to New Jersey to assist during the spring surge are now dealing with the virus in their own states, Persichilli said. 
"To anyone that is still under the delusion that this is just like the flu, it's time for a wakeup call," Murphy said. 
Communicable Disease Services Director Ed Lifshitz said the numbers are not higher than anticipated, but they are still a cause for concern. Overall, he said, the cases are spreading in many different places. 
Lifshitz acknowledged that people were likely tired of social distancing and mask wearing, but urged everyone to continue. He noted that he was in a restaurant recently, and saw that many diners had masks with them, but they were not wearing the masks while they were not eating. 
Murphy said he didn't believe the reopening of indoor dining, gyms and other facilities was somehow connected to the increase in cases. But indoor gatherings are being looked at as a possible contributing factor.
"It's more likely to be a scalpel than it is a blunt instrument," Murphy said of state-level responses to the increase in cases, meaning a blunt instrument would be statewide increases in testing, quarantines or bans on certain activities, while a scalpel would target individual communities seeing an increase.
New Jersey recently received its first shipment of Binax tests, which will be deployed to areas in need of testing reinforcement over the next several days. 
Murphy urged the continuation of mask wearing, hand washing and social distancing. "So it's simply, we don't have a therapeutic yet, God willing, soon. We don't have a vaccine yet, again, God willing, soon," Murphy said. "Wake up. For crying out loud, wake up. Wake up!"
Montclair connections
Murphy paid tribute to longtime Montclair artist, pottery instructor, and former township deputy clerk Carla Horowitz, who died on March 29 at the age of 77. 
Horowitz became a potter in 1974, initially working out of a friend's basement. 
Horowitz founded and ran Clay Cellar Pottery in Montclair's South End for 16 years. She also taught pottery at the Montclair Adult School, the New Jersey Center for Visual Arts, and the Montclair Art Museum. She was a member of the Potters Guild of New Jersey. 
Horowitz began working in the township clerk's office in 1993, and retired 20 years later as deputy clerk. 
Murphy also paid tribute to Mountain Lakes physician Kenneth Jewel, who had a 30-year career with Montclair Radiology. 
Today's numbers
Hospital patient counts continue to rise, along with overall cases. On Oct. 7, hospitals reported 652 patients, the highest number it has been since Aug. 7, compared to 507 on Oct. 4. Critical care patients and ventilator use have also risen, from 102 ICU patients and 34 ventilators on Oct. 4 to 148 critical care patients and 52 ventilators on Oct. 8. 
Essex County health officials reported 93 new cases on Oct. 8, up from 46 new cases on Oct. 7, bringing the county total to 21,520. The death count has been revised downward from 1,902 on Oct. 7 to 1,901.
Montclair health officials reported two new cases on Oct. 8, bringing the total to 578. The number of deaths remains at 57. 
The school dashboard reported 16 total outbreaks affecting 58 people, up from 11 outbreaks and 43 people last week. None of the affected schools are in Essex County.