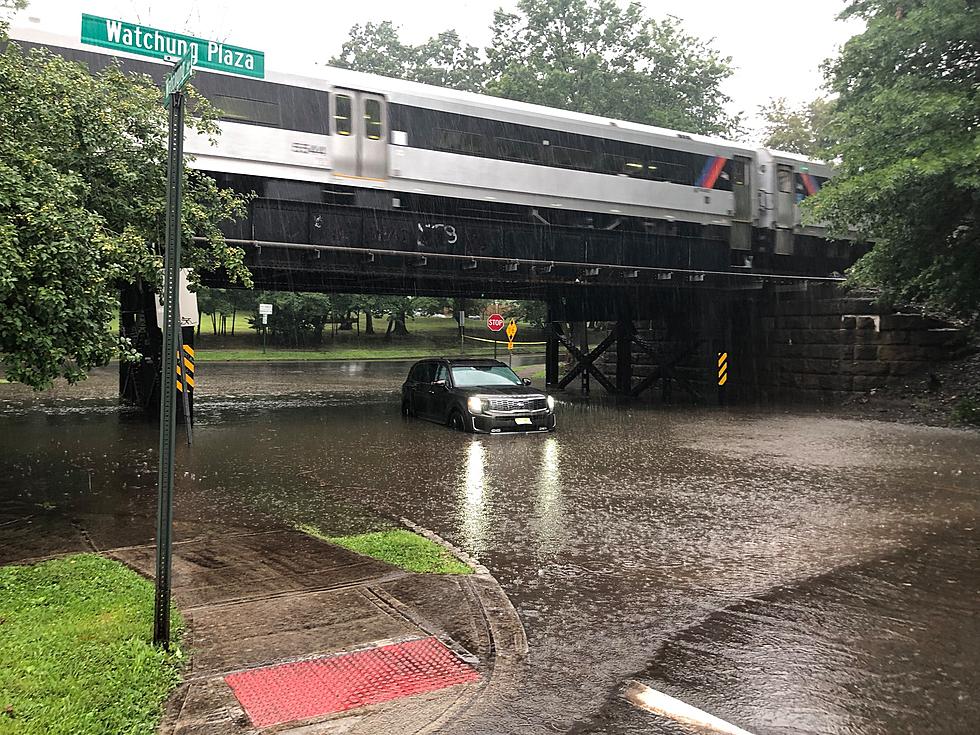 Serious flooding in Montclair Thursday night, with cars trapped — Be careful
A vehicle was trapped in the floods by Watchung Plaza, under the NJ Transit overpass Thursday night. (COURTESY JOSHUA CRANDALL)
The waters caused by heavy rains Thursday night had already started to recede by late evening — but not before causing flash floods that bystanders say trapped at least two vehicles in Montclair.
A flash flood warning remained into effect until 8:45 p.m.
"I worked in NYC all day ... came home to chaos," Joshua Crandall told Montclair Local by Facebook Messenger.
At 7 p.m., he'd seen a vehicle trapped under the NJ Transit overpass at Watching Plaza.
"I grabbed dinner at Mr Dino's [on Watchung Avenue] ... and the water receded (and the rain stopped)," he said.
Victoria Polito has seen the same car as well.
"It was crazy out there this afternoon. All low points in town were flooded," she said. "Haven't seen this in such a long time."
Edmond Francois saw a car stuck on North Fullerton Avenue near Renaissance at Rand Middle School.
He also captured video of flooding near Montclair High School, as the Second River overflowed.
As of about 7 p.m., flooding had shut down all lanes on both sides of Route 3 in the area of the Garden State Parkway, the state's 511nj.org reporting system said. That report had cleared by around 8:20 p.m.
Thursday night has seen wild weather overall in Montclair. A tornado warning had been in effect briefly, before the worst of the storm moved further south, and the National Weather Service said that isolated tornadoes were still possible later in the evening.
As of 7:53 p.m., "the rain has moved out of the area, however, flooding is likely on-going, and the flash flood warning remains in effect," the National Weather service said. It expected flash flooding of small creaks and streams, urban areas, highways, streets and underpasses as well as other poor drainage and low-lying areas.
"Turn around, don't drown when encountering flooded roads," the NWS wrote in its advisory. "Most flood deaths occur in vehicles."
A hazardous weather outlook was also in effect for the area, with showers and thunderstorms expected to produce damaging winds and heavy rain into the evening.
As of 8 p.m., Montclair Police had not yet responded to a message sent Thursday evening seeking information on on damages or emergency calls.
— Louis C. Hochman