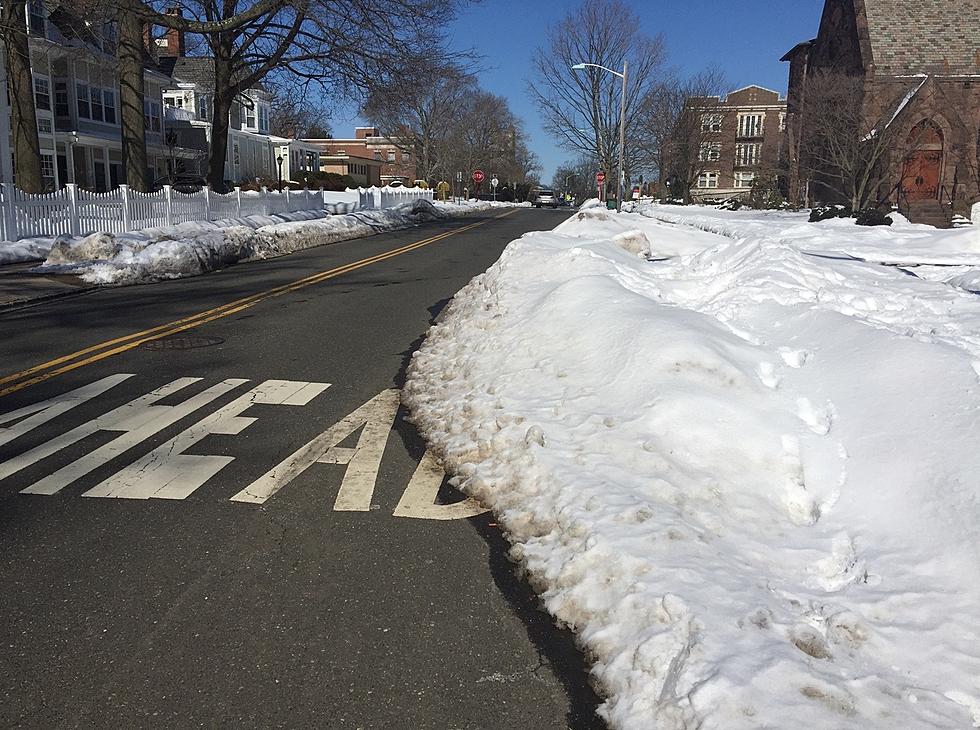 Snow piled up in Montclair this winter — so did crashes
A large pile of snow partially blocks one lane of South Fullerton Avenue near St. Luke's Church. (ERIN ROLL PHOTO)
By ERIN ROLL
roll@montclairlocal.news
Heavy snowstorms in February left Montclair's streets lined with massive piles of snow — and drivers trying to navigate streets without getting into accidents.
Police Lt. Stephanie Egnezzo said while the traffic bureau does not have exact numbers, reports of sideswipe crashes and parked vehicles being struck have risen noticeably since Jan. 1, likely due to the snow accumulation. Deputy Mayor Bill Hurlock said at a Feb. 16 Township Council meeting that some drivers have seen mirrors broken off of their cars. 
In Upper Montclair, Egnezzo said, parking was restricted to one side of the street after heavy snow accumulations.
"It's not been an easy February, and every time I pick up my phone and look at the weather app, five out of the seven days either say snow and/or ice," Hurlock said at the council meeting. "It's not necessarily the size of the storm, but the duration of the need to salt and cinder and what else." 
Warmer weather in the last weekend of the month melted some of the snow, but residents were left dealing with it for weeks. Feb. 27 saw a high of 50 degrees.
Parking on snow-covered streets is prohibited by township ordinance. The prohibitions remain in effect for a period of 12 hours after snowfall has stopped, and the township makes municipal lots and garages available for no cost during storms. But the heavy accumulation meant snow piles lingered well beyond the storms themselves.
Hurlock said that in prior years, the township had moved piles of snow elsewhere, but "got into trouble" with the Department of Environmental Protection, since the snow had been treated with salt and chemicals. The township tried putting snow piles in the parks, but received complaints from nearby residents.
"That just wasn't an option," he said.
Township communications director Katya Wowk said Monday that the DEP hadn't taken any action against the township, but told the township "we could not use certain areas for snow storage, and the township has not done so since." She said that happened years ago, and she didn't have any formal documentation that recorded what areas were used.
Some other municipalities have moved snow — for instance, in Glen Ridge, borough Administrator Michael Zichelli said crews have been hauling snow to the Glen Ridge pool on Clark Street. The resulting pile is known as "Mount Snow." NJ.com in early February described Hudson County communities moving snow to parks and school parking lots.
But Wowk said Montclair no longer moves snow to other locations. 
County spokesperson Anthony Puglisi said Essex plowed its own roads, but did not truck snow away. 
"With cars not parking on county roadways, we were able to plow to the curb. If any trouble areas were identified, we went back out to plow again," he said.
Second Ward Councilwoman Robin Schlager said at the council meeting the snow piles have caused the streets to become narrow, and urged drivers to be careful. 
"We have to really be cautious making turns into the street, and also going side by side," she said, adding Forest Street had been especially hard-hit, but she had been in touch with township officials about getting it cleared. 
Montclair's township code requires owners and occupants of any property abutting a public street to clear the sidewalk of snow within 12 hours of a snowfall. 
It is against the law in Montclair for people clearing away snow to throw it into the street. Snow may not be deposited on another person's property, except with the permission of that property's owner. 
The DEP prohibits snow from being dumped into any body of water, including the ocean, reservoirs, ponds and wetlands. Also prohibited are areas near public water supply wells or reservoirs, sanitary landfills, storm drains, catch basins, drainage swales or ditches. 
Instead, the DEP asks townships and private entities to choose snow disposal sites ahead of snowfall, and recommends using municipal open space like lawns or parking lots. 
Snow can be dumped into rivers only by emergency authorization from the DEP, if there are no other land-based snow disposal options, and the snow is not obviously contaminated with road salt, sand or other pollutants.