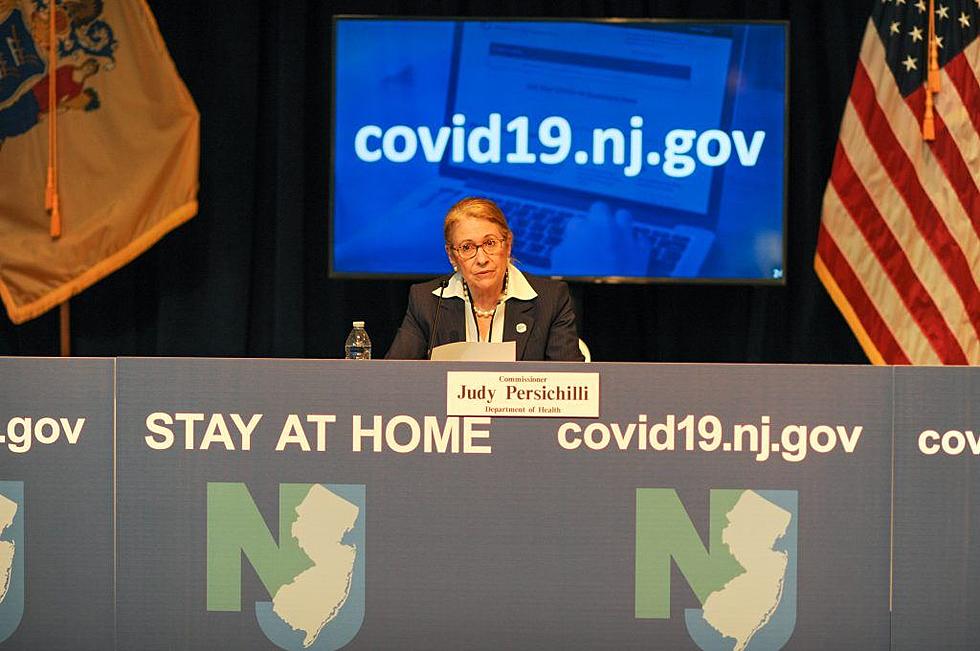 COVID-19: State releases virus-related cases at long-term care facilities in Montclair, Essex
NJ Department of Health Commissioner Judith M. Persichilli discusses the state's release of long-term facility numbers at today's debriefing.
COURTESY KEVIN SANDERS
BY JAIMIE JULIA WINTERS
winters@montclairlocal.news
Hospitalizations of COVID-19 patients in New Jersey continue to decline, with the number of hospitalized residents declining for the fifth straight day. The state hospitalization growth rate due to the virus has declined by five percent, NJ Department of Health Commissioner Judith M. Persichilli said at today's debriefing.
Today, April 20, the state reported 3,528 new cases and 177 deaths from the virus, upping the state's totals to 88,806 cases and 4,377 deaths. 
On Sunday, those numbers were at 3,881 residents testing positive for the virus and 132 residents who had died as a result of the virus.
Montclair Township officials reported on Monday three more residents have tested positive for the virus bringing the number to 303. Yesterday, Montclair officials reported 10 new cases. The number of deaths remains at 32 deaths, unchanged from Saturday.
Today, Essex County reported 425 new cases of residents with COVID-19, up from the number of 398 reported on Sunday. Today Essex reported 11 new deaths, an increase from the eight deaths reported on Sunday. Essex is second in the state for COVID-19-related deaths, with 751, trailing only Bergen County at 787. It is third in the number of total cases with 10,729, behind Bergen (13,011) and Hudson (11,150).
As of last night, 6,986 people were hospitalized throughout the state compared to the 7,495 on Saturday and 7,718 on Friday. The number of patients in critical care last night was 1,093 dropping from 1,940 on Saturday and the 2,024 on Friday. The number of patients on ventilators is remaining flat, with 1,594 as of last night and 1,628 on Saturday. 
In addition, 583 patients were discharged yesterday, April 19. 
LONG-TERM CARE
Long-term care facilities continue to see problems with deaths connected to COVID-19. Deaths at these facilities now number 1,779, which accounts for more than 40 percent of all statewide deaths connected to COVID-19.
Reported cases at long-term care facilities now number 10,744, which is 12 percent of New Jersey's total COVID-19 positive cases. 
The state released a report today that named each long-term care facility, and the number of patients who had tested positive and the number of deaths associated with each facility.
Five facilities located in Montclair were listed, including:
Horizon Manor North—9 positives, 1 death

Horizon Manor South—7 positives, 2 deaths

Gates Manor/Montclair Care Center—24 positives, 8 deaths

Waterview Center—52 positives, 14 deaths

Family Caring—36 positives, 14 deaths
Montclair's numbers of 32 deaths to date provided by the Montclair Health Department reflect only residents whose primary home address is in Montclair.
"The information the state posted today includes both short and long-term residents and staff. Our cases are only long term residents of the facility and staff that may reside in Montclair and were tied to the outbreak," said Montclair Heath Department Director Sue Portuese.
In total, there are 1,106 patients in 40 Essex County long-term care facilities with the virus. Deaths related to COVID-19 at Essex County long-term care facilities now number 223. 
WHEN WILL WE REOPEN?
Later in the week, the governor is expected to discuss the "benchmarks" needed for the state to reopen. At Monday's briefing, Gov. Murphy said that an increased and widespread testing regime and a contact tracing infrastructure were needed, he said. Specifically, state officials said they want the capabilities to conduct 15,000 to 20,000 tests daily, an infrastructure to conduct contact tracing through local health departments, a process to isolate and quarantine individuals who test positive and the healthcare infrastructure for people needing to isolate and quarantine. 
"As we increase testing the number of people needing to isolate, as well as quarantine, will increase," Persichilli.
Reopening too soon would not only cause a huge spike in cases and deaths, Murphy said, but New Jerseyans also need the confidence that the health care system can support residents getting back to work and school, and to shopping. 
"Personal health creates economic health," he said. 
TESTING
Although New Jersey ranks fourth in the nation with its testing capabilities, and there are 73 locations statewide where residents can be tested, officials are looking to more than double the number of tests conducted daily, and are aiming for results to be processed in 24 hours, rather than the seven-to-10-day timeframe occurring now.
To date, 161,714 New Jerseyans have been tested, resulting in a 44 percent positivity rate. But officials noted that testing likely does not offer a complete picture of the spread of the coronavirus, as tests are only being administered to people showing symptoms, and the results have been backlogged. Furthermore, the number of residents who have been infected with COVID-19 is likely much higher than numbers being reported, experts say, because many people who contract the virus are believed to be asymptomatic. Those individuals could be spreading the virus without knowing.
Essex County is continuing its testing site at Weequahic Park at Newark this Monday, Wednesday, and Friday, April 20, 22, and 24. The county will test 250 residents each day by appointment. Only those showing symptoms will be tested. 
According to a release from the county, they are working through a waiting list of residents who applied earlier and were unable to be tested because of overwhelming demand. New registrations will be accepted when the waiting list is exhausted. 
The following spread sheets provided by the state show the numbers at the long-term facility centers in Essex County: