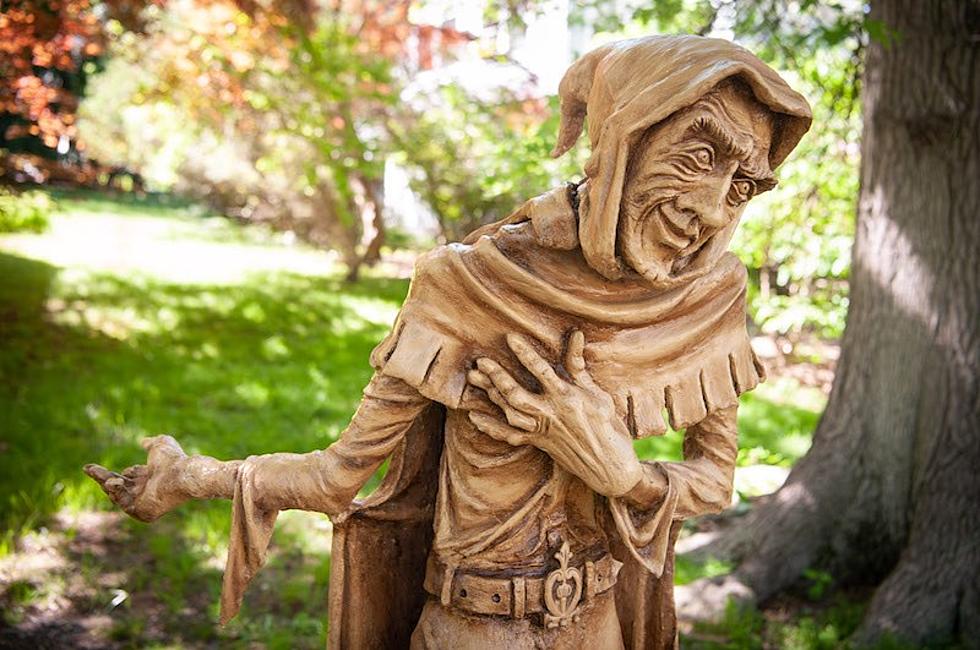 Statue casts a medieval spell
The statue has details that were inspired by medieval times. KATE ALBRIGHT/FOR MONTCLAIR LOCAL
By KATE ALBRIGHT
For Montclair Local
During an early evening walk on Upper Mountain Avenue, passers-by might notice a glowing man who appears to be coming toward them through the trees.
It might seem otherworldly: Some at first glance think it's an apparition, others describe it as Till Eulenspiegel, from German folklore. 
A bit north of the Presby Iris Gardens on Upper Mountain, the 5-foot-tall, mysterious medieval-garbed man dares passers-by to look closely. One hand is held to the chest, while the other gestures backward. In the evening, with the garden lights shining on him, it's impossible not to stare. 
Along with gargoyles and a cemetery gate, the statue is one of many additions that lend Gothic charm to the home of artist Joseph Amorino, who created the mythical creatures in his garden over the 16 years of living in his home. Amorino draws inspiration from medieval artists, like Pieter Breugel the Elder, as well as from his own childhood fascinations. Amorino dubbed him "The Silent Watcher."   
_______________________________________________________________________
READ: MONTCLAIR 150: GARDENS CONNECT TO COMMUNITY
READ: LIFE UNDER LOCKDOWN: TENDING TO TURTLES
_______________________________________________________________________
As to people saying that the statue is Till Eulenspiegel, the 14th-century German jester who roamed the land exposing human folly until he died of the Black Death in 1350, that might be fitting for these times. 
"It isn't consciously (Till Eulenspiegel), but I would say that because I'm influenced by, attracted to vintage, arcane medieval images, that someone may definitely very reasonably draw that conclusion," Amorino said.
As head of Kean University's certification program for K-12 art educators, Amorino is passionate about guiding educators to help "young people conceptualize, create, and have the ability to go beyond the surface and think for themselves" while remaining connected to their childhood interests.
"I think it's important that adults do not lose their childhood, the topics that fascinated them and the subjects that fascinated them as children," he said. "I think it's very life-enriching to hold on to those kinds of ideas and celebrate them throughout your life. They're very natural, and they're there for a reason." 
Amorino says the statue, like many of his drawings and paintings, is "a revisitation to these childhood fascinations that I've had with enigmatic figures and sort of Gothic figures and mysterious personalities or characters."
He tells a story of staying up late in his family's railroad flat in Jersey City, hoping to spot a regularly visiting mouse that would disappear into a crack in the kitchen molding. "I would take a flashlight and try to look into the hole to see where it lived," he said.
The statue, which debuted in summer 2019, was created in his basement and took several months to finish. It began with a series of drawings and was engineered to remain intact and resistant to the elements without losing its delicate body language and facial expressions. Amorino used cement, chicken wire, metal rods, armatures, and rags. He then hand-painted the statue to emphasize shadowing and glazed it for weather protection.
Conveying gesture and facial expression is critical to the success of the artwork, according to Amorino. As viewers walk from the left to the right side of the statue, they might notice a scowling expression shift into a shy, almost sinister, smile.
"He's listening, and he's holding his chest and in modestness, in deferment to the person passing. But then by the time you pass the house, he's changed," Amorino said. "And people can do that. You know, individuals can do that. Society can do that. We have more than one side to us."