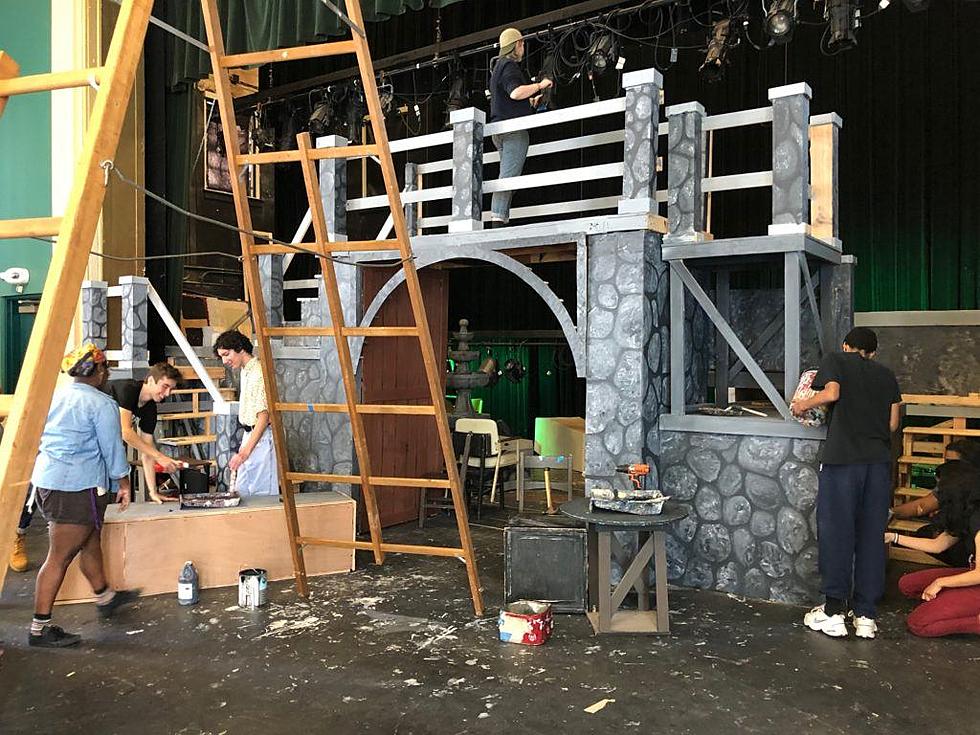 SVPA presents 'Oliver!' on many levels
Students build the set for "Oliver!" COURTESY DEB GARRISON
Oliver!
Music and lyrics by Lionel Bart.
Based on the novel "Oliver Twist" by Charles Dickens.
Montclair High's School of Visual and Performing Arts
May, 3, 4, 10, 11, 7:30 p.m., May 12, 2 p.m.
The Little Theater at the George Innes Annex, 141 Park St.
Tickets at seatyourself.biz/montclairschoolarts or one hour before the show at the box office.
By GWEN OREL
orel@montclairlocal.news
It's not unusual for a director to choose a play based on the talent she knows she has to perform in it.
But onstage talent is only one facet of Montclair High's School of Visual and Performing Arts.
Along with the singers and dancers, SVPA students are lighting and set designers, prop builders, running crew.
This year, director Brenda Pepper chose a musical that would challenge the technical crew.
"Oliver!" has 33 students in the cast, and a crew of more than 60.
"I wanted to give [the tech crew] a special send-off," Pepper said.
________________________________________________________________________
READ: MONTCLAIR HIGH'S SVPA CHANGES LIVES
READ: SVPA'S 'CHICAGO: HIGH SCHOOL EDITION IS A SIGN OF THE TIMES
________________________________________________________________________
"Oliver!," the beloved 1960 musical about an orphan in Victorian London, based on the novel "Oliver Twist" by Charles Dickens, is also a departure in that it's a classic musical, unlike recent outings such as last year's high school edition of "Chicago."
It's a show with many roles for children, and as such is a favorite of middle and elementary schools and summer camps. The show includes big ensemble numbers such as "Oom-Pah-Pah," "Who Will Buy," and the soulful ballads "Where Is Love" and "As Long as He Needs Me," among others.
Pepper said she could have had a bigger cast, but wanted to make sure every cast member had plenty to do, and nobody was just in the first song.
The challenges that creating a strong set for Dickens' tale, which includes several locations and a bridge, attracted Pepper to the show.
"We built a lot of different levels and staricases," she said. "There are escape stairs from the back. I really wanted a center piece of London, so I purchased a fountain."
But the fountain was not big enough, so the students, under the guidance of Technical Director Kenneth Cleerdin, built a round circular platform. When it's plugged in, water cascades down it.
SVPA rented painted backdrops, a first for Pepper, who is directing her eighth spring musical. But having that drop also means crew will have to learn to rope it and drop it down.
Lara Harvey, one of the co-heads of tech, with Rachael Gayle, said she is especially proud
of that fountain.
"It will be used in a dance number. It had to be practical, as well as authentic and real," Harvey said. "We built a frame for it, that was sturdy enough and wide enough so that people could stand around it and on it for dancing purposes. Then we got a small fountain that comes with tubes and wires attached, that we had to lay out underneath the general frame. We plugged it in and filled it with water, and it spews down from the top.
"It's equipment that we don't typically use."
Harvey is a senior, and will attend Cornell University next year. She expects to stay involved in theater in some way, though thinks she may major in English and Government.
Working on this show taught her more about building sets than many other productions, Harvey said. "With the set being multi-level, with a large bridge in the center of the set that is very high up, we had to make sure it was stable, as well as making sure it looked realistic as a bridge."
Crew also had to stipple painting to make the stones look as authentic as possible
A DARK STORY
While "Oliver!" has children as its leads and jaunty melodies, it's really a dark story, said Pepper. Like the set, the show has different levels.
The song "Food, glorious food" shows that the orphanage kids are underfed.
The character of Nancy, played by senior Eve Dillingham, has a relationship with thug Bill Sykes, played by Aidan Joyce, that is psychologically and physically abusive.
As an English major, Harvey may well read Dickens' "Oliver Twist."
At first she was surprised the musical was chosen, because she thought of it as a show for children. She became excited when she saw the design for the set.
Now that the show is close to opening, she sees darker things in it that she hadn't noticed before.
"It's really interesting to see people my age really working towards creating a realistic presentation of this story," she said. "It is a rather grim plot when you really think about it. Growing up in a pretty wealthy town like Montclair, [the extreme poverty is] something a lot of people haven't thought about."