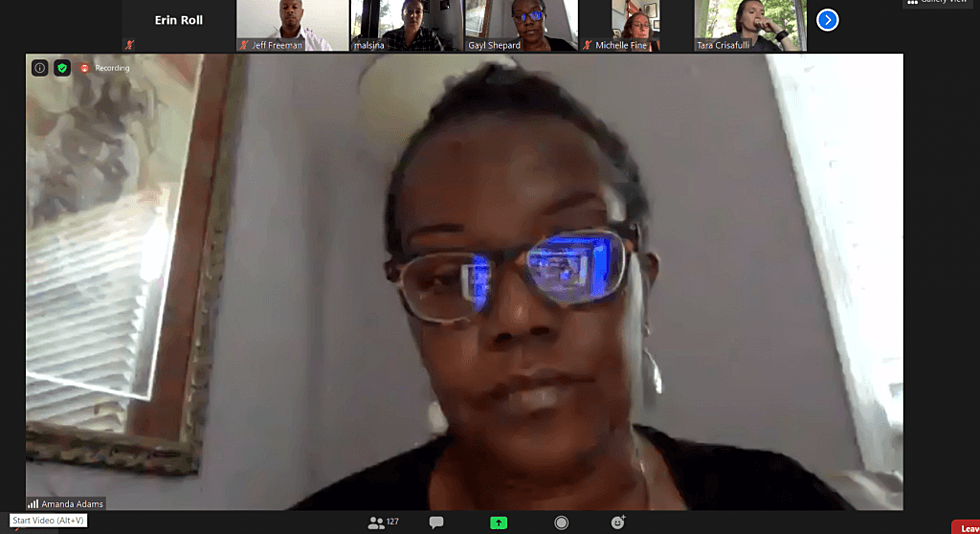 Discussion covers how to talk about racism with children
COURTESY MONTCLAIR EDUCATION ASSOCIATION Gayl Shepard, the district's restorative justice coordinator, speaks during a June 10 Zoom discussion on how to talk about racism with children.
By ERIN ROLL
roll@montclairlocal.news
Part of being a responsible role model to children is being able to have uncomfortable discussions with them, especially about racism.
So said panelists at a Zoom talk attended by more than 130 people, including teachers, school administrators, doctors, experts in social work, and members of the community. The discussion was presented by the Montclair Education Association and the district's restorative justice team.
Gayl Shepard, restorative justice coordinator and the moderator for the June 10 discussion, said that adults frequently have trouble talking to children about racism.
"It's because we, as adults, have trouble as well," Shepard said.
Topics at the forum included how educators should respond when there is a racist incident at their school, the problematic nature of phrases such as "You're so articulate" and "I don't see color," and the need for a more diverse school curriculum.
The six panelists, who included Montclair teachers, principals and educational experts, talked about when they first remember someone speaking to them about race and racism.
Shepard recalled a road trip with her family in the 1960s through the Deep South. In Baton Rouge, La., they stopped at a farm to buy some peaches. As soon as her father stepped out of the car, the family was surrounded by four or five white men, who treated the family with hostility. "The look in my father's face, I'd not seen before," Shepard recalled, remembering his fear.
Restorative justice teacher on special assignment Syreeta Carrington remembered having discussions as a high school student with her mother on how she had to perform better academically than any other student in her class to be recognized and respected by teachers.
"If the white girl got a 99, I had to get 100 in order to be recognized," Carrington, based at Glenfield, said.
She said she did not enjoy having those discussions: "I thought they were unfair, and I thought they were uncomfortable." If adults cannot have those conversations, they will not be able to have those conversations with children, she added.
Michelle Fine, a professor of psychology and urban education at CUNY, said that white parents and white educators have a responsibility to talk about race and privilege, among themselves and with the children in their lives.
The principals discussed how they respond to a report of a racist incident in their school.
Edgemont Principal Jeffrey Freeman said that even among children of kindergarten age, there have been incidents where a child said something that was racist.
Freeman said that it is important to speak to the students and determine what exactly happened. For the student who came forward to report the incident, he said, it is important to emphasize that the student did the right thing.
Conversations with parents are also very important, Freeman said. Sometimes, he said, conversations at school with younger children who may not be hearing those conversations at home can be difficult.
High School Principal Anthony Grosso said students who are affected by a racist incident may express a range of feelings, from anger, to fear, to sadness.
Montclair has not done a good job over the decades of living up to its promises of equity, many of the panelists said.
The district has conducted initiatives such as Undoing Racism, a series of professional development sessions for teachers to help them recognize and respond to racism and biases in the classroom, and to promote a more equitable learning environment for students.
But, the panelists said, the schools have a tendency to start initiatives to encourage equity and justice in the classroom, but then not carry them through.
"For too long, I think we have really ignored the situation," Grosso said. "As educators, we've put a Band-Aid on a situation that could no longer be contained by a Band-Aid, and never should have in the first place."
Carrington said that whenever a student enters her classroom, she endeavors to see that student as a whole person.
If a student says something hurtful during class, including self-critical remarks that result from trauma having been inflicted on them, Carrington said she will immediately call it out. She will also speak to the student in private afterward to see how the student is doing.
MEA Chairwoman Petal Robertson said the high turnout at the discussion was a good sign. "We are so happy that all of you attended, and we hope this is not the last stop."
Robertson reiterated the message that adult behavior reflects onto children. "If you hold a Black Lives Matter sign, but when you pass a black life but don't respect it, that is what your children see," she said.
The next Zoom discussion, scheduled for 4 p.m. today, June 18, will focus on how to be an ally. For information on how to participate in the discussion, members of the community may contact the MEA to receive the Zoom link.
Incoming Schools Superintendent Jonathan Ponds, who will begin with the district in July, said he was excited with the impetus to move forward.
Ponds said it takes sustained, conscious effort to bring about lasting change. "When you do it one time, and walk away, it's just like anything else," he said.