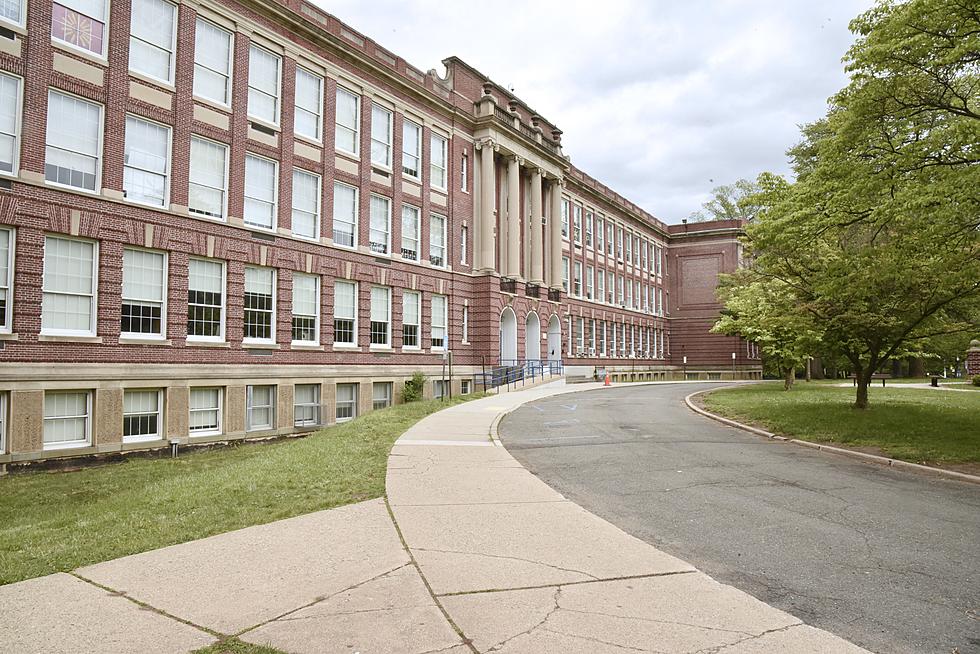 Teachers union: It's not yet safe to reopen Montclair schools
Montclair High School PHOTO BY ADAM ANIK
by LOUIS C. HOCHMAN
hochman@montclairlocal.news
The union representing Montclair teachers says it's not yet safe to return teachers and students to school buildings — and is calling on Superintendent Jonathan Ponds to delay a plan that begins with teachers coming back Tuesday.
"Over the past week, we have watched the infection rate of COVID-19 rise with each passing day. As the numbers rise in our community, our members' confidence in our buildings' readiness has fallen," the Montclair Education Association wrote in a message distributed to media late Friday night.
The MEA press release came just hours after Ponds' own latest "Community Bulletin" to the district was sent to families and staff by email — reaffirming a previously announced plan that pre-K through fifth-grade students would return to their classes for the start of a hybrid learning plan Jan. 25, followed by grades six through eight on Feb. 8. Special education students are scheduled to begin along with the younger students.
In Ponds' message, he said engineering consultants have inspected and approved modifications to school ventilation systems, and classrooms for the younger students have been updated with technology to make hybrid learning — a combination of in-person and remote instruction — possible.
"We are looking forward to welcoming everyone back," he wrote.
Several districts throughout the state have been on hybrid learning plans for months, and a few have been conducting all-in-person learning. New Jersey's Department of Education and Gov. Phil Murphy have left decisions on openings to individual districts, and the governor has urged most to consider at least some level of in-person instruction.
Montclair schools have been closed to in-person instruction since March of last year, when the novel coronavirus pandemic first hit New Jersey. At the time, educators in most school districts expected to close for a matter of weeks.
But as recently as November, the MEA noted, Ponds told the school community he wasn't yet ready to bring students back to Montclair school buildings. Just days before the district was expected to resume in-person instruction on Nov. 16, Ponds said in a note to families and staff that he'd received information about community spread that meant "we must continue with fully remote instruction for all students until it is safe to change course."
Weeks later, in December, he committed to the Jan. 25 and Feb. 8 reopening dates.
The MEA — in a release sent to Montclair Local via its parent organization, the New Jersey Education Association, which has consistently pushed back on plans to open schools before the union feels they're ready — points to a statewide rate of transmission that's nearly the same as the 1.14 in effect when Ponds first delayed reopening (the RT is an estimate of how many people each person with the novel coronavirus infects.) The MEA points as well a larger count of new cases per capita as well.
"These numbers have been trending up since the holidays, as expected," the Montclair teachers union wrote. "With limited people in our school buildings, our schools have been shut down 11 different times, making it difficult to feel safe when increasing the buildings' populations."
And the MEA said its members are "apprehensive about last-minute disseminations of changes and updates and the lack of clear protocols and safety measures."
Ponds, in his community bulletin, detailed some of the safety measures in place. Students won't be able to board school buses without masks. Families are required to use an online portal to complete health and wellness checks, as well daily screenings, before returning their children for in-person instruction. The school nurse has prepared guidance on how to respond to potential symptoms. Spectators remain barred from athletic events.
Montclair Local has reached out to the school district seeking further detail on safety precautions.
In a previous bulletin on Jan. 8, Ponds told the school community: "Rest assured we understand that every change brings with it new challenges and together we will move the district forward and meet our goals."
But the MEA says delaying the return would give the school district more time to distribute more detailed plans "and allay any parent concerns for their student's safe return."
"Our goal is to never be adversarial but instead to always be advocates," it wrote. "Advocates for our staff, educators, students, to not return to buildings until the numbers are mitigated and steady enough for all to do so."
The statewide union, in sending the MEA's press release, argued a single positive case "has a ripple effect on the classroom, building, and district depending on the exposure."
"Each of the individuals, be they student or staff, has to then quarantine," NJEA spokeswoman Meredith Barnes wrote. "And, let's not forget that we are mere weeks away from having nearly every educators vaccinated. It just doesn't make sense to go back to in-person now. There is too much at risk."
New Jersey has started a multi-phase rollout of coronavirus vaccines, first prioritizing healthcare workers and long-term care residents and staff, then more recently opening up distribution to more first-responders and emergency workers, people 65 and older, and people with medical vulnerabilities. Teachers who don't otherwise fall into an approved category are not yet eligible.
When students return, they'll be classified in two cohorts: "Mounties" and "Bulldogs," with the two groups taking turns attending class in person during the week. The cohorts will attend school for four hours a day, two days a week, and have virtual learning for the remainder of the week. Students who wish to remain in virtual learning may do so.
Ponds said in December the school return dates were chosen to allow parents and students time to quarantine between the holiday season and the start of school, if necessary.
The once-expected November return was, in itself, the result of a delay. Montclair pushed off an earlier plan to return to school in September, after it was determined that ventilation systems in most of the buildings were inadequate to address COVID-19.
Some parents have been pushing for a return to school for months. In the days after Ponds announced the January return, a group of parents rallied in township parks to urge the district to resume in-person learning quickly.
"Fortunately, an increasing and overwhelming body of evidence now indicates schools can reopen their doors to students without undue risk to their own health or that of teachers and other school workers," the group wrote in a statement at the time.
— Includes previous reporting by Erin Roll and Kate Albright
Read Ponds' latest message to the community below:
Montclair Schools returning to in-person learning by Louis C. Hochman on Scribd