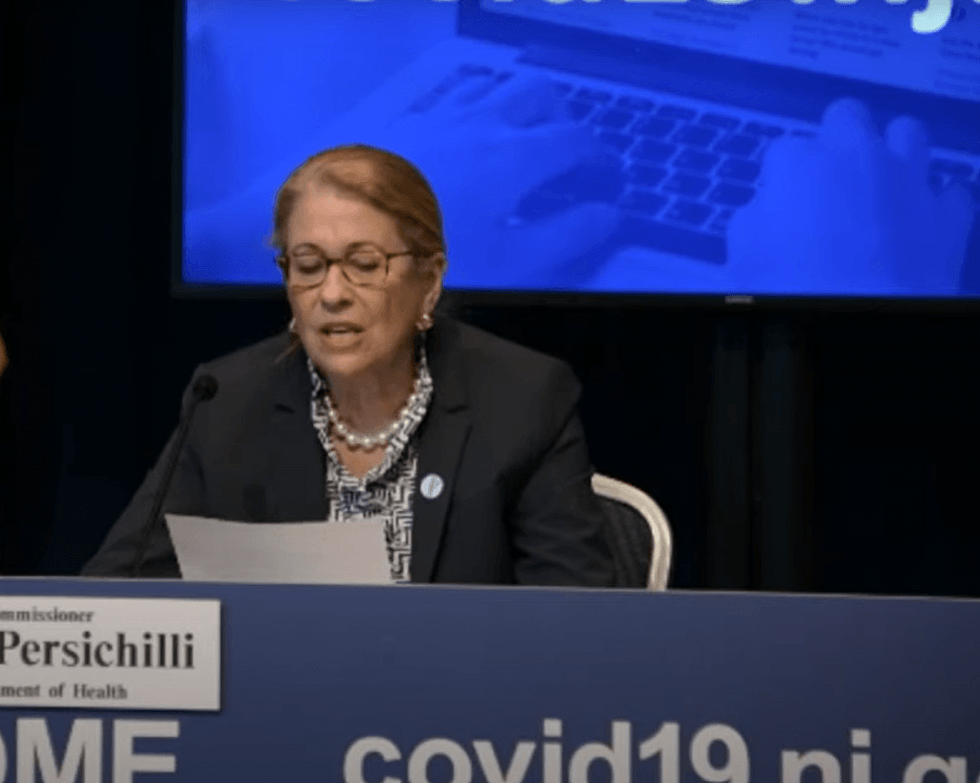 COVID-19: New Jersey to expand testing to asymptomatic people
COURTESY STATE OF NEW JERSEY Health Commissioner Judith Persichilli speaks at a Friday, May 8 press briefing in Trenton.
By ERIN ROLL
roll@montclairlocal.news
New Jersey's two community COVID-19 testing sites in Bergen County and Holmdel will begin testing asymptomatic people starting this Sunday, May 10.
"Expanding access to testing is one of our key principles for getting New Jersey firmly on the road back to restart and recovery,"  said Gov. Phil Murphy said today, May 8, during his debriefing. "By building out our testing capacity, we can instill confidence among our residents that we are in front of the response and winning the fight against COVID-19."
Priority will be given to asymptomatic health care workers, those who live in congregate living settings, and people who have come into contact with someone who has COVID-19.
Expanded testing will begin on Sunday, May 10, at Bergen Community College at 8 a.m. and Monday, May 11, at PNC Bank Arts Center at 8 a.m. Asymptomatic New Jersey residents should attempt to seek guidance from a health care provider before accessing testing.
Testing sites had been restricted only to people who were showing symptoms, and who had a doctor's note.
Murphy said testing numbers will depend on four factors: the capacity of the sites, the capacity of the labs, the availability of testing kits, and the availability of personal protective equipment for site personnel.
Murphy also announced the formation of the Governor's Restart and Recovery Advisory Council. The council is a separate entity from the Governor's Restart and Recovery Commission, which was announced last week. The council and the commission will work alongside each other in the process of reopening New Jersey. The commission will be concentrating on strategy, Murphy said, while the council will focus on tactics.
The advisory council will have nine different committees, all of which will start meeting virtually next week: facilities and construction; government; health care; Main Street; manufacturing; professional services; social services and faith communities; tourism and entertainment; and transportation and infrastructure.
The Restart and Recovery Commission includes two Montclair residents: former Homeland Security secretary Jeh Johnson, and Evelyn Colbert, a founding board member of Montclair Film.
Today's numbers
The latest reported deaths include, for the first time in New Jersey, a child under the age of 18.
Murphy and Health Commissioner Judith Persichilli said the four-year-old child had an underlying medical condition. In order to protect the privacy of the child and their family, officials would not release any additional information, including the child's gender, town of residence, or the nature of their condition.
On Friday, officials reported 162 new deaths, down from 254 on Thursday, bringing the state total to 8,952.
Officials reported 1,985 new positive cases, bringing the state total to 135,454.
By comparison, on Thursday, 1,827 new cases were reported.
At 10 p.m. Thursday, fewer patients (4,605 ) were in the hospital with COVID-19, of whom 1,439 were in critical care, and 1,089 ventilators were in use. Hospitals admitted a total of 334 new patients, up from the 325 reported on Wednesday, and discharged 464 patients, about the same number on Wednesday.
On Wednesday, there had been 4,995 hospitalizations, with 1,470 in critical care and 1,107 on ventilators.
Murphy said the numbers were encouraging. "But when you have 334 people go into a hospital in 24 hours with COVID-19, it's as good an indicator as any that we are not out of the woods," he said.
The Meadowlands Expo field medical station will be standing down, and transferring its operations to East Orange General Hospital.
Essex County officials reported 135 new cases, which now total 15,350 as of 9 a.m., Friday. The number of deaths now totals 1,402 , with 27 new deaths being reported this morning.
Essex County continues to lead with the most deaths in connection to COVID-19 of any New Jersey county, and is ranked third for overall cases. Bergen County continues to have the highest number of overall cases: 16,709, followed by Hudson with 16,520.
Montclair township officials reported 386 cases on Thursday, up from 382 on Wednesday. The number of fatalities remains at 44. Today's numbers have not yet been released.