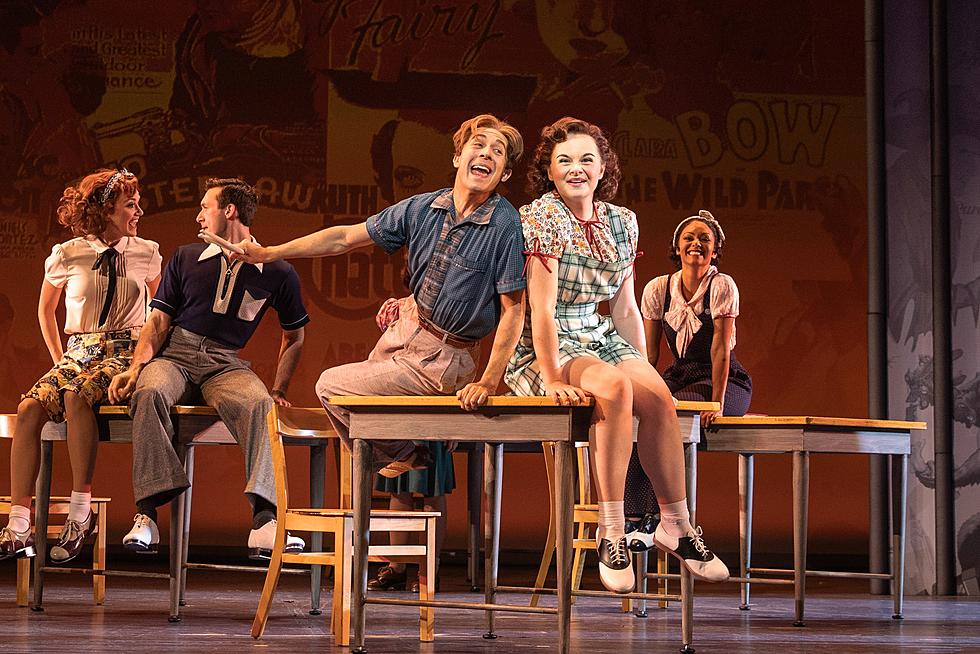 Theater review: Judy Garland finds her way
Joe Yule/Mickey Rooney (Michael Wartella) and Frances (Ruby Rakos) share a moment. COURTESY EVAN ZIMMERMAN FOR MURPHYMADE
Chasing Rainbows: The Road to Oz
Book by Mark Acito
Music adapted by and additional music by David Libby
Conceived by and additional lyrics by Tina Marie Casamento
Through Oct. 27
Paper Mill Playhouse
22 Brookside Drive, Millburn
Papermill.org, 973-376-4343
By GWEN OREL
orel@montclairlocal.news
When Baby, whose real name is Frances, holds a note just a few seconds too unbelievably long, early in "Chasing Rainbows: The Road to Oz," the audience shares a knowing laugh.
We're not ahead of it.
We're in on it.
Baby (Sophie Knapp) is little Frances Gumm, who will grow up to be Judy Garland.
This year marks 70 years since the debut of "The Wizard of Oz," and 50 years since Garland died at age 47. For a look at the latter half of Garland's life, you could see "Judy," starring Renee Zellweger.
The new musical making its New Jersey premiere at Paper Mill is about Judy's rocky road from a vaudevillian existence with her family in Minnesota, to performing school in California, to being a contract player at MGM and finally, finally — to Oz.
It's a show full of spirited dancing, well-known songs and powerful singing from Long Hill's Ruby Rakos, who plays young Judy.
Her family owned a movie theater that had vaudeville acts, and moved to California following some "trouble," never specified, about father Frank's bisexuality.
At one point she, her mother Ethel (Lesli Margherita) and her sisters all move a few hours away to Los Angeles so Frances can take classes, while Frank (Max Von Essen) stays a few hours away running a different movie theater.
The caring relationship between Frances and her father is one theme of the play, as is the yearning for success in "I'm Always Chasing Rainbows," the much-reprised Vaudeville song (that Garland did, in fact, sing) whose melody is based on "Fantaisie-Impromptu" by Chopin. Frank sings it. Judy sings it. Doesn't make the song really work though. The time spent on the marital troubles and the homosexual plot does not work either: we want to see the bio of Judy, not the troubles of Judy's parents.
This show has been kicking around since 2015, when it debuted in North Carolina. 
It's a lot of fun, largely because we know what the young, little girl that gets called "piggy" and "ugly duckling" is going to turn out to be.
________________________________________________________________________
READ: LUMIERE LIGHTS UP 'BEAUTY AND THE BEAST'
READ: THEATER HELPS THEATER, DONATES PROPS
_______________________________________________________________________
Long before her funny friend Joe Yule takes his stage name, we recognize Mickey Rooney (Michael Wartella) from his floppy hair and gift for mimicry.
When a little tyke named Shirley (Violet Tinnirello) announces to the class that she's got a contract and sings an oh-so-sweet Shirley Temple tune, again, we get to laugh knowingly.
Judy Garland fans will see some greatest hits as moments (and as songs): the scene when star George Jessel renames her at the Chicago World's Fair; the beginning of a dependence on diet pills and sleeping pills when just a child; the Andy Hardy movies; the overbearing stage mother, and so on.
Louis B. Mayer's secretary Kay Koverman (Karen Mason, who also plays school teacher Ma, and has a terrific belt) is one of the first to grasp Garland's appeal as the girl next door, as well as her talent, and she conspires with musician Roger Edens (Colin Hanlon) to get Judy a contract and a career. Koverman shines as the woman who gets things done while allowing her boss to take the credit, and Stephen De Rosa cracks us up as short, decisive and eventually, smart Mayer.
Director Denis Jones also choreographs (he was Tony-nominated for his work on "Holiday Inn" and "Tootsie"), and the dancing, particularly in "All Ma's Children" and "Swing, Mr. Mendelsohn," supports and lifts the songs perfectly. You get the sense that dancers have fun doing his steps, and you have to smile.
Linda Cho's costume designs are period-perfect.
Rakos, with a huge voice and an open face, shows us a girl who speaks up, but politely: she's spunky, like so many Judy Garland characters. She says she feels like she goes to work in a "doll factory" at MGM, and while she's insecure, she resists some of the more extreme suggestions to change her looks. 
But poor Judy never seems to catch a break. Her father dies when she is young, and she misses him dreadfully. She's ignored at a movie opening. In montage of revisions of "The Wizard of Oz" — all based on truth, as at one point, the Wicked Witch was indeed going to be beautiful; there was going to be an opera-singing rival, and so on — she is actually slapped by the director.
The show's biggest fault is that it feels like it's all rags, no riches. We hear about a rainbow, but never get to go over it. By the time Judy is in "The Wizard of Oz," she had some fans (she had starred in "Babes in Arms" as well as the Andy Hardy films)— but we never see that (it is referred to). Nor do we get much of a hint of the triumph to come. Yes, we're in on it, but if it goes to Broadway, the producers should strongly consider showing a curtain-raiser at the movie opening, or a quick montage of Judy's coming stardom. Sure, it's still the Depression, but ending on a "we'll see" is just too depressing. 
But oh the songs: "All Ma's Children," with an exciting tap line; "Beautiful Girls," "Zing! Went the Strings of My Heart," "Dear Mr. Gable/You Made Me Love You." What fun to watch "ugly duckling" Judy, perfectly captured by Rakos, forget everything and just capture the heck out of a song. 
What does Baby want to find in California, her family asks as they drive (in a big-as-life period Ford!). "An audience!" she cries.
She's got one.