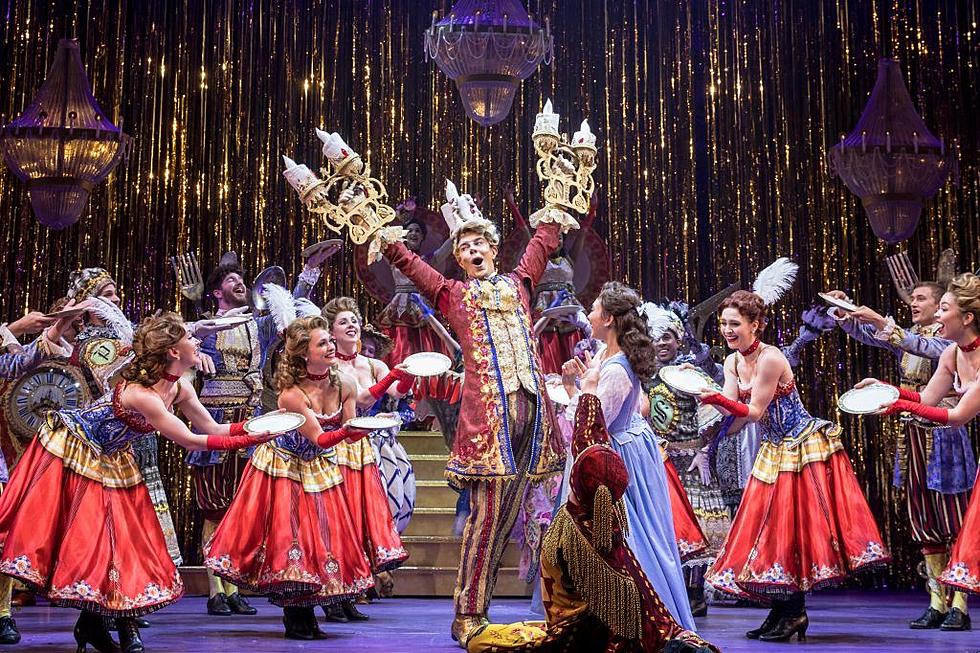 Theater review: Lumiere lights up 'Beauty and the Beast'
"Be Our Guest," sings Lumiere (Gavin Lee), with the cast.
COURTESY EVAN ZIMMERMAN FOR MURPHYMADE
Beauty and the Beast
Through Wednesday, July 3
Paper Mill Playhouse, 22 Brookside Drive, Millburn
Papermill.org, 973-376-4343
Music by Alan Menken, lyrics by Howard Ashman and Tim Rice
Book by Linda Woolverton
By GWEN OREL
orel@montclairlocal.news
Let there be Lumiere.
As the enchanted-human-candlestick in "Disney's Beauty and the Beast" at Paper Mill Playhouse, Gavin Lee tries to stop himself from stealing the show.
But his flame can't be quenched: he does anyway.
Lee, so hilarious as four-leg tap-dancing Squidward in Broadway's "SpongeBob SquarePants" and gravity-defying Bert in Broadway's "Mary Poppins," is a sparkly pipe cleaner. The way he stands, with his pelvis thrust out and shoulders back, makes him look like a backwards comma. His sly Gallic shrugs absolutely charm, and when he dances, the show soars.
His every Franco-comic gesture — kissing grumpy Cogsworth the clock (Kevin Ligon) four times, or flirting outrageously with maid-turned-feather-duster Babette (Jenelle Chu) — is also born of character.
He not only steals the show, he saves it.
That's because "Beauty," as directed by Paper Mill's Artistic Director Mark S. Hoebee, edges close to feeling too much like a children's show.
Not because it's based on the 1991 Disney movie, adapted into a 1993 Broadway show, both based on an 18th-century fairy tale by Gabrielle-Suzanne Barbot de Villeneuve (not Perrault or Grimm). It's because Hoebee, unusually for a director of such precision and skill, allows performers to mug, and uses silly sounds for slapstick when villain Gaston (square-jawed Stephen Mark Lukas) hits his frantic servant Lefou (Kevin Curtis).
The opening number, "Belle," charms, as winsome book-reading beauty (Belinda Allyn) goes about her morning in her little town.
The town itself resembles a colorful illustration in a beloved children's book (set design by Kelly James Tighe), and the townspeople and their attitudes toward the unusual girl are clear. The Silly Girls (Brittany Conigatti, Corinne Mybsch, Alexa Racioff), who pine for he-man Gaston, establish themselves as pretty posers quickly.
But in subsequent scenes, as Belle welcomes her dotty inventor father home and encourages him to enter a fair, and Gaston tries to bully Belle into marriage, the show tries too hard, and deflates.
In this version of the story, we know the Beast's backstory upfront. We are told via an animation of paper cut-outs on the drop curtain that Beast was once an arrogant prince, who rejected a beggarwoman on a stormy night who offered a rose for payment. She then revealed herself as a beautiful enchantress, and turned him into a beast. To turn back to a prince, he'd have to win a woman's love before the rose wilted.
Given that rule, it's a mystery why Beast is so grouchy when Maurice comes to the castle to escape wolves who waylay him. Wouldn't you think Beast would asking any visitor, do you have a sister, daughter, niece?
On the other hand, he and all his servants are gradually becoming the things they've been transformed into, so his animal bad temper makes sense. He's forgotten most of his courtly ways (a later scene where dancing comes back to him truly enchants).
Belle sets out to rescue her father, and ends up convincing Beast to keep her prisoner instead. The human knickknacks, a clock, a wardrobe, a candlestick (Lumiere!), a teapot and her son, once were human too. Like Beast, they want to be human again.
Beast and Belle have a rocky beginning, but over stories of King Arthur and a moonlit dance, they fall in love. In Disney's version, Gaston leads a crowd to attack and kill Beast (to the song "Kill the Beast"), but of course you know there will be a Happily Ever After ending.
_______________________________________________________________________
READ: THEATER REVIEW; SWEET, SLIGHT 'BENNY & JOON'
READ: THEATER REVIEW; THIS INVASION IS DEADLY, AND THAT'S GOOD
_______________________________________________________________________
Overall, "Beauty" is an uneven show, but children will love it, and my companion cried when Belle rejected a heartbroken Beast. Even though she knew how it comes out.
The songs from the movie (lyrics by Howard Ashman, music by Alan Menken) — particularly the showstopper "Be Our Guest," which showcases Lee's Lumiere as combination maitre d' and emcee bringing Belle dinner, and includes dancing napkins, plates, champagne bottles ( acrobatic choreography by Alex Sanchez delights) — succeed with aplomb.
But the songs written for Broadway (lyrics by Tim Rice, music by Howard Ashman) stop the action cold. "No Matter What," literally the second song in the show, is a yawn. Belle and dad love each other, that's nice. Nothing happens. Beast's I-feel-really-bad-for-myself Act One finale song, "If I Can't Love Her," similarly, has a pretty melody and zero reason to be there. This song, and Act II's song "Maison des Lunes," also have almost no scenery, which makes them seem cheap — a puzzling choice in a show that overall leads to spectacle.
Tally Sessions' Beast shows heart as a bewildered animal (I thought he was a bit more cuddly as a Beast than as a prince), and though Allyn's Belle seems arrogant and bratty at first, she changes and has a lovely arc.
But it's Lee's Lumiere who lights up the stage, in every way.