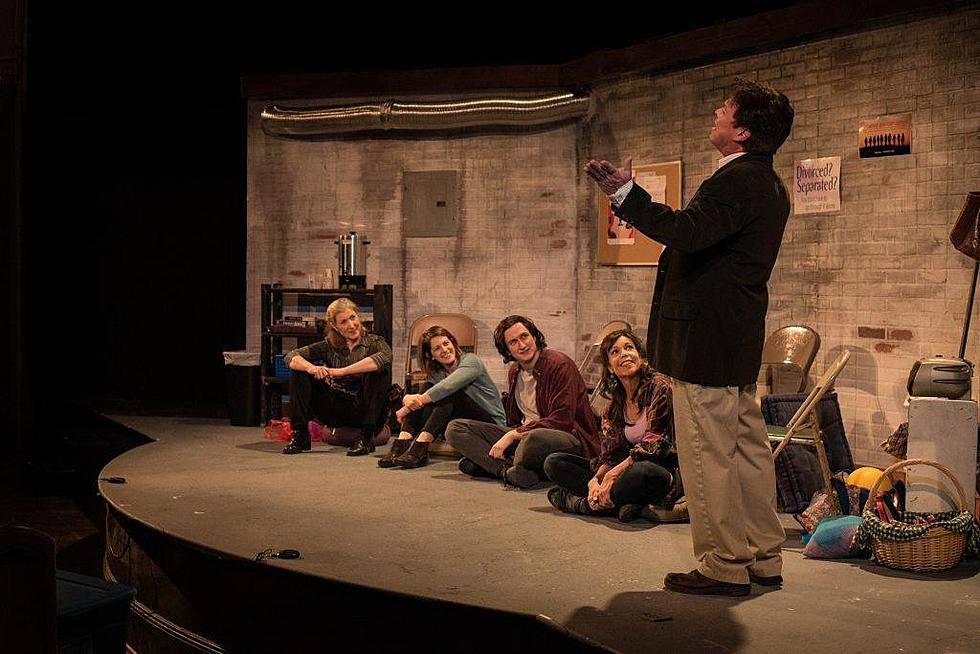 Theater Review: 'Psychodrama' cures what ails you
Dave (Harry Patrick Christian), right, sings "The Age of Aquarius" to the group. From left: Syl (Laura Ekstrand), Mel (Becca Landis McLarty), Chuck (Julian Blake Gordon), and Barb (Harriett Trangucci). COURTESY DREAMCATCHER REPERTORY THEATRE
Psychodrama
By Phoebe Farber
Through March 3
Dreamcatcher Repertory Theatre
Oakes Center
120 Morris Ave., Summit
Dreamcatcherrep.org, 908-514-9654
By GWEN OREL
orel@montclairlocal.news
"Psychodrama," with its drama therapy and improv games, is twice as funny to anyone who has ever taken an acting or improv class.
And the fine Dreamcatcher Repertory Theatre ensemble who perform in Montclair playwright Phoebe Farber's new play are clearly having a ball.
But you don't have to have taken improv to find the 90-minute play fun and touching.
In "Psychodrama," a divorce group that meets in the basement of a Unitarian Church has lost its leader (we later learn he left his wife, which is both funny and all too real).
Enter Barb (Harriett Trangucci), who changes the proceedings from talk therapy to psychodrama.
Psychodrama is real: it's a form of therapy where the subjects use acting games and reenactment to work through their issues.
At first, the divorcees resist, particularly belligerent Syl, played by Dreamcatcher Artistic Director Laura Ekstrand.
When we first meet her she is angrily texting her ex. In her first improvisation, she shouts that she wants a gun. She snorts at Barb's games, including one using sheer scarves to create settings from the past.
But before the play's end, it's Syl who leads the group in Barb's techniques.
_______________________________________________________________________
READ: THEATER REVIEW; A CHILD'S LIST CELEBRATES THE SUBLIME IN 'EVERY BRILLIANT THING'
READ: THEATER REVIEW; THIS 'INVASION' IS DEADLY, AND THAT'S A GOOD THING
_______________________________________________________________________
Later, she grunts, in one of the play's best lines, "Get the scarves."
"Psychodrama" has been developed through readings at Luna Stage, Writers Theater of NJ and Dreamcatcher, and it is tight and smart.
Each character is clear: the too-perky Mel (Montclair's Becca Landis McLarty); the secret-sex-god Dave (Montclair's Harry Patrick Christian); young and drifting Chuck (Julian Blake Gordon, the only non-Equity member of the cast, endearing and lost) and latter-day hippy Barb ( Trangucci), whose dress starts out mildly flowy but goes to full-on poncho later. (Kudos to Ekstrand, who also designed the costumes).
Farber's play is theatrical, too: nobody saw coming that Dave's song in a game would be "The Age of Aquarius."
As well as being an accomplished playwright, Farber is a practicing psychotherapist. She clearly has experience of what she writes about, and presents it with humor and compassion.
The cast, to a person, is fabulous. Trangucci's Barb is pitiful and ridiculous and dignified, all at once. McLarty's Mel breaks your heart with her pain, especially when this mom of moms faces losing custody.  
All the characters go on a journey, and so does the play, which is sure-footed and fun.
Real "psychodrama" may not be for everyone.
Not so the play.