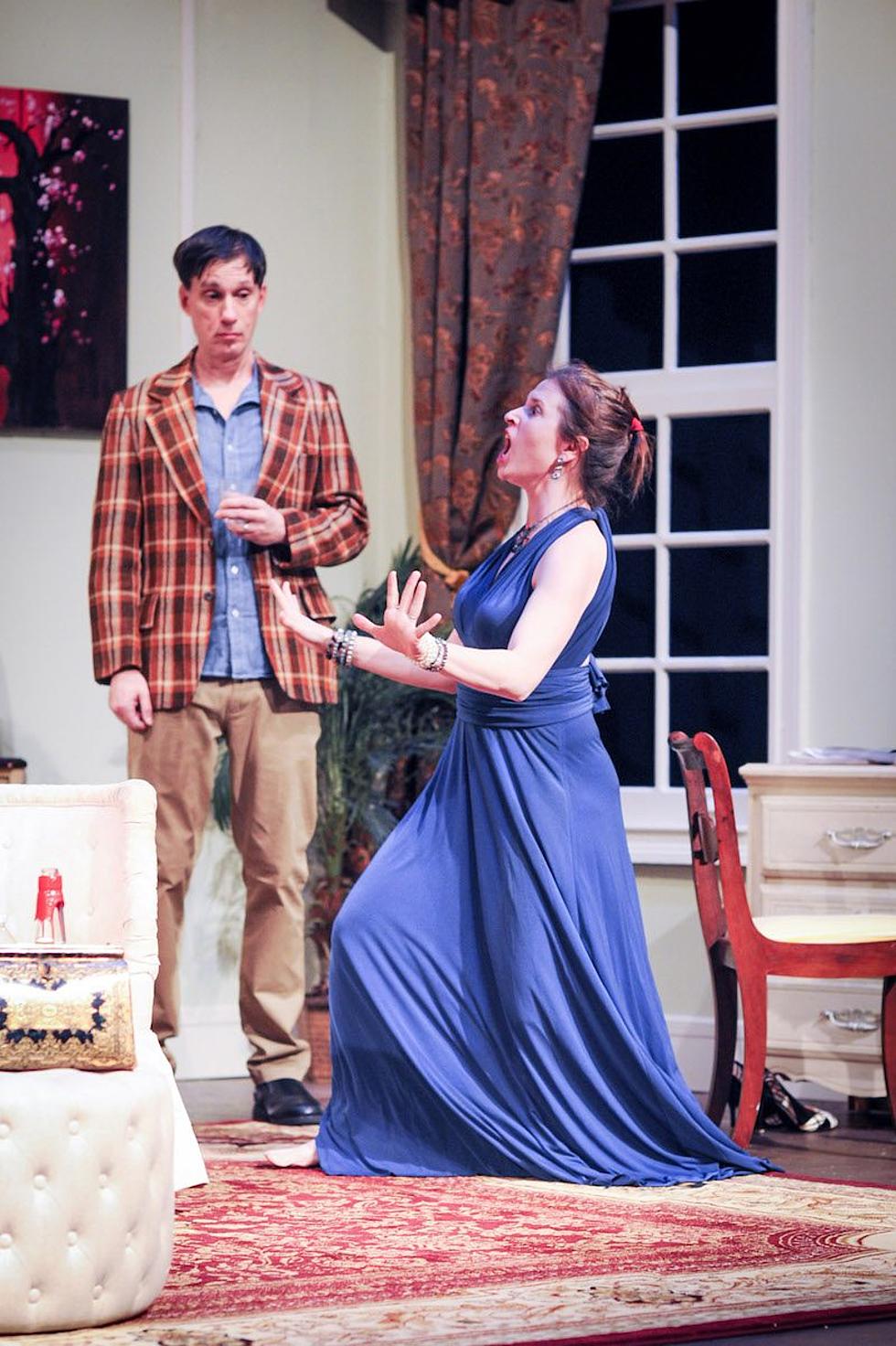 Theater review: Reviews are the thing in McNally comedy
Critic Ira Drew (Bill Barry) and actress Virginia Noyes (Stephanie Hedges) try to communicate in "It's Only a Play." KATE ALBRIGHT/FOR MONTCLAIR LOCAL
It's Only a Play
By Terrence McNally
Through Saturday, Jan. 25, 8 p.m.
Studio Playhouse, 14 Alvin Place
Studioplayhouse.org, 973-744-9752
By GWEN OREL
orel@montclairlocal.news
From the moment the "turn off your cell phone" announcement comes on at Studio Players' "It's Only a Play," you know you're in good hands.
A man with a British accent threatens to send 15,000 volts up "bleep" if we rustle our wrappers.
It's Frank Finger, the director of "The Golden Egg," whose creators and stars are huddled in a bedroom of producer Julia Budder, waiting for the reviews, in Terrence McNally's backstage comedy.
In-character announcements are not a new idea of course, but this one sets a funny, smart and slightly hysterical tone.  
The story is simple: in act one, the playwright, Peter Austin (Ted Cancila), director Finger (Troy Hall), star Virginia Noyes (Stephanie Hedges), playwright's friend James Wicker (Chad Anthony Miller), producer Budder (Faith Blasi), and wannabe actor and waiter-for-now Gus P. Head (Kevin Ohlweiler) await their reviews and talk about show business. A hangdog critic with a poison pen reputation who dreams of being a playwright, Ira Drew (Bill Barry) hangs out too.
All is well when they are sure it's going to be a rave.
And all is less well when the reviews come in.
________________________________________________________________________
READ: THEATER REVIEW: INVENTIVE, HEARTBREAKING 'CAROL'
READ: NEW WORKS INITIATIVE AT STUDIO PLAYHOUSE
________________________________________________________________________
Despite a recent rewrite of McNally's 1982 comedy for a 2014 production starring Nathan Lane, the show drags in Act One. Excuses to keep characters coming in and out of the room in order to have two-person scenes feel transparent, especially when it's to use the bedroom phone (in the cell phone era?).
The characters are show-biz types: the prim, starstruck producer; the campy TV star friend; the diva, addicted actress; the would-be-Williams playwright; the bad-boy British director; the singing waiter. (Literally. He sings a bit of "Defying Gravity" in Act II.)
Although they are cartoons, McNally gives each one quirks: Noyes is not just an addict, she wears a parole ankle bracelet that sometimes buzzes. The director longs for one, just one bad review; he also cannot help pilfering small items. The producer mangles well-known phrases, and complains about someone using the "k" word, leading Wicker to guess, "kaleidoscope? Kumquat?" (She meant the "c" word.)
Director Peyton Thomas brings out the characters' inner insecurities, too.
As Head brings in coats to dump on the bed, he announces who has arrived, and the name-dropping is funny every time, whether it's a pile of gaudy coats from the cast of "The Lion King" or Hillary Clinton. A snowball comes through a window from the cast of "Matilda." (That said, a tiny coat belonging to Daniel Radcliffe no longer makes sense.) Later, Patti Lupone and Alec Baldwin, we hear, split the lip of critic Drew.
The company is one of the best ever assembled at Studio Playhouse. Hedges shows off diva Noyes' great comic timing. Ohlweiler's Gus endearingly openly adores this neurotic bunch. Despite some sickening pretensions, Cancila's nausea at some cruel words in the reviews elicits sympathy. Blasi's Budder seems ditzy, though with hair down she looks too young for the prudishness and deep pockets; this role has been played by Megan Mullalley and Dana Ivey. 
Hall, as the soon-to-be-knighted director, has the flashiest role, and wins the night. In Act Two he has a surreal tour de force where he plays an entire scene between himself and someone not there, which stops the show.
C.J. Howard's set design shows a ravishing bedroom suite, with cushy chairs and elegance. (Though when the chairs are turned over they are clearly not club chairs, and again wallpaper looks like wrapping paper). Thomas' direction shows real wit, with freezes and a tableau at the end. He also designed the sound. Barry, so good in "Appropriate" last year, distinguishes himself again as the unpopular critic. 
The play works best when it dives into the bitchy feuding, and elephant-sized egos of this absurd crew. Thomas makes the small moments work too, but McNally's sentimentality does not convince, and overall the play is too long.  
But you don't have to be a theater person to enjoy watching people bicker: see the Real Housewives franchise. "It's Only a Play" is not a great play.
But it's fun.