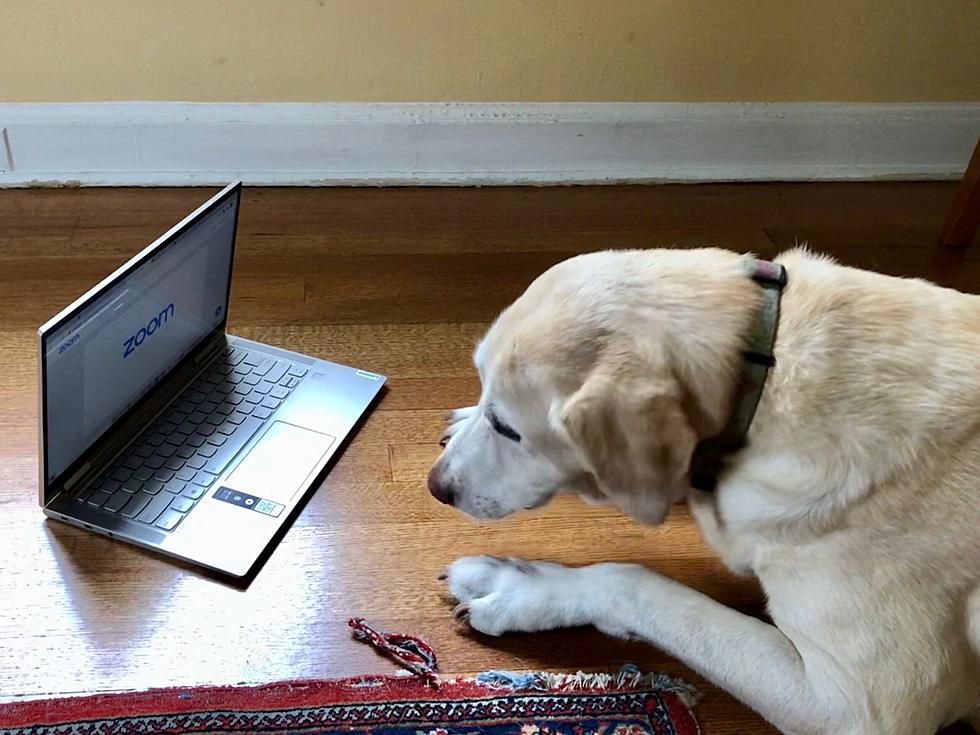 Therapy dog visits libraries during COVID-19
Brady visits remotely using a laptop.
COURTESY STEVE RICH
Brady relaxes.
by Gwen Orel
orel@montclairlocal.news
Everyone knows that pictures and videos of dogs and cats are popular on the internet. Something about a furry animal with expressive eyes soothes human beings.
Dogs have long earned their keep as sheep-herders, drug-sniffers, and guides for the blind, but in recent years their impact on peoples' emotions has become well-known, too.
Studies have shown that petting dogs has physical, social and cognitive benefits, including reducing blood pressure, calming anxiety, increasing self-esteem and stimulating memory.
Enter Brady, a therapy dog, with the training to prove it.
The 13-year-old Montclair Labrador mix has visited Bradford Elementary School, Hackensack Library, Sunrise Nursing Home in Fairfield and many others.
Even COVID-19 cannot stop Brady: he visits the library now on Zoom, where patrons read to him through the screen.
"He always had a very gentle temperament," said Brady's owner, Steve Rich. "He was very friendly. I wondered how I could share him with others."
Rich looked into Therapy Dogs International, a volunteer organization based in New Jersey that regulates, tests and registers therapy dogs and their volunteer handlers.
He signed Brady up for a 10-week course three years ago.
Brady passed. 
In training, Brady learned not to react to loud noises, not to scarf up food if it falls to the floor. He learned to be comfortable around walkers and wheelchairs.
"Judges put their fingers between the dog's toes," said Steve's son Zach, a rising senior at Montclair High School. He and his father are both registered as "sidekicks," because Brady cannot just show up to his jobs alone. "It's less about learning, and more about being able to handle different situations. He had had the normal training — sit, lie down — already."
Because Brady needs people to bring him to his jobs, "we are there as cheerleaders," Zach said.
The training tries to emulate environments where a therapy dog might work. If a patient drops food in a hospital, the dog is not supposed to lunge after it, Rich explained. 
"You want a dog who remains calm in those situations. You want to make sure he can interact with other humans in a crowded environment.
"There was one test he barely passed. He is partial to hot dogs. They put one on the floor."
Zach said, "He passed it, but after, they put it on a table, and during the rest of the test he kept sniffing it."
Brady prefers schools, libraries and senior centers to hospitals, Rich said.
In the memory center of the Sunrise Nursing Home in Fairfield, people petted him and showed him love, Rich said. That was a kind of therapy.
Brady also helped some children heal after a school bus accident in Paramus killed a teacher and one student in 2018. He visited East Brook Middle School in Paramus, and was very comforting to the staff and the kids, who were very sad, Rich said.
"There is a benefit to stroking a dog, sensory things," Rich said.
At Bradford School in Montclair, Brady interacted with some children who had been afraid of dogs. 
"At the end of his half an hour of being in class, they were much more comfortable, and they felt more comfortable with dogs in general," Rich said.
One of Brady's most important jobs is to listen as people, especially children, read to him.
"A lot of the kids don't feel comfortable reading to a human, and may be reticent," Rich explained. "But if they are reading to a dog, there is no judgement, no corrections. Sometimes I'm sitting there wanting to say, 'Don't say it like that, say it like this.' But I'm not allowed to say anything."
Rich tries to have Brady meet with students from every grade each year. He gives a half-hour presentation. Children can ask questions, and pet Brady, and read to him if there is time. This year would be the third year visiting Bradford.
---
READ: BACK TO SCHOOL NEEDS GREATER FOR SPECIAL EDUCATION STUDENTS
---
At the Hackensack Library, Brady has "regular customers," Rich continued, who sometimes even update Brady on the books they are reading.
"Hackensack is so diverse. There are people from all over the world, brand new immigrants, who barely speak a word of English," Rich said. "Brady is not prejudicial at all. Kids come in, and the librarian tries to coax them away to read to Brady. Sometimes Zach and I are sitting waiting for 20 minutes for a 'customer,' then there is a crowd of kids."
Librarians, security guards and cleaning people also listen in.
The library closed due to COVID-19, but they have recently started reprising Brady's monthly visits, titled "Barks and Books," virtually.
When Brady visits the library in real life, he gets treats, and gets to sniff people. 
"He likes being with other people," Rich said.
How much Brady really connects with technology is not clear. But children can see him on Zoom, and that motivates them.
"He does a lot of sleeping," Rich said with a laugh. "But I'm excited. He doesn't go too far."