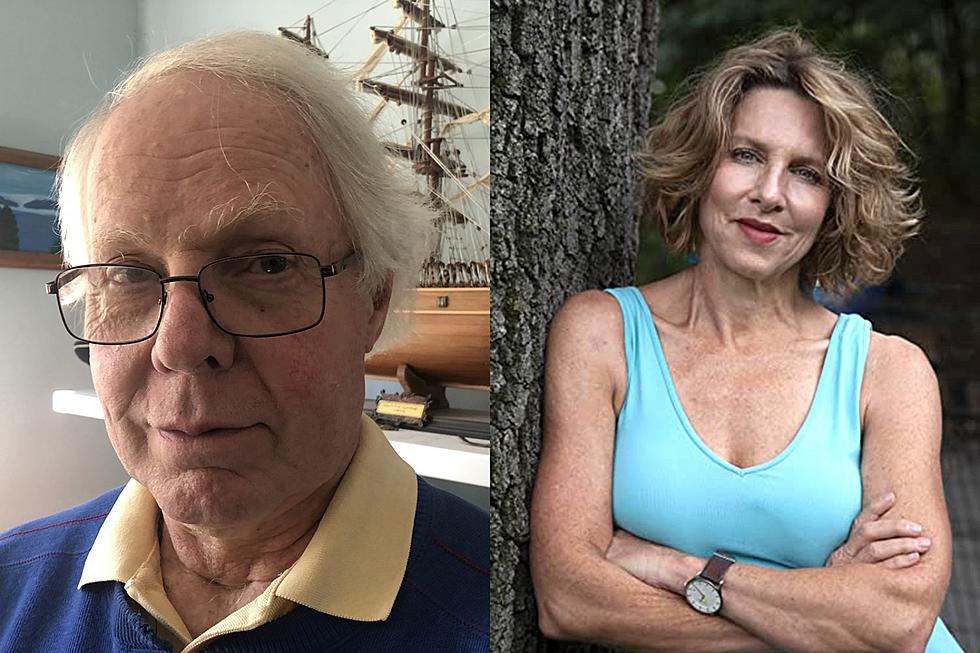 Thoughts turn to those the pandemic hurt most for Montclair writers
Both Gabrielle Glaser, right, and Mark Lance reflect on how the pandemic has disproportionately affected some groups — and, Glaser notes, is far from over.
(COURTESY MARK LANCE, COURTESY GABRIELLE GLASER_
By PATRICIA CONOVER
For Montclair Local
For writers as much as anyone, the coronavirus pandemic has been a time of reflection.
It's been a time to explore why things happen, whom they affect most, who struggles and suffers, and what silver linings may surprise us.
Montclair Local asked: How has the pandemic changed the way authors work, and view the world around us? We spoke to several Montclair-area authors who described how the pandemic changed their lives.
Each week through June 17, Montclair Local will present two of their stories.
Unexpected joys, discomforting solitude
Gabrielle Glaser  
Glaser is a Montclair resident and the author of four books, including "Her Best Kept Secret," "The Nose" and "Strangers to the Tribe." She is a New York Times bestselling author and journalist whose work has appeared in the Times, The Washington Post, Los Angeles Times, The Atlantic and many other publications.
Her most recent book, "American Baby: A Mother, a Child, and the Shadow History of Adoption," was originally scheduled for a June 2020 launch but came out this year. The book examines the secrets surrounding the American adoption industry through the story of one woman and the son she was forced to give up. 
Glaser, who looks forward to book signings and readings, quickly realized that the pandemic would turn the traditional way of book marketing upside down.
"My publisher decided to push the publication date up to January 2021. I was grateful," she said. "We had to promote the book in new ways."
Glaser understood that promoting her fourth book during a pandemic would allow a different kind of interaction with her readers. 
"I couldn't spend a few minutes talking to a reader during a book signing, but I could reach readers that might otherwise have been missed through virtual events, podcasts and Zoom talks that reached people in places that might not typically host authors," she said.
Still, the isolation hasn't been easy for an author who loves engaging with the public.
"I'm energized when I interact with other people," Glaser said. "The writing process is isolating. I'm an extrovert with an introvert job. I love connecting to readers one-on-one, so a year without that connection has been difficult."
Writing about mental health issues for various media helped Glaser focus on the positive. It's an area she focused on in 2020.
"I wrote a profile about a young Black doctor who completed his residency in New York City," she said. "He worked with COVID-19 patients, contracted the virus, recovered and returned to practice medicine in his hometown in Louisiana. Many of his patients addressed questions to anybody else in the room. They simply couldn't imagine that a young Black man was their physician." 
For Glaser, the pandemic exposed the systemic failures of our society. 
"It's often the most vulnerable who are the most impacted," she said. "People who were already coping with a lack of opportunities, homelessness and inadequate health care were being diagnosed with COVID-19 at a disproportionate rate. The pandemic put so many disparities into bas relief." 
To cope during the pandemic, she took lots of long walks.
"I'm paying more attention to the natural world," she said. "I'm aware of the changing seasons. I'm looking at the blossoms and listening to the birds sing." 
But Glaser doesn't want anyone to call her newfound attention to nature "a silver lining."
"I am concerned about my family and friends and everyone around the world who is suffering during this crisis," she said. "For many, many people, the pandemic isn't over." 
Mark Lance
Lance was inspired to begin writing when his daughter was young. 
His book "The Weber House" began as a work for young adults, but now Lance says, "It's for everyone." He's now working on another book, titled "1887."
Lance, a West Orange resident and member of the Montclair Writers Support Group, has worn many hats. He worked at a printing company, and he's taught at Borough of Manhattan Community College for the last 20 years.
"People want their lives to have meaning," he said. "Many people around the world want to believe in something bigger than themselves. People want to believe that they're doing the right thing more than just acting in service to themselves."
Lance has found that writing helps him to capture his ideas before they disappear.
And the pandemic, he said, has confirmed his beliefs about how the world works.
"When I was writing my first book I remember that one of the Harry Potter books came out close to 9/11. A reviewer wrote that kids need some form of escape," he said. "I believe that young people also need to know why bad things happen. There are no magical explanations. The answers can be found in reason. We can explain things to kids so that they understand the forces at work." 
So, why do terrible things happen? 
"Racism, war and inequality are endemic to our way of life," Lance said. "Our economic system is reflected in the medical situation. Hospitals in underserved communities are being closed because they're not turning a profit." 
His book "The Weber House" defends the Enlightenment, he said.
"The answers are found in reason," he said.