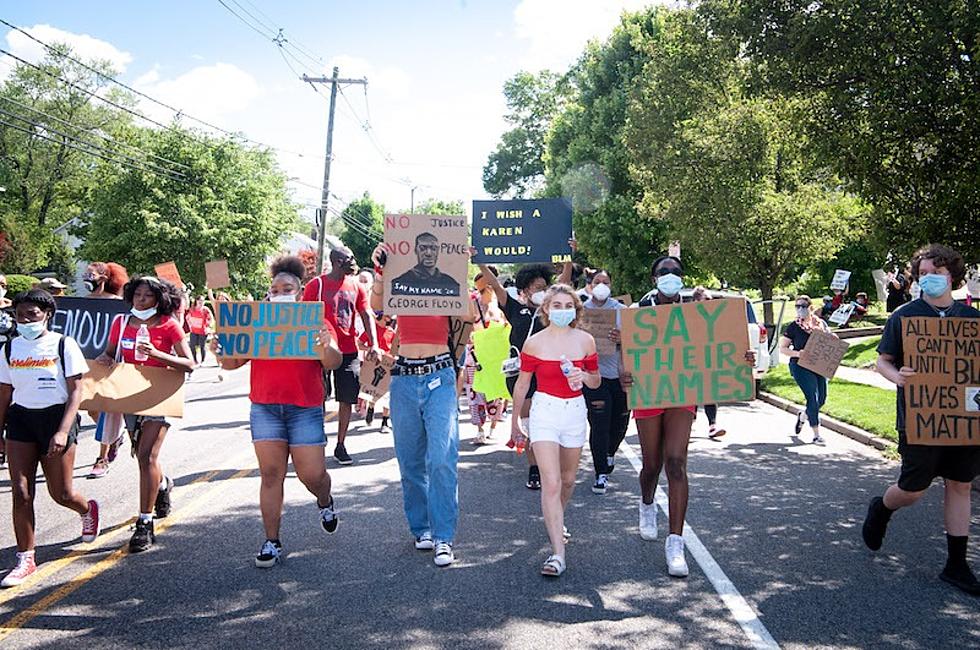 Town Square: A movement, not a moment
The march continues. KATE ALBRIGHT/FOR MONTCLAIR LOCAL
By GENESIS WHITLOCK
For Montclair Local
As the school year begins to wind down, students have had more time to reflect on everything that's been going on within these past few weeks related to the Black Lives Matter movement. Now more than ever, students are engaged to the point where no voice will go unheard. "This year y'all asked for 2020 vision and got 400 years of oppression displayed in a way that cannot be denied."
Students understand that the current protests are not about the murder of one man. As we grieve, we are questioning why these unjust murders continue to happen. The answer is institutional racism, and being able to acknowledge that it exists in Montclair is power. The power and commitment to justice I've witnessed from students throughout the past few weeks confirms that this energy will be harnessed into the school year. We are supporting, organizing and learning from each other so that this is not a moment, but a movement. Here are some ways the district can support students advocating for equity and justice.
Adhere to our demands. Earlier this month, I organized the Unity Walk alongside 17 other Montclair High School students, with the help of more than 50 volunteers. An estimated 6,000 people attended and marched for five miles, uptown and downtown, calling for the destruction of institutional racism within the education system. Some of our demands are as follows:
Implement integrated learning.
Provide bus service to the South End.
Dismantle the Eurocentric curriculum.
Provide mandatory training within the school district on both race and culture.
Create a safe space in schools for BIPOC to express themselves.
Our demands are just the first steps to addressing institutional racism within the education system in Montclair. After speaking with the Board of Education on June 15 and receiving their full support, we felt that it was necessary to ask the question, "Could it be possible that our demands are already a part of Montclair Public School policy but are not being adhered to?"
In short, the answer was yes.
I appreciate the Board of Education's transparency and have no doubt that now that students will have representation on the Board next year, we will continue to hold Board of Ed members accountable when necessary. The Board has committed to having our demands be the framework of what Montclair High School will look like for the next 5 years and I am overjoyed by this commitment. The responsibility will no longer be on the students to advocate for justice but it will be a community effort that is led by the district.
Training throughout the district. To emphasize that point, students would love to see training on both race and culture (which are two different things) amongst teachers and administrators throughout the district. At the Unity Walk, students got an opportunity to anonymously share their experiences with racism at Montclair High School.
The responsibility should not be on the students to navigate these difficult situations on their own. We need support from our teachers and administrations, and in order to support us, they have to understand who we are. That is why it's so crucial for training throughout the district to be implemented.
A cultural shift, led by the district. Students are now constantly engaging in discussions about racism and we are learning from each other as much as we can but, "Institutional racism is not a black issue that everyone else needs to empathize with, it is a structural issue that affects everyone from the top down so it is all our responsibility to actively engage in discussions to address it."
These discussions should be hosted by the district, because every issue that stems from institutional racism impacts us all in one way or another. Every parent should be informed on what the achievement gap is because it impacts us all in one way or another. Every student should be concerned about a bus not being sent to the South End because it affects us all in one way or another.
An injustice to one is an injustice to all, anywhere and everywhere. A call to end these injustices needs to be led by the District.
By speaking out against injustice throughout the years, many students have looked to me for answers but I have to be honest: I am only one young black woman with my one perspective and my one voice. In order for the district to address the institutional racism that exists in our town, we must include as many voices and perspectives of black individuals as possible. There is so much that still needs to be said, so I wish everyone reading the love and liberation needed to hear us and fight alongside us.
Continue to listen to black students, let our voices guide your actions as we make progress within this movement, together as a community.
The author is a rising senior at Montclair High School.