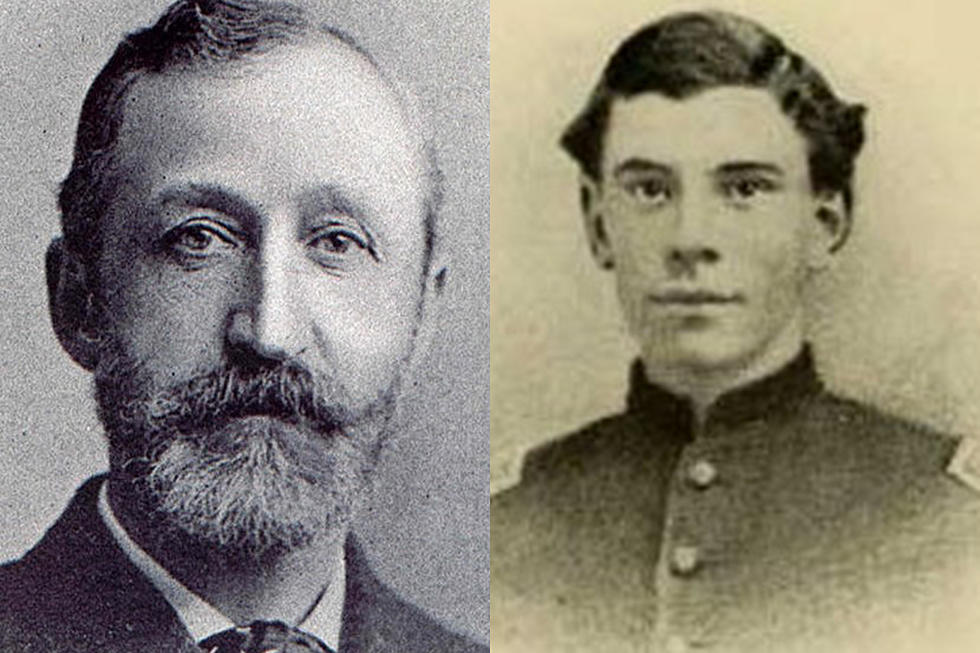 Two Medal of Honor winners from the Civil War lived in Montclair (History and Heritage)
Union Army officers Lt. Abram P. Haring, left, and Maj. Henry C. Meyer. (Montclair Public Library and Internet Archive American Libraries Collection)
By MIKE FARRELLY
For Montclair Local
There are times in war when combatants act with such bravery that it is hard to imagine how they were able to summon the courage.  
Understandably, we are moved to honor them as best we can, even if it is after their death. 
The highest award that can be given is the Medal of Honor.  It is popularly known as the Congressional Medal of Honor, which is a misnomer.  It  is awarded by the president "in the name of the Congress."   
It has been given out over 3,500 times since its inception in 1861, which is a small number compared to the millions of people who have served in uniform during that time period.
Montclair has been the home of two recipients, from the Civil War: Abram P. Haring and Henry C. Meyer.
Lt. Abram P. Haring
Haring was stationed at New Bern, North Carolina, an outpost held by the Union Army since 1861. The army used it as a depot to supply incursions into the Confederacy.  
On Feb. 1, 1864, the Army of Southern Virginia and North Carolina, under the command of Maj. Gen. George Pickett, attempted to retake New Bern in a multipronged attack.
Approximately 4,000 men led by Brig. Gen. Robert Hoke approached a railroad bridge over Batchelder's Creek (aka Batchelor's Creek) about 10 miles northwest of the city.
It was a dark, foggy night.  On the other side were 11 Union soldiers led by Haring.
Haring quickly realized that his small group was facing a vastly superior force, but he told his men to spread out as much as they could.  He told them to fire sporadically while he ran back and forth shouting out commands as if he were shouting them out to a large body of soldiers.
Somehow, they were able to survive Confederate artillery fire and managed to send one man back for reinforcements, which brought their strength up to about 150 men.  
The small band was able to hold off the Confederates until 9 the next morning, when Confederate soldiers crossed the creek and surrounded the Union soldiers.  
Haring and a few others were able to break through enemy lines and joined a Union brigade about a quarter of a mile away. 
That brigade too was surrounded. Haring managed to break free again and rejoined his regiment, the New York 132nd, where he was ordered to take command of a train that had a few howitzers on an armored car.  
He came upon advancing Confederate cavalry and was able to divert them for a little while, but was forced to flee again. He finally took up a position at another bridge outside the city.  
After an unsuccessful 24 hours Pickett decided to break off the attack.  
Haring  and his wife, Emma, moved to Montclair in 1876. They bought the Beatty farm on Valley Road, recognizable by two older homes at a bend in the road, just south of Edgemont Park. 
He was awarded the Medal of Honor on June 28, 1890. 
Maj. Henry C. Meyer 
Meyer tried to enlist in the Union Army without his parents' consent before he was of age.  He joined the New York 2nd Volunteer Cavalry in 1862 as soon as he turned 18.  
He served in various capacities and in several battles until January 1864, when he left the New York 2nd to become a lieutenant in Company D of the 24th New York Cavalry Regiment. He was promoted to captain during the Union Army's Wilderness Campaign in northern Virginia. 
 Even though he was sick with malaria, Meyer led assaults on Petersburg, Virginia, in June of 1864.  
On June 17, during one of those assaults, he noticed  Lt. James Randall, the commander of Company E, lying helpless on the battlefield.  On foot Meyer braved a hail of bullets to  assist his fellow officer.  
He moved Randall enough to save his life, but Meyer was too  weak to bring him back by himself.  As he went for help, he was shot in the back.  His wound was so severe that he needed 11 months to recover.   
Meyer was promoted to major in March of 1865 and received the Medal of Honor for his actions at Petersburg on March 29, 1899. 
He and his wife, Gertrude, moved to Montclair shortly after the Civil War.  He studied engineering, with a particular interest in the handling of sewage.  
He started a company that made plumbing supplies but left that to his sons.  He became the editor of Engineering Record, a periodical that advocated for health and safety in sanitary plumbing.  He died at his home at 10 Warren Place in 1935.
Medal of Honor history
The legislation leading to the creation of the Medal of Honor was passed in 1861. Early that year Iowa Sen. James W. Grimes, chair of the Naval Affairs Committee, authored a bill to make the Navy more efficient. The bill included a provision for medals of honor for extraordinary heroism.  
In December of 1861 President Lincoln signed the bill into law.  Secretary of the Navy Gideon Welles authorized the U.S. Mint to design the medals.  
In 1862 the Army instituted its version of the award, and in 1965 the Air Force followed suit. 
The first Medal of Honor was awarded in 1863 to Jacob Parrot for his part in the Andrews Raid, also known as the Great Locomotive Chase, behind enemy lines. 
It was a harrowing mission.  Eventually, 19 of the 22 soldiers who participated in the raid were given the Medal of Honor.   
The first and only woman to receive the award was Dr. Mary Edwards Walker, in 1865. Walker, a surgeon with the Ohio 52nd Infantry, crossed Confederate lines to treat wounded civilians on April 12, 1864, was captured, accused of being a spy and jailed for four months in Richmond. She was released in a prisoner exchange.  
The first African American to receive it was William H. Carney, in 1900, for refusing to let the American flag touch the ground during an assault on Fort Wagner, South Carolina, in 1863 even though he was seriously wounded. 
The assault was made famous by the movie "Glory."  
President George H. W. Bush created a national Medal of Honor Day, March 25, in 1991.
"History & Heritage" is a series on Montclair history written by representatives of the Montclair History Center and the Montclair Public Library. Mike Farrelly is a trustee of the Montclair History Center and has been the official township historian, a volunteer position, since 2004.