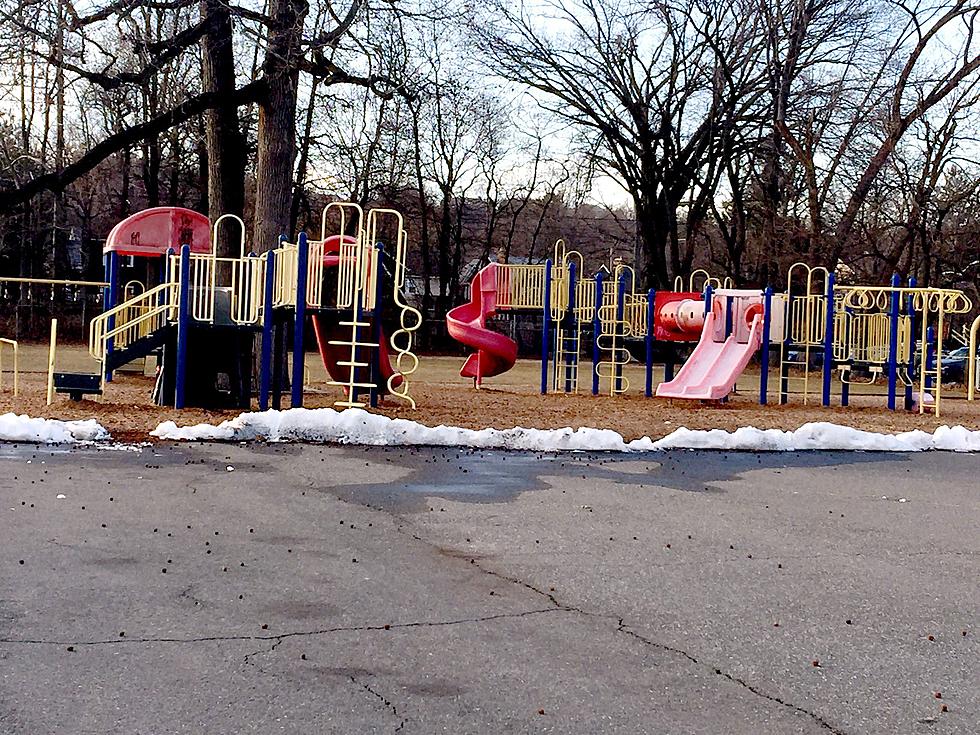 Two ways Montclair schools failed us (Letter)
The Watchung School playground, adjacent to Watchung Field. ERIN ROLL/STAFF
On Monday, June 21, when walking to the post office on Watchung Avenue, I passed Watchung School. I saw that the playground was closed and torn up, while many students were "enjoying" their recess on the narrow sidewalk of Fairfield Street.
In addition, I saw some youngsters playing in the gutter on Garden Street. Even with teachers around, it appeared very dangerous and uncomfortable for the kids on this hot and humid day.
The Montclair school system couldn't even wait a couple of days for the end of the school year to satisfy their obsession for a "regulation-size" lacrosse field? My daughter played lacrosse and field hockey, and never had a concern about whether her field was or was not regulation; the answer to such a question was irrelevant to the degree of enjoyment she experienced when participating in these sports. And isn't that what school athletics are for?— as opposed to coaches and administrators winning trophies so they can add them to their resumes?
It also appears that the school system is deaf to transparency when it comes to the case of its positive recognition of terrorist Meir Kahane (so labeled by our FBI). It is clear that attempts are being made to cover up exactly how that happened. The Montclair Local has indicated that "MHS Principal Jeffrey Freeman and Superintendent Jonathon Ponds didn't respond to emails from the Montclair Local over the last few weeks asking how Kahane was selected for recognition."
I doubt that a serious investigation is being undertaken to find out exactly who was involved — because the answers are probably known by the administration. While it is possible that the Kahane event occurred purposely, initiated by a right-wing supporter of Israel's treatment of West Bank Palestinians, in my mind it is more likely that it came from school administrators' ignorance of foreign affairs and insensitivity to the Jewish community. The acceptance of the school system's apology by one of the area's local rabbis is clearly a let-bygones-be-bygones tradeoff for an apparent "sincere desire to learn and grow in their ability to support a diverse student body." In other words we won't reveal whether we were involved, but also we won't do it again.
How about divulging the exact scenario? Most people of good will are forgiving of mistakes, but not of coverups.
Jack May
Montclair Township
Editor's note: School officials did not reply to inquiries from Montclair Local asking how ultranationalist Meir Kahane was selected for recognition in a Montclair High School daily announcement to students marking Jewish American Heritage Month, but Rabbi Ariann Weitzman of Bnai Keshet, who has since met with school staff for a professional development session, told congregants and Montclair Local Kahane was chosen based on information in an American Jewish Historical Society timeline.
---
Montclair Local's Opinion section is an open forum for civil discussion in which we invite readers to discuss town matters, articles published in Montclair, or previously published letters. Views expressed and published in this section are solely those of the writers, and do not represent the views of Montclair Local.
Letters to the editor: To submit a letter to the editor, email letters@montclairlocal.news, or mail "Letters to the Editor," 309 Orange Road, Montclair, NJ, 07042 (email is preferred). Submissions must include the name, address and phone number of the writer for verification. Only the writer's name and town of residence will be published. Montclair Local does not publish anonymous opinion pieces.
Letters must be no more than 500 words in length, and must be received by 5 p.m. Monday to be eligible for potential publication in that week's Thursday print issue. Letters may be edited by Montclair Local for grammar and style. While our goal is to publish most letters we receive, Montclair Local reserves the right to decline publication of a letter for any reason, including but not limited to concerns about unproven or defamatory statements, inappropriate language, topic matter far afield of the particular interests of Montclair residents, or available space.
Town Square: Montclair Local also accepts longer-form opinion essays from residents aiming to generate discussion on topics specific to the community, under our "Town
Square" banner. "Town Square" essays should be no more than 750 words in length, and topics should be submitted to letters@montclairlocal.news at least seven days prior to publication.