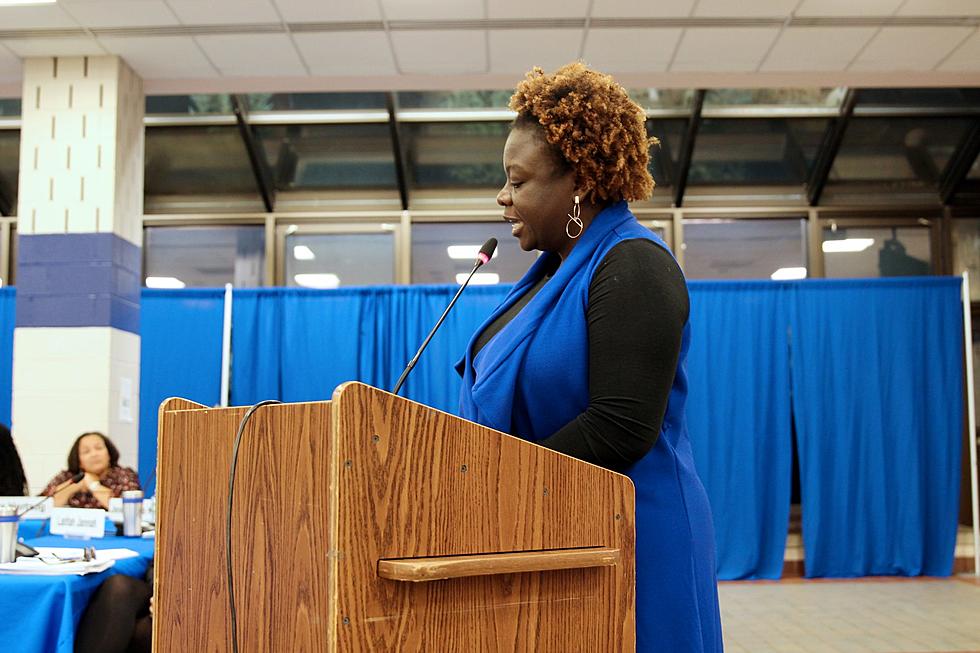 Union: No 'rhyme or reason' to Montclair school staff cuts
Petal Robertson, the former president of the Montclair Education Association, is seen in a file photo. She and other MEA members say they can't see any rationale for several school staff cuts — but that students and programs will suffer. The district's leaders say they'll rehire for positions if needed. ERIN ROLL/FILE PHOTO
By TALIA WIENER
wiener@montclairlocal.news
Union members, parents and teachers say dozens of Montclair Public School District staff cuts for the 2021-22 school year will have a significant impact on students. 
That includes the loss of one of the school's two athletics trainers — meaning one trainer will be responsible for 60 teams, MEA treasurer Greg Woodruff said. The dismissal of a Montclair High School physical education teacher brings all physical education classes to over 40 students, he said. The MEA's former president says she can't find any "rhyme or reason" to the cuts. Twenty-three of the 36 cuts were to special education staff, decisions the union alleges were made before reviewing individualized education plans and schedules.
At a Board of Education meeting June 21, schools Superintendent Jonathan Ponds didn't go item-by-item as MEA members described impacts to school programs; he didn't rebut or confirm their assertions of how program offerings or class sizes would be affected. But he said the cuts were made with "compassion" and an awareness of schedules "to make sure our kids and our students get a thoughtful and thorough education."
"Now we realize there'll be cases that come up," Ponds said. "That means you may have to hire someone [after initially eliminating a position]; we have planned for that. We're going to execute that."
Non-renewal notices were issued to 36 staff members on May 14 — 17 paraprofessionals, 13 classroom teachers, four related service providers and two education support professionals, according to the MEA. 
Woodruff said letting two in-class support teachers let go from Renaissance at Rand Middle School would result in no in-class support for the entire seventh grade.
Nearly half of the cuts were educators of color, Woodruff said at the board meeting — and he noted district officials have said they want to recruit and retain more people of color to better represent the student body.
"We as a district cannot claim something as essential to our student success, and then act in a manner that impedes that success," Woodruff said at the meeting.
School district leaders cited deficits that needed to be closed as they presented versions of their school budget proposal this spring, before Montclair's Board of School Estimate gave its final sign-off on a spending plan at a April 5 meeting. Along the way, they scaled back $3.7 million in salaries spending compared to an initial budget draft, estimating the loss of dozens of positions.
The MEA has repeatedly asked to present its own budget analysis to the district, the union's former president, Petal Robertson, told Montclair Local. Robertson stepped down from the role June 16 so she can become the New Jersey Education Association secretary treasurer in the fall. The union's own analysis finds no deficit, Robertson said.
The dismissal of the athletic trainer is an "awful decision," MHS parent and president of the girl's lacrosse booster club Jim Crane said told Montclair Local. 
"We are supposed to be a Group 4 school that has strong academics, athletics and facilities," Crane said. "It would appear that we want to have strong athletics but provide little to no support for their success and health."
Dr. Jene Bramel, a pediatrician with Mercy Health who assists a certified athletic trainer and works as a team physician for a high school football team in Ohio, said even schools much smaller than Montclair have issues when only one trainer is available. It can be difficult to handle tasks like taping and treatment with a busy schedule. It "stretches resources to treat an injury in one location while a game is being played on another part of campus," he said. 
Director of Athletics and Supervisor of Physical Education & Health PJ Scarpello declined to comment for this story. 
MHS counselor Gina Testa told Montclair Local a non-renewal notice arrived in her inbox at 4:30 p.m. on Friday, May 14. She opened the email the following Sunday morning and was livid, she said. 
"I know how important it was to have people from the school to reach out to, and I've always tried to be that person at the school," Testa said. "I would answer calls day and night when kids had emergencies or something was happening, because I know how hard it is and how isolated kids feel."
When Testa asked the district about her non-renewal, she got an email from HR saying the reasons for her dismissal were "economy" and "efficiency," she said. Testa asked for a meeting with Ponds and Director of Human Resources Damen Cooper. But as of June 21, she had yet to have a meeting, she said.
Testa had a caseload of 220 students this year— sophomores, juniors and seniors. That caseload will be divided up between the six remaining guidance counselors for those grades, Testa said. Two counselors at MHS work exclusively with freshmen, Testa said.  
Guidance counselor workloads have been at an all-time high this year, and the need will continue in the fall during the transition to in-person learning, Woodruff said at the meeting. 
"To cut a position like this in the worst mental health crisis we've ever had, just to me speaks of somebody that is not thinking about this and is just thinking about a bottom line," Testa said.
Testa has accepted a new job at Cedar Grove High School for the fall. 
Robertson said many staffers dismissed from their roles will likely secure other work —  and the district won't be able to easily hire staffers it finds it needs over the summer. "Not only is it demoralizing, it also doesn't work," she said.
The art departments at Glenfield and Renaissance middle schools were also heavily affected by the cuts, Bullock School special education teacher Elyse Hoffman said at the June 21 board meeting. Glenfield is the visual and performing arts magnet in the district.  
With the non-renewals of three art teachers at Glenfield and the only certified art teacher at Renaissance, both of those middle schools are left with no art teachers, Hoffman said. 
"Losing visual art classes in the visual and performing arts magnet middle school will undoubtedly deplete and eventually ruin the magnet system in Montclair," Hoffman said. 
Glenfield student Anna Ruff started a Change.org petition to show support for the cut Glenfield art teachers.
"Art is important to so many of my fellow students — whether it be a hobby, a method of self expression, or even a coping mechanism for depression, self harm, anxiety, etc," the petition reads. As of June 22, the petition has 82 signatures. 
In addition to the 36 staff cuts issued in May, multiple parents said they'd learned the director and adviser of the School of Visual and Performing Arts at MHS, Brenda Pepper, was dismissed.
Pepper's dismissal was "a terrible mistake," former MHS parent Jennifer Prost said at the June 21 meeting. 
"How could you dismiss this gem, this talented, caring, creative human who has worked tirelessly to develop the program and each individual student for 10 years?" Prost said at the meeting. Statements from former students of Pepper were also shared during the June 21 meeting, all emphasizing the positive impact she had on their lives and the MHS community. 
— Includes reporting by Andrew Garda
An earlier version of this post described a petition as started by Anna Ruff and Valentina Felisbret. Ruff started the petition, but Felisbret shared it at the meeting.