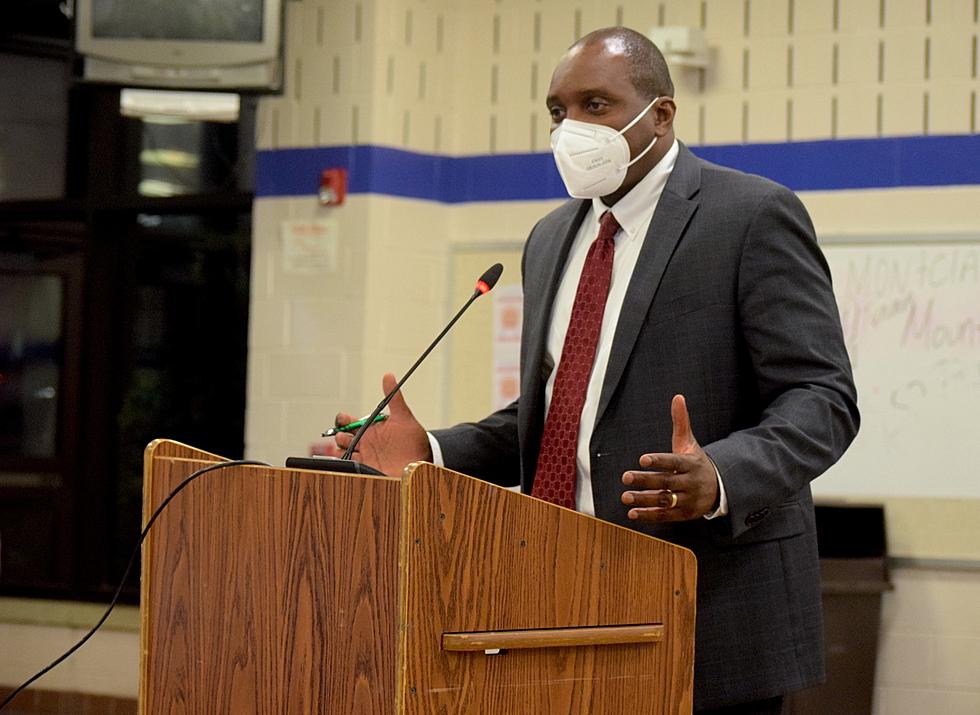 Unvaccinated Montclair students who travel must quarantine
Unvaccinated Montclair public schools students who travel during the upcoming holiday season will be automatically set up with virtual learning during a quarantine period of at least seven days, Superintendent Jonathan Ponds said in an Oct. 21 message to the community. Ponds seen here at the Oct. 18 Board of Education meeting. (TALIA WIENER/STAFF)
By TALIA WIENER
wiener@montclairlocal.news
Unvaccinated Montclair public schools staff and students who travel during the upcoming holiday season will be required to undergo at least seven days of quarantine, in line with guidance from the Centers for Disease Control.
Unvaccinated students who travel domestically or internationally will "automatically be set up with virtual learning due to their need to quarantine," schools Superintendent Jonathan Ponds said in an Oct. 21 message to the community.
"We value you as a partner and ask that you provide your children's teachers/principals your travel plans a week in advance, which will assist us in preparing virtual learning upon your return, allowing us to best serve your children," Ponds said in the message. 
"The Road Forward," the state's guidance for schools during the coronavirus pandemic, defines domestic travel as lasting 24 hours or longer to states "other than those connected to New Jersey, such as Pennsylvania, New York and Delaware."
"While there is no statewide travel advisory or mandate in place at this time, schools are encouraged to have a policy for exclusion for students and staff that is consistent with CDC COVID-19 travel recommendations," the document states.
The CDC recommends travel be delayed for those who are unvaccinated, but also recommends 10 days of quarantine after travel without testing or seven days of quarantine, with a negative test taken three to five days after travel.
"The holidays are right around the corner, and we wanted you to have travel guidance with enough time to plan for the Thanksgiving and December holiday breaks," Ponds said in the message. "We understand this is often a time when families visit relatives and gather together."
Ponds has not yet responded to an email sent to his district address Monday with questions about the vacation policy.
Fully vaccinated students and staff are not required to quarantine, but are recommended to test three to five days after travel and monitor for symptoms. 
The district's plan seems "a little arbitrary" parent Danielle Neff said in a Facebook comment responding to a post by Montclair Local. 
"I think it's great and appropriate that they are offering a virtual option," parent Danielle Neff said. "My question is this: What about those who host family/visitors from other states?"
More than 90% of Montclair school district staff have received coronavirus vaccinations, Ponds said at the Oct. 18 school board meeting. According to the district's COVID-19 Data Dashboard, there are approximately 1,100 staff members in the district, and as of Tuesday there had been eight known cases of coronavirus among staff this school year. There had also been 16 known student cases.
Voluntary pooled testing began in Montclair schools Monday, but staffing issues with provider Concentric by Gingko, a service provided by Ginkgo Bioworks, meant only three schools — Glenfield Middle School, Nishuane School and Bradford School — underwent testing, according to an update on pooled testing on the district's website.
"Schools that did not test [Monday], will begin their testing next week, aligned with the schedule," the district's update said. "As with any new program, 'glitches' can occur, and we are confident, moving forward, that the process will be streamlined."