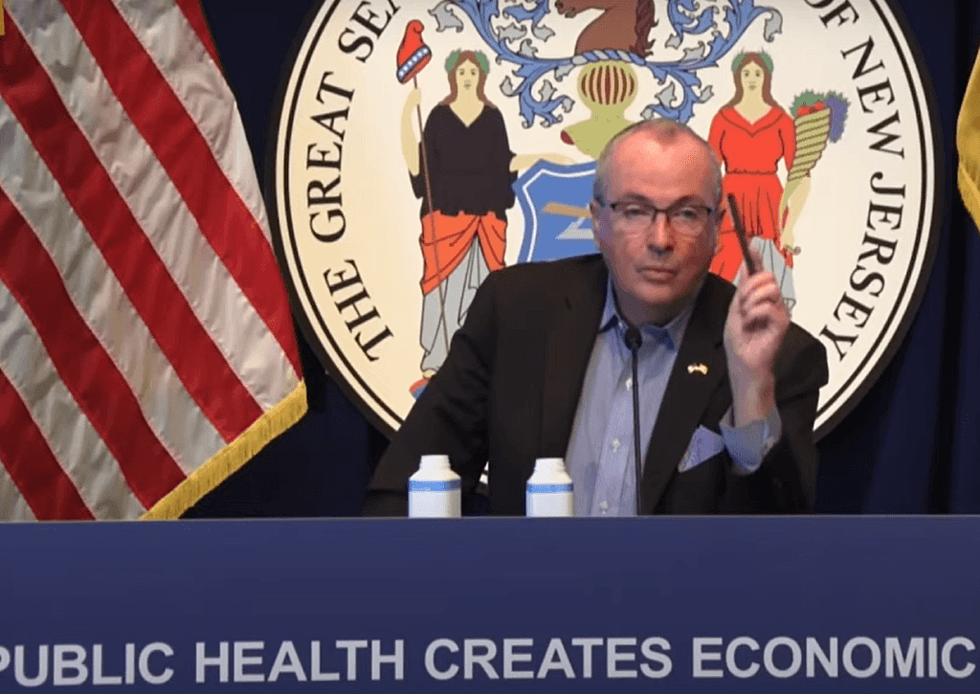 COVID-19: Vaccine clinics begin across the state
COURTESY STATE OF NEW JERSEY Gov. Phil Murphy provides an update on the status of the vaccine rollout at a Dec. 28 press briefing in Trenton.
By ERIN ROLL
roll@montclairlocal.news
New Jersey began rolling out its vaccine clinics at long-term-care facilities on Monday, Dec. 28. 
The Centers for Disease Control has partnered with CVS and Walgreens on the Federal Pharmacy Program, which makes vaccines available to clinics for long-term residents and staff. The first vaccines at long-term-care facilities were administered at the Roosevelt Care Center in Old Bridge, with Gov. Phil Murphy and Health Commissioner Judith Persichilli present. 
Murphy announced that more than 200 community vaccine sites, including local and county health departments, are expected to receive the vaccine, with 84 expected to get their shipments this week. 
The state is currently in phase 1A of the vaccine rollout program. That phase is open to frontline health care workers. The next phase, 1B, will be for other essential workers and for people over the age of 75 with underlying conditions. Phase 1C will be for people over the age of 65, before the vaccine is made available to the general public. 
On Dec. 28, Essex County administered its first vaccines to health care workers, at Essex County College. 
That same day, county officials announced that they were partnering with St. Barnabas Medical Center in Livingston to provide vaccines at the former Sears building at the Livingston Mall. 
Only one county site so far is available to Montclair residents: the former Kmart building on Prospect Avenue in West Orange. 
Officials on Monday reported 2,745 new cases, compared to 2,329 on Dec. 27, bringing the total to 463,965 cases. Some 21 new deaths were reported, compared to 20 the previous day, bringing the total to 16,706. 
The positivity rate on Monday was 10.98 percent, compared to 12.97 on Dec. 23, and the virus transmission rate has declined, from 0.99 on Dec. 23 to 0.97 on Dec. 28. 
Hospitals reported 3,684 patients, including 715 in critical care and 505 on ventilators, on Dec. 27, compared to 3,489 patients, 702 critical-care patients and 487 on ventilators on Dec. 26. Another 73 in-hospital deaths were reported but not yet confirmed as caused by COVID-19. 
Essex County officials on Dec. 28 reported 254 new cases and two new deaths, compared to 144 new cases and one new death on Dec. 27. The totals now stand at 46,102 cases and 2,126 deaths. 
Montclair health officials reported 12 new cases on Dec. 27, raising the total from 1,254 to 1,266. The number of deaths stands at 61, after two new deaths were reported on Dec. 23. 
"This is not the year for a wild New Year's Eve party," Murphy said. He said that better days were ahead in the coming year, but they were contingent on people abiding by health guidelines. 
"Let's make sure we get to those days together," he said.