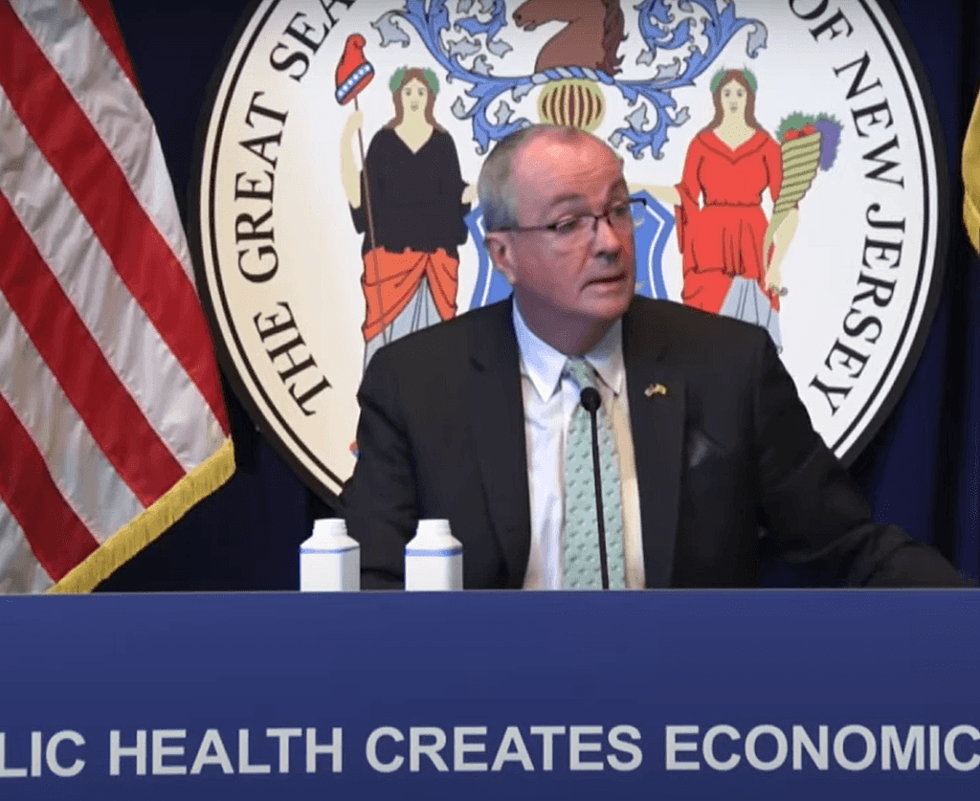 COVID-19: New Jersey, other states see expected vaccine shipments decreased
COURTESY STATE OF NEW JERSEY Gov. Phil Murphy speaks during a Dec. 21 press conference in Trenton.
By ERIN ROLL
roll@montclairlocal.news
As vaccines continue being shipped to New Jersey this week, state officials said the number of COVID-19 vaccines is lower than initially promised for the month of December. 
Health Commissioner Judith Persichilli said the state's allotment of both Pfizer and Moderna vaccines has decreased from 492,075 doses to 392,800: a decrease of 20 percent, or 99,275 vaccines. 
The total allocation of Pfizer vaccines alone was reduced from 273,375 to 183,300, and this week's tranche of vaccines was reduced from 86,775 vaccines to 53,625.
New Jersey is one of several states, also including California, Oregon, Nevada, Washington, Maryland and Virginia, to receive lower vaccine allocations from the federal government. 
According to media reports, Gen. Gustave Perna, the head of Operation Warp Speed, said that the shortfalls were due to a miscalculation on how many doses could be shipped. He issued an apology on Dec. 21. 
Over 8,000 healthcare workers had received their first dose as of Dec. 21. 
Dr. Rovie Mesola, a Montclair resident and a physician at University Hospital Brooklyn/SUNY Downstate Medical Center, was the first staff member at the hospital to receive the vaccine on Dec. 15. 
Next week, the Federal Pharmacy Program - a partnership between the CDC and chain pharmacies CVS and Walgreens - will begin vaccine clinics for residents and staff of long-term facilities and communal living facilities deemed to be at high risk for COVID-19. 
Keep gatherings to minimum
Officials also continue to remind residents that this is not the year for large holiday parties and gatherings. 
"This is not the year for Christmas as usual, New Year's Eve as usual," Gov. Phil Murphy said. 
Families are being urged to confine their Christmas and New Year's celebrations to their immediate family bubbles. 
"Do not let this virus come into your house," Persichilli said. "It is an unwelcome guest." 
County sites
Essex County is opening up vaccine clinics at six locations across the county. The first five locations were announced last week, and a sixth, at West Caldwell Tech, was announced on Dec. 21.
Montclair residents will be eligible to receive vaccines, once it becomes available to the general public in the county, at the former Kmart building on Prospect Avenue in West Orange.
County Executive Joseph DiVincenzo announced that the goal is to get as many of the county's residents vaccinated as possible. However, the first doses of the vaccine will be reserved for health care workers and essential workers, before the general public is allowed to receive it. 
The Numbers
Hospital patient counts, as of Dec. 21, are 25 percent higher than they were on Thanksgiving, Murphy said. 
Last night, hospitals reported 3,607 patients, 727 intensive care patients and 481 ventilators in use, compared to 3,574 patients, 708 intensive care patients and 474 ventilators on Dec. 19. 
New daily cases are down from yesterday's  5,184 to 3,186 new cases today, Dec. 21. The total now stands at 435,763. 
Another 29 deaths have been reported, compared to 21 on Dec. 20, bringing the total to 16,315 total deaths, as well as 1,908 probable deaths. Another 56 in-hospital deaths, not yet confirmed as COVID-19, have been reported. 
For the first time in more than a month, the virus transmission rate dipped below 1 to 0.99, down from 1.03 on Dec. 18. But Murphy said that given the daily numbers, the virus transmission rate is not a cause for celebration. 
The positivity rate now stands at 10.78, compared to 10.08 on Dec. 18.  
Essex County reported 610 new cases and no new deaths on Dec. 20, compared to 330 new cases and 11 new deaths on Dec. 19. The totals as of Dec. 20 stand at 43,948 cases and 2,093 deaths.
The numbers for Dec. 21 have not been released. 
Montclair health officials reported seven new cases on Dec. 21, bringing the total to 1,209. One new death was reported on Dec. 19, bringing the total to 59. 
"Slowly but surely, we'll dig out of this thing with your help, we'll build a bridge into a better tomorrow," Murphy said.