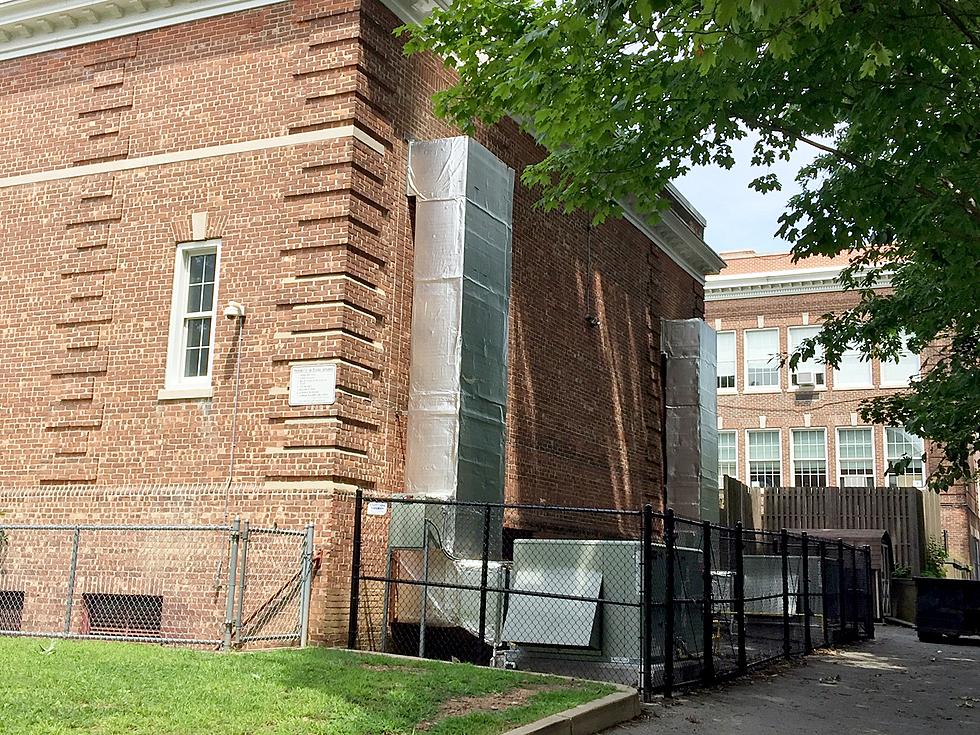 Ventilation issues holding Montclair school district back
\Large air conditioning units, such as these at Watchung School, help refresh air and, along with proper filters, can help prevent the spread of COVID-19.


PHOTO BY ERIN ROLL/STAFF
by Andrew Garda
garda@montclairlocal.news
Engineer Corey Metzger of the American Society of Heating, Refrigerating and Air-Conditioning Engineers leads the team on the organization's Epidemic Task Force that's helping schools like Montclair's deal with ventilation issues that have kept them from reopening.
Districts were caught off guard when the Centers for Disease Control and the World Health Organization only recently began addressing potential airborne transmission of COVID-19, Metzger said.
A day after Gov. Phil Murphy allowed schools to go all-remote in order to address safety issues including upgrades to ventilation systems, Montclair Superintendent Jonathan Ponds announced on Aug. 13 that township schools would open the year remotely. 
Ponds said that while the systems in the district are "sufficient for a normal school year, they are not during a pandemic."
The superintendent did not respond to a request for specifics on the work needed to improve ventilation, but did address it somewhat in a recent letter to families.
"We are currently working on short-term solutions that will provide sufficient ventilation to bring back students and staff as soon as possible. We will then continue with longer-term solutions during the holidays and throughout the year," the letter said. All of the district's plans for upgrades will be submitted to the state and county for approval, Ponds added.
Metzger said that guidance on reopening schools was focused on hand-washing, social distancing and masks, and then unexpectedly shifted to ventilation. 
While Ponds gave little information on what is being done to upgrade Montclair's systems, 
Montclair Kimberley Academy, which is opening on a hybrid schedule, gave specifics on its upgrades. 
MKA has installed Minimum Efficiency Reporting Value (MERV) 13 filters in all of its equipment, which is the highest-rated level set by the standards of the American Society of Heating, Refrigerating, and Air Conditioning Engineers. They are also the most expensive.
MKA also installed  a newer technology — bipolar ionization units in all central and split-system HVAC equipment. Metzger said there has not been enough time to properly study their capabilities in the face of COVID-19.
Bipolar ionization systems release charged particles that can disable viral particles in the air. 
The word to emphasize is "can," Metzger said. "It's just too early on to have real studies done to verify it." 
Metzger's recommendations for districts vary, depending on things like the location, size and age of buildings, type of existing ventilation and number of students.
Schools with existing ventilation systems should have them serviced, and filters should be changed and, if possible, upgraded.
In some cases, his advice is more drastic, as schools may need a complete system overhaul or even have one installed, as not all schools have a ventilation system.
---
COVID-19: GYMS, INDOOR REC VENUES CAN RE-OPEN SEPT 1
---
At the very least, Metzger said, when the weather is nice, schools should allow teachers to open windows. 
"It won't give you as much air as a mechanical system, but it's better than nothing," he said.
The biggest issue facing districts is money, as the need and demand for upgrades have driven prices up, Metzger said.
Also, parts including filters could take up to a month to get, while a massive rebuilding is likely to take months. However, Metzger said, ventilation remains just part of the solution. "There's no such thing as eliminating that [transmission] potential, but we can reduce that potential significantly."