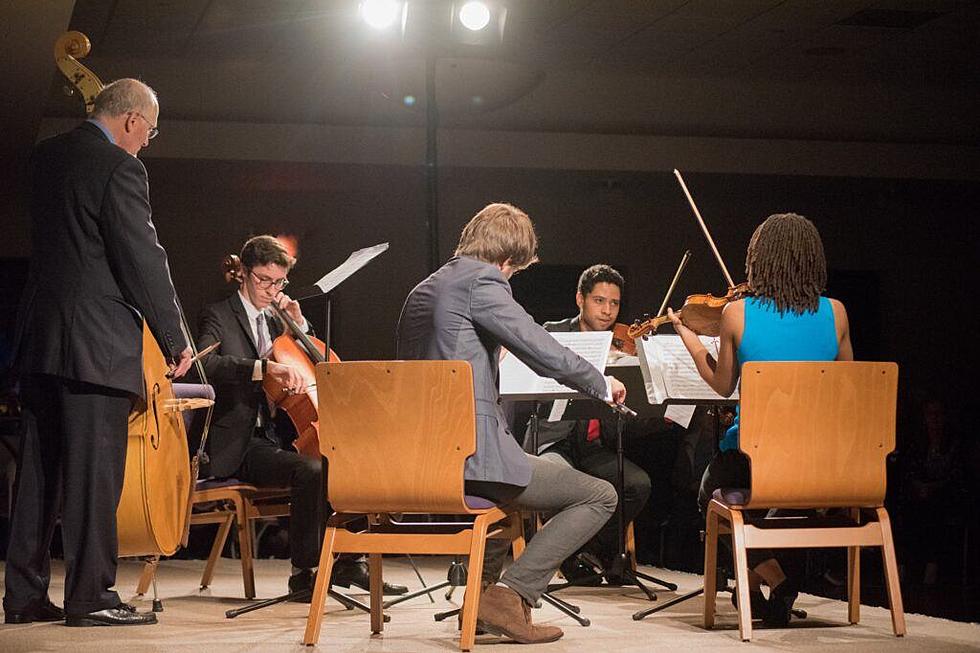 Virtual audience for Montclair Orchestra at SOPAC
Mentors and fellows performing a chamber music concert at Shomrei Emunah in 2017. COURTESY MONTCLAIR ORCHESTRA
Montclair Orchestra at SOPAC
Thursday, Oct. 22, 7:30 p.m.
Featuring pianist Terrence Wilson
sopacnow.org
By MARK S. PORTER
For Montclair Local
Several months of social isolation have emphasized the yearning for live music, said David Chan, the inaugural music director of The Montclair Orchestra.
Next Thursday, Chan and colleagues will deliver on that desire.
Musicians from The Montclair Orchestra will join Chan in the South Orange Performing Arts Center for a virtual showcase of compositions that exemplify the word "eclectic."
Performing these compositions is, in itself, an eclectic lineup of musicians. The ensemble will feature a double bass, four violins and a piano. 
Instead of conducting with a baton, Chan will perform on violin. Chan is the concertmaster of the Metropolitan Opera Orchestra. 
The musicians will be onstage, while the audience will attend virtually.
On piano will be his friend Terrence Wilson, who is one of the classical world's most acclaimed pianists, and who lived for a time in Montclair; he now lives in Bloomfield. Chan and Wilson attended the Juilliard School together.
The show will feature Wilson and Chan performing "Suite for Violin and Piano" by William
Grant Still. The composer, Chan said, was a "real pioneer in African American music. He was a Harlem Renaissance composer." In 1931, the Rochester (N.Y.) Philharmonic performed Still's Symphony No. 1, titled "Afro-American," which incorporated poems by 20th-century African American poet Paul Laurence Dunbar.   
On several recordings and in orchestral performances, Still's compositions have been played alongside George Walker's. A Montclair resident for several decades until his passing in 2018, Walker was the first Black classical composer to win the Pulitzer Prize, for his symphony "Lilacs." The Montclair Orchestra has performed Walker compositions.
"This program was born of a couple different directions in my mind," Chan said. "We went the chamber music route, rethinking how to present music at this time. And it relates to the racial reckoning we're going through." For Chan, the concert offered a societal connection along with a personal one, the chance to play with a friend from school. 
"It's not by coincidence you're going to see more African American composers on the program,"  said Montclair Orchestra founder and President André Weker. "There's diversity in the world, and that should be encouraged in our industry."
After Chan and Wilson perform Still's suite, Wilson will play Sergei Rachmaninoff's "Études-tableaux," Op. 39, No. 2 in A Minor and No. 9 in D Major.
Then there will be four compositions stylized by British composer and violinist Julian Milone, who Chan said "has created very imaginative arrangements for four violins and a double bass": 
 George Gershwin's "It Ain't Necessarily So" from "Porgy and Bess"

 Astor Piazzolla's "Oblivion"

 Georges Bizet's "Carmen Fantasy"

 Dmitri Shostakovich's "Galop" from "Cheryomushki"
Joining Chan on violin will be Qianwen Shen, a student of Chan's who now performs in the Met Orchestra, and Juilliard students Angela Wee and Katherine Woo.
Brendan Kane, a member of the Met Orchestra, will perform on double bass.
________________________________________________________________________
READ: MONTCLAIR ORCHESTRA PERFORMS SOCIALLY DISTANCED "POMP AND CIRCUMSTANCE" FOR CLASS OF 2020
READ: CLASSICAL MUSIC REVIEW: MONTCLAIR ORCHESTRA'S SCOTTISH WELCOME
________________________________________________________________________
Citing nearby conservatories, including Juilliard and the John J. Cali School of Music at Montclair State University, Chan said, "One of our long-range missions, besides serving the community, is to educate. With these conservatory students, we have access to some of the next generation of greatest musicians.
"It's not a didactic environment we have. It feels like we're all colleagues. The mentors treat them as future equals. In many cases the future is close at hand. Qianwen Shen started out as one of our student fellows. She's now back as my colleague instead of my student."
Weker said, "We're not training these conservatory students for a year from now. We're training these students to lead 50 years from now."
ATTRACTIONS OF AN ARTS TOWN  
A couple of hours before he was to attend a rehearsal for the concert, Terrence Wilson noted, "Everyone's being tested for COVID today."
Wilson grew up in the Bronx. "I came to Montclair in 2002. My parents had both just died. I couldn't bear to stay there alone. A good friend of mine from Nutley was living in Montclair. He suggested I visit the town ... I loved it. It's been a honeymoon ever since. I became a Jersey boy."
In 2015, a fire swept through the large apartment building on Claremont Avenue in which Wilson resided, forcing the tenants to relocate — for Wilson, a move, perhaps temporary, to Bloomfield. "My heart's still in Montclair," he said.
"The arts community, that's one of the major attractions for me to move to Montclair," said Wilson. He talked about composer George Walker, and the fact that the predecessor to the New Jersey Symphony Orchestra was founded in Montclair.
"Some time after I moved to Montclair, I got invited to play with the New Jersey Symphony," he said. 
Wilson's portfolio teems with accomplishments: He's performed as a soloist with orchestras in the U.S. and throughout the world, such as in Malaysia, Brazil, Bulgaria, Scotland and Switzerland; played in festivals such as Wolf Trap and Tanglewood; been featured on NPR and WQXR and in television programs, and garnered a host of awards and a 2011 nomination for a Grammy.
When he lived in Montclair, Wilson connected with Chan, his friend from Juilliard, and then with Weker. Until recently, exclusivity contracts kept Wilson from performing with The Montclair Orchestra. "After three years of wanting to play with The Montclair Orchestra, to finally do it," Wilson said. "It's nice to be recognized by your home orchestra."
A CONCERT IN THE COVID ERA
South Orange Performing Arts Center Executive Director Craig Sumberg hailed the orchestra's upcoming performance, stating that it is a welcome synergy for the center and the musical group.
"Partnering with The Montclair Orchestra in a virtual format is a win-win as both organizations explore new ways to serve their communities," Sumberg said in an email. "We are able to have a broader reach and bring the arts directly to people.
"If there has been a silver lining with the onset of COVID-19, it has to include the opportunity for people to enjoy and support local arts and artists at a reasonable cost and without transportation issues. I'm a glass half-full kind of guy, and shaking us up from our settled ways of providing arts to our communities will have lasting benefit." 
Weker agreed, saying the virtual concert will provide e-attendees with a live performance of excellent compositions while keeping them safe at home.  "This shows the need for our industry to pivot and be agile," he said.