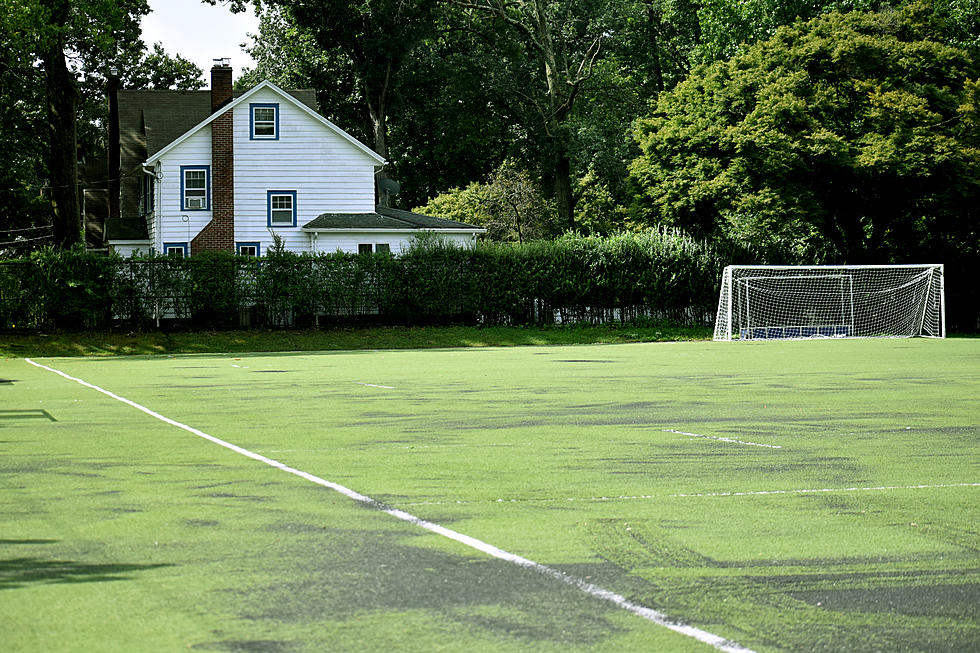 Watchung Field work won't happen this summer, BOE says
WATCHUNGRTURF4 ESSEX MONTCLAIR 08/13/2018
Watchung Field saw massive infill disruption due to Monday's intense rain storm. MHS AD Patrick Scarpello indicated some of the issue may be a problem with the drainage system underneath the turf.
PHOTO BY ANDREW GARDA/STAFF
By ERIN ROLL
roll@montclairlocal.news
Watchung Field's long-anticipated overhaul has been postponed.
Due to incomplete paperwork, district officials rejected the only bid received for the Watchung Field construction and expansion.
The announcement that construction would not occur over the summer as planned was made during the Wednesday, May 1 board of education meeting when the board formally rejected the bid from Montville-based Applied Landscape Technology.
Five companies picked up bid applications, but only Applied Landscape Technology filed an application with the district. The district did not reveal how much the bid was for. The district has budgeted $1.3 million for the project.
The bidding process will now have to start over, delaying the project.
The delay means the district will have more time to come up with a plan for neighboring Watchung's school playground, which is expected to lose 30 feet due to the field expansion, Board President Laura Hertzog said.
The field is being expanded to create a regulation-size lacrosse field. The existing field is regulation length for field hockey, which is also played there.
Watchung school parents have been vocal in their disappointment that the expanded field would mean a smaller playground for the students.
Jonathan Bellack, a Watchung parent and a member of the school PTA's playground committee, expressed relief that the district was going to have time to look at the playground.
Bellack said he and other parents have been doing research, including talking to staff at the Montclair Community Pre-K. which is overhauling its playground, and at Forest Avenue School in Glen Ridge.
Six months of planning are needed for playground overhauls, and requires consultations with landscape architects and other experts, Bellack said.
He is now urging the district to have the construction work done in a way that accommodates children so they still have access to a playground while school is in session.
Watchung Field is the second project this spring in which a bid has had to be rejected due to paperwork issues. In March, the district was forced to throw out four bids for the staircase work at Montclair High School because the lowest bid did not contain the necessary documentation. The other three bids were higher than the district's budget would permit.
Watchung is one of the district's three athletic fields, and the last one awaiting renovations.