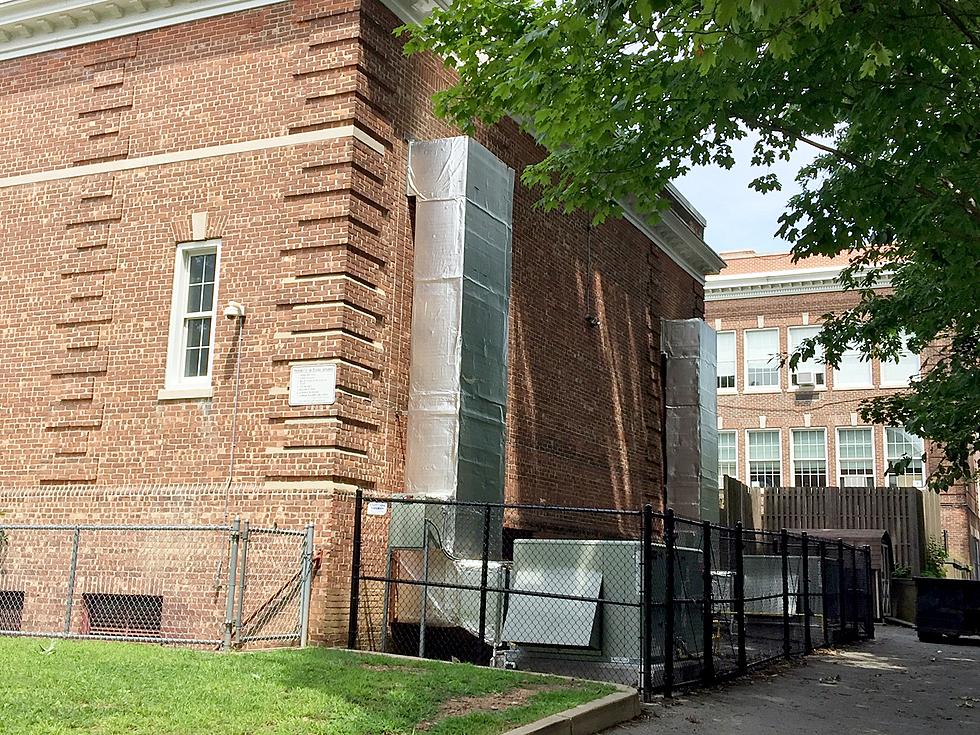 Watchung HVAC units continue drawing noise complaints
The HVAC units on the side of Watchung School. The noise from the units has been drawing complaints from nearby residents on Frederick Street.
PHOTO BY ERIN ROLL/STAFF
By ERIN ROLL
roll@montclairlocal.news
The noise from the new heating and air conditioning units at Watchung School are continuing to draw complaints from residents.
In March, residents first complained about late night construction work surrounding the placement of HVAC units on the west side of the school's annex building.
Once they were up and running, Frederick Street resident Dan Keppel began filing complaints about the noise created by the units.
School district officials assert that the units are in compliance with noise ordinances, citing a report from the Essex Regional Health Commission.
Noise readings of the HVAC were taken by the commission on July 1. Although the report noted that there were no daytime noise violations, it noted "potential" nighttime noise violations.
While the units' daytime noise rates averaged 61 decibels, just below the state's legal limit of 65 decibels for day, the state requires that nighttime noise levels be kept below 50 decibels between the hours of 10 p.m. and 7 a.m.
In letters to the school district and the township, Keppel said the loud noise is detrimental to the community's well-being, and potentially hazardous to children who would be playing on the school's playground.
This month, Keppel wrote to Deputy Mayor Robin Schlager and Mayor Robert Jackson.
Schlager called the noise a "terrible inconvenience," but had no resolution for him.
"I wish I had answers for you, but you know that the town does not own the BOE property and there's nothing the town can do under these circumstances, as far as I understand," Schlager wrote. "I hope as time goes by, the [Board of Education] who I know to be responsive, can help in this situation."
The district agreed to put in a barrier between the HVAC units and the adjacent houses, according to the report, once construction was completed. That barrier hasn't been erected.
State law allows municipalities to set noise ordinance levels that are lower than what the state permits, Keppel asserts.
The federal Environmental Protection Agency recommends noise levels near residential backyards and playgrounds not exceed 55 decibels, added Keppel. If the town does not correct the noise levels, Keppel said he will seek relief through the Environmental Protection Agency.
The two HVAC units were installed for the annex wing of the building after parents, for over a year, complained that the annex got so overheated that children were becoming ill.