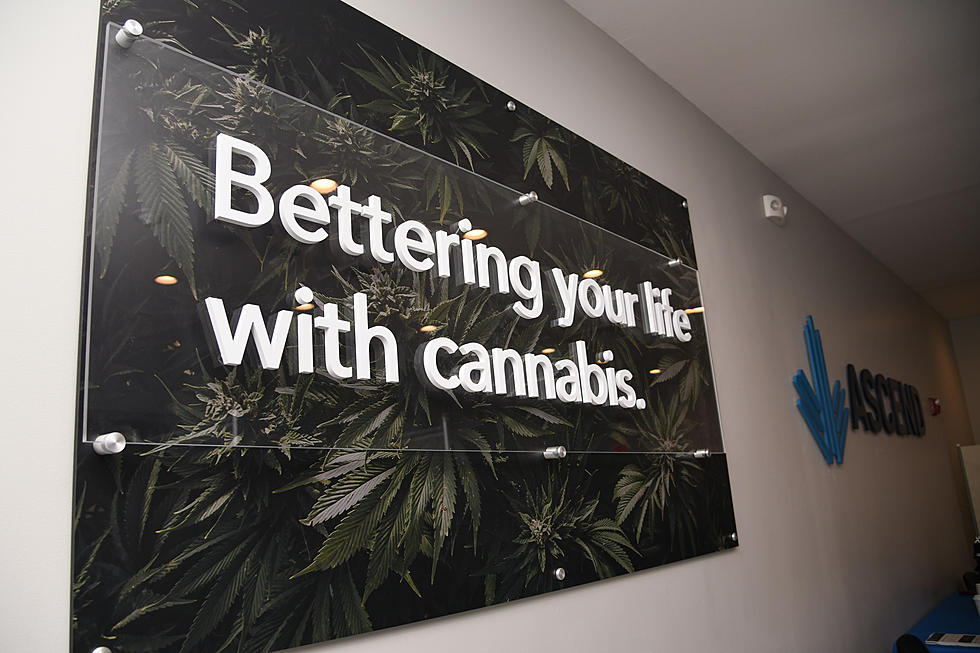 Why you can't buy legal, recreational marijuana in Montclair Thursday
Ascend Cannabis Dispensary (KATE ALBRIGHT/FILE PHOTO)
On Thursday, April 21, recreational marijuana will go on sale at several medical dispensaries throughout New Jersey — but not Montclair.
Ascend New Jersey will begin selling recreational pot along with its usual medical cannabis at its Rochelle Park location, but not in its shop along Montclair's Bloomfield Avenue, which in 2012 made history as the first medical dispensary location in New Jersey.
On April 11, the New Jersey Cannabis Regulatory Commission approved applications from the first seven owners of 13 alternative treatment centers — medical dispensaries — seeking expansions to open up to recreational sales, including Ascend. A few days later, Gov. Phil Murphy announced sales would start April 21. 
The other locations opening are: The Botanist (owned by Acreage CCF New Jersey) in Egg Harbor Township and Williamstown; Curaleaf in Edgewater Park and Bellmawr; Columbia Care in Vineland and the company's Cannabist shop in Deptford; Zen Leaf (owned by Verano) in Lawrence and Elizabeth; RISE (owned by GTI New Jersey) in Bloomfield and Paterson; and the Apothecarium (owned by TerrAscend) in Phillipsburg and Maplewood.
The Greenleaf Compassion Center opened in December 2012, and was taken over by Ascend in 2021. 
Ascend, which has dispensaries in Rochelle Park and Montclair and a cultivation plant in Franklin, had applied with the state for licenses to expand to recreational use for all three facilities. The Cannabis Regulatory Commission granted approvals for Franklin and Rochelle Park, but an application for the expansion at the Montclair location is awaiting possible local approval, which is required by the state. 
"There's nothing new other than the application is being worked on still since August 2021. Noteworthy as a majority of the voters in Montclair supported adult use of cannabis in the state ballot initiative, and voters are probably now realizing they cannot shop with us in the imminent opening. Probably very confusing as to why," Caitlin Fleishman, director of public affairs for Ascend Wellness Holdings, said.
Early this year, both Rochelle Park and Franklin passed resolutions giving local approval for Ascend to expand its operations at those locations, bypassing any further local application processes. Montclair is asking that Ascend and all potential cannabis businesses go through an application procedure. But while the Township Council by a series of 5-2 votes last summer agreed to let recreational marijuana businesses operate in town — allowing for two retail shops and five other cannabis-related businesses within Montclair's borders — the township hasn't yet come up with an application businesses can submit.
Interim Township Attorney Paul Burr said in late March that Ascend's request for a resolution of support is currently being reviewed for consideration, but that he was still drawing up the application. According to Township Communications Director Katya Wowk, as of this week, the legal department is still working on the application. 
Fleishman said she hopes that a resolution of approval of Ascend's expansion will be attached to the May 3 Montclair Township Council agenda. That would allow enough time for the Cannabis Regulatory Commission to review the application and place it on its agenda for approval of expansion at its May 26 meeting. Scheduled council and commission meetings in June are held just days apart and would not allow enough time for state review, she said.
The Rochelle Park location will not only be making history as one of the first running recreational dispensaries in the state, Fleishman said, but will also begin collecting a 2% sales tax on the recreational sales proceeds for that municipality.
Montclair's ordinance would have it collect a tax on the receipts of cannabis sales or transfers of 2% for cannabis cultivators, manufacturers and retailers, and 1% for wholesalers.
Along with municipal approval, the commission sought proof that the dispensary had sufficient supply of marijuana to meet the needs of patients after the expansion, had plans to ensure patient access and plans to address social equity and safety, Jeff Brown, executive director of the Cannabis Regulatory Commission, said at a state hearing in May.
"These approvals were given based on commitments from the ATCs [alternative treatment centers] that we would not see adverse effects with expansion," Commission Chair Dianna Houenou said. "Expansion into the adult-use market — with a substantial advantageous start ahead of new applicants — is a privilege that must not be taken lightly.  We expect these ATCs to uphold their promises to patients and communities; and that recreational customers will be adequately served. The NJ-CRC will be holding these businesses accountable to the commitments that led to their approvals. It is now on these expanded ATCs to keep up with demand – both medicinal and recreational."
Map courtesy of NJ Spotlight News. See its original post here.