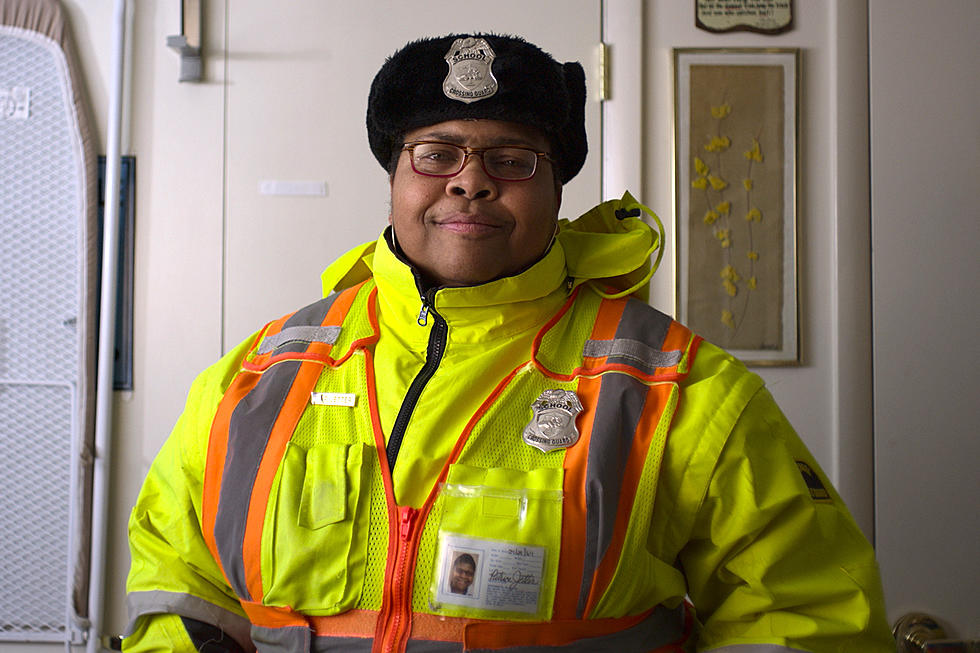 Woman in uniform: Patrice Jetter made others see past her disabilities
Patrice "Trish" Jetter appears in Netflix's "Worn Stories," an exploration of its subjects' most meaningful pieces of clothing. For Jetter, it's her uniform as a crossing guard. (COURTESY NETFLIX)
By DIEGO JESUS BARTESAGHI MENA
bartesaghi@montclairlocal.news
Even as a little girl, Patrice "Trish" Jetter had no intention of letting her disabilities be an obstacle to her goals.
And at the age of 57, she's achieved many. She's won several medals as a Special Olympics athlete. She's been an actor. 
But among her proudest accomplishments: her many years of service to children in New Jersey as a crossing guard. She's now featured in Netflix's docuseries "Worn Stories" — in which real people explore their connections to their most meaningful pieces of clothing. For Jetter, it's her uniform.
Born in Montclair in 1964, Jetter was diagnosed with cerebral palsy and partial hearing loss at birth. Her family moved to East Orange when she was young, where her mother, a Eucharistic  minister, enrolled her in school alongside other kids who didn't have the same challenges. She thought her daughter's disabilities might not be so severe others would notice. They did. 
Early in life, Jetter was treated differently, though she didn't always understand why. It started in the Head Start program at her school. 
"I remembered that every time our class would go on a walk, I was the only one in the class made to wear a harness with a 5-foot leash attached to it," Jetter said. 
She hated that harness. It was tight around her ribs, causing her constant pain. Whenever Jetter tried to pull away from the teacher, the teacher would pull her in, causing more pain. 
Jetter wasn't aware at that time that her circumstances or behavior made other people uncomfortable. She was just a kid. If someone called her "strange," she acted like it wasn't a big deal. 
But over time, Jetter noticed the treatment toward her becoming more aggressive. By third grade the harassment became physical — other kids would beat her up.
Her brother, who was a police officer, taught her how to defend herself. She fought back. The bullying stopped for a while, but it didn't end, Jetter said.
At age 17 she was transferred out of conventional school into a day program at Youth Consultation Services in Newark. There, she said, the harassment and attacks continued. Kids locked her in the bathroom and threw pieces of toilet paper on fire inside. They played dodgeball with a basketball, and another kid threw the ball directly at her face, shattering her classes. 
Jetter said the teacher never called her home to tell anyone about the incident — but only put the broken glasses into an envelope and gave them to her mom when Jetter's bus dropped her off.
"I was in a program with troubled youth. So, it kind of made me a target for other kids," she said. 
Jetter's mother, tired of the harassment her daughter was facing and the indifference from staff members who wouldn't do anything to stop the bullying, decided to move back to Montclair and enrolled her in school. 
The harassment ended once she moved back. 
Jetter got a volunteer job at the YMCA of Montclair's after-school program while finishing high school. She loved working with kids. 
"I remember hearing a kid say to his mom, 'When I grow up, I want to be just like Miss Patrice.' And because I was bullied so much, my self-esteem was very low," Jetter said. "So, I was like, 'Why would you want to be like, somebody like me?' And he said, 'Because you're the most fun person I ever met.'"
Jetter graduated in 1985. She saw an ad in a local newspaper about a crossing guard position with the Montclair Police Department, and thought it would be a great opportunity to continue working with kids.
For 12 years, Jetter applied for the position. Each time she was rejected. The ad said no experience was required, but Jetter said she got letters telling her lack of experience was why she was turned away. On her 13th try, she decided to take a step further and wrote a letter to then-new Mayor James Bishop.
In the letter, Jetter listed all her previous experience working with kids, added a long list of references, and said that though she couldn't prove she was being discriminated against, she could prove she was being treated unfairly. 
Twelve years and three months after her first application, Jetter finally received a letter from the township for a pre-employment physical exam for the job she worked so hard to obtain. She passed the exam and was hired as a crossing guard. 
"The day that I got hired, I came into the police station with the biggest smile on my face," Jetter said. "I couldn't stop smiling." 
In 1993, Jetter officially became a crossing guard for the Montclair Police Department, working outside of Hillside Elementary School until 2005, when she moved to Hamilton. She continues to work as a crossing guard in that community.
In her 27 years as a crossing guard, the job has never been dull. 
A few memories stand out — like the time she was invited to go swimming with Montclair pre-K students. Jetter showed up in her swim dress and her flowers swim cap, and went down the water slide with the kids. 
Or the time Jetter confronted a classroom bully, also in Montclair, because he did not want to play with another student who wore glasses. 
And another time, when a woman who'd bullied Jetter when they were children showed up with her own 9-year-old son, telling the boy she used to beat Jetter every day for a few laughs. The mom still thought it was funny, Jetter said.
"Her son looked at her and said, 'How could you do that, Mommy? That was so mean. Miss Patrice is so nice to me,'" Jetter said. "And the kid cried and ran. It goes to show you that the cycle can be broken." 
Jetter said her self-determination made her achieve her goals. 
"You got to have the drive to want to do things, especially when you're constantly being told that you can't do it," she said. "And I'm like, 'Well, why can't I do that? It looks like something I could do.'" 
Jetter began an acting career in 1996 at The College of New Jersey under a program that paired theater students with disabled adults to perform in musicals and plays. 
"It was a lot of fun being with them because they treated us like anybody else. And that's the way we wanted to be treated," she said.
She became a Special Olympics athlete in 1991, winning several medals in gymnastics, figure skating, bowling and bocce, which her boyfriend, who is also disabled, taught her how to play. 
Throughout her life, Jetter said, she hasn't let her disability — or the bullying it prompted for so many years — define who she is. And in that time, she's become a role model for several children.
"I would tell them that a lot of people are going to tell you that you can't do things, and you have to use your judgment," Jetter said. "And sometimes it's hard to find people that are willing to listen. And you gotta keep going, and go with your gut, and don't give up." 
"Worn Stories" is available for streaming on Netflix. Jetter is featured in "Uniform," the series's fifth episode.