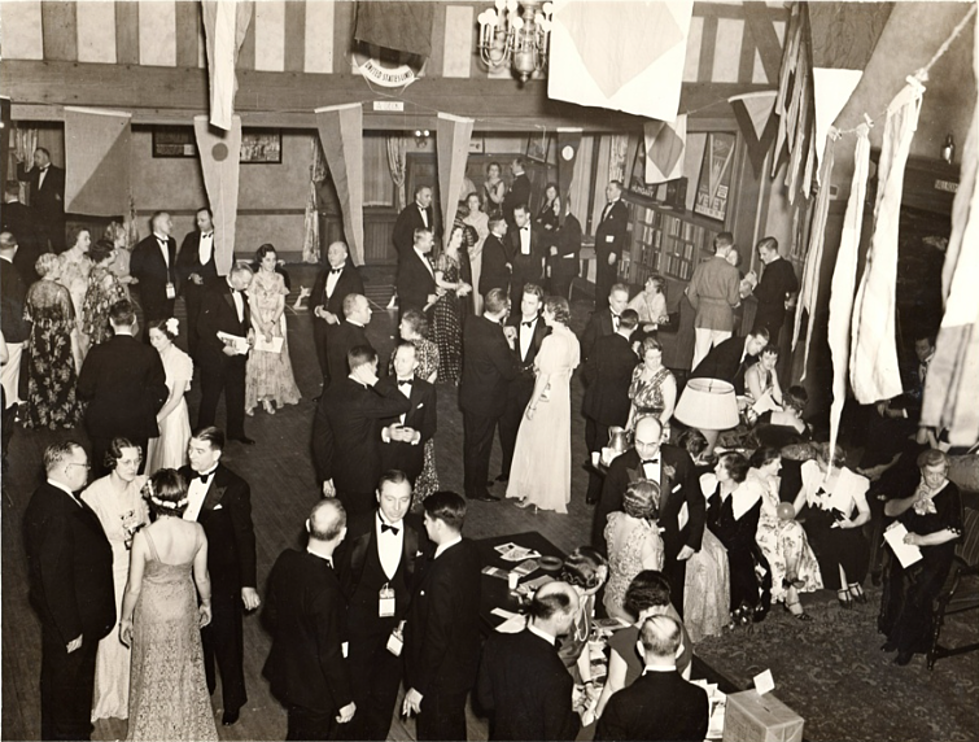 Woman's Club of Upper Montclair marks '120+1′
A gathering in the lounge area of the Woman's Club of Upper Montclair clubhouse in the 1950s. (COURTESY PATRICIA PARK/WOMAN'S CLUB OF UPPER MONTCLAIR)
By ERIN ROLL
For Montclair Local
A longstanding Montclair institution is having a belated birthday party this year. 
The Woman's Club of Upper Montclair is marking 121 years, or "120 + 1," of providing an outlet for women in Montclair and surrounding towns to meet and exchange ideas, and of being a community support organization for different charitable groups in the township. 
Last year would have been the club's 120th anniversary. But because of the COVID-19 pandemic, the anniversary celebration had to be postponed. Instead, this year the club is marking its "120+1" anniversary. 
On Oct. 6, the club hosted an anniversary party, with Mayor Sean Spiller and other town officials in attendance, along with descendants of club founder Emma Allen Dodd. 
The Montclair Township Council also recognized the club's anniversary in a proclamation issued during its Oct. 12 meeting. 
For the club members, the anniversary is a chance to pay tribute to all of the work and accomplishments of the club's founders, and to help the club continue its mission well into the future. 
"We feel great because we can continue the great work that has started," said Trautie Becker, one of the club's two co-presidents, who has been a member since 1989.
The Thursday Club
The club started out in 1900 as the Thursday Club, founded by Dodd and meeting twice a month for Montclair women who wanted to exchange ideas, present lectures and organize community service projects, as described in an account by club historian Patricia Piermatti. She described the history in a speech at the anniversary party, which was provided to Montclair Local.
(The Montclair Women's Club, founded in 1915 and located on Union Street, is a separate organization.)
Dodd, born in Ohio in 1842, had moved to New York as an adult to start a career in working with the poor, Piermatti said. Her work included teaching a Bible class at Tombs Prison and teaching Sunday school classes at Olivet Chapel. 
She and her husband, Robert, moved from Brooklyn in 1894, settling in a house on Upper Mountain Avenue, Piermatti said. 
In 1900, Dodd came up with the idea for a club for women, as an organized outlet to assist in the emancipation of women, Piermatti said.
The idea did have some naysayers, Piermatti said. She cited a quote from one man at the time: "It isn't needed in this peaceful, quiet place of homes … it might mean women's suffrage and all those dreadful things." 
But Dodd and a group of like-minded women started the Thursday Club, meeting on a rotating basis at different members' homes. The club's mission, Piermatti said, was "to bring women together for mental stimulus and for cooperation in working out the problems of the day; to consider and provide measures of social welfare; and to furnish educational and other entertainment for the benefit of the organization and the general public." 
Building membership
The Thursday Club changed its name to The Woman's Club of Upper Montclair in 1902, though it would be another 18 years before it was officially incorporated under that name. It became a registered member of the New Jersey State Federation of Women's Clubs, Piermatti said in her speech. 
Two years after the club's incorporation, the club began searching for land on which to build a permanent clubhouse. By that time, the membership had ballooned to 1,119 members, prompting the need for a meeting venue. 
Harriet Cooper, whose family had lived in Montclair since 1859, owned a plot of land on the corner of Northview and Cooper avenues. She sold this land to the club for $7,500 in 1922, and construction began on the clubhouse the following year. 
The house is now included on both state and national registers of historic places, Piermatti said. The space includes a large ballroom, an auditorium, dining room and kitchen on the first floor. 
Membership declined from the 1950s onward, as more women entered the workplace and had less time for daytime social activities. At its peak in the 1940s, the club had 1,350 members. Today, membership stands at about 120 members. 
Some women who served in leadership positions with the club ended up going on to other careers in public service. Adelaide Conyngton, at one time the club's president, became the first woman to serve as chair of the Montclair Public Library Board of Trustees in 1926, Conyngton said. Mary Mochary, who served as Montclair's first and to date only female mayor in the early 1980s, was also a club member. 
Hoping to grow
Over the years, the club has supported groups such as Toni's Kitchen, the Human Needs Food Pantry and Montclair Emergency Services for Hope (MESH). 
The club is hoping to grow its membership base and attract new members. 
Patricia Park, the club's director of communications, said a lot of new memberships come about through word of mouth: Current members tell prospective members about the club and suggest that they join. She added that the club has just become a member of the Business Association of Upper Montclair, which has been valuable in making business connections and conducting outreach to prospective members. 
The club had to cease holding in-person events in March 2020, as the pandemic began to pick up strength. But this year, some in-person events have resumed, including regular standing activities such as the book club and needlework club, and in-person lectures. The club recently hosted a lecture on mapping family trees, presented by Jane Mackesy, past president of the Hudson County Genealogical Society. 
On Sunday, Nov. 7, the club will be holding its annual Holly Berry Bazaar, which is one of the club's biggest social and fundraising events. 
This post has been updated to attribute several statements about the Woman's Club of Upper Montclair's history to a speech made by club historian Patricia Piermatti, provided to Montclair Local.