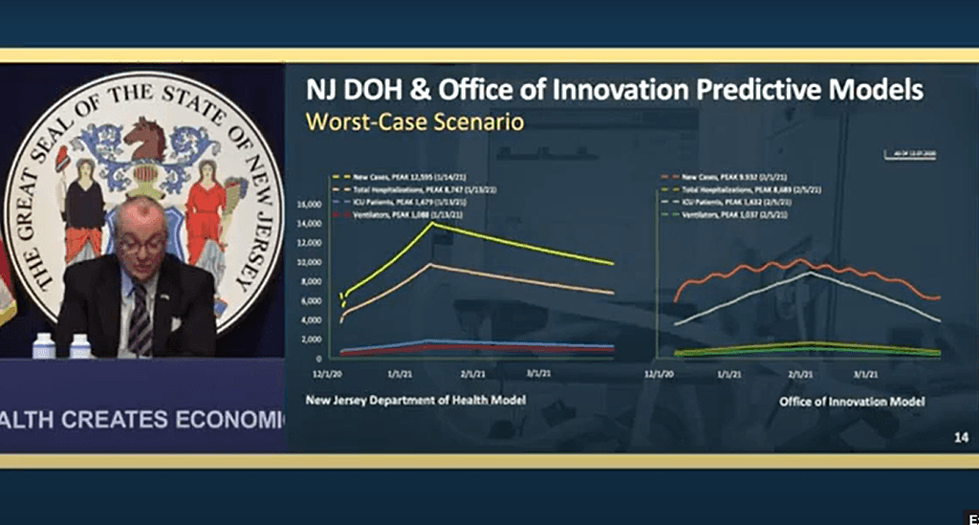 COVID-19: Worst case scenario could see 12,000 new daily cases in mid-January
COURTESY STATE OF NEW JERSEY Gov. Phil Murphy presents two possible models of a worst-case scenario for the COVID-19 pandemic over the next two months.
By ERIN ROLL
roll@montclairlocal.news
New Jersey could see a peak of the second wave in mid-January or early February, according to models assembled by the Department of Health. But the severity of that wave depends on whether people continue to wear masks and practice social distancing.
A worst-case scenario could have as many as 12,000 new cases on Jan. 14, with more than 8,000 people in the hospital. 
At the Dec. 9 press briefing in Trenton, Gov. Phil Murphy presented some prospective models on how the pandemic could proceed in the coming months, based on existing data, and depending on the public's adherence to public safety guidelines. 
In a worst-case scenario, as many as 12,595 new cases could be reported on Jan. 14, with 8,747 people in the hospital. Of the hospital patients, 1,679 patients would be in intensive care, and 1,088 patients would be on ventilators. 
A second worst-case scenario model by the Office of Innovation would put the peak on Feb. 2, with 9,932 new cases, and 8,689 people in the hospital.
A moderate-case scenario keeps the anticipated dates of the peaks, but the Department of Health's model has 9,120 new cases on Jan. 14, while the Office of Innovation - a state office created by the Murphy administration to work on issues related to policies and problem-solving as they relate to the state's economy and other sectors - has 7,180 new cases on Feb. 1. 
Health Commissioner Judith Persichilli said the numbers are a reminder that everyone is responsible for helping to bring down the rate of infection. "What happens next is up to all of us," she said. 
Murphy emphasized that the models are not static, but are subject to change based on the data that comes in. 
In a moderate-case scenario, Murphy said that there would be no need to institute prior restrictions. He said however, the state would have no choice but to act if the numbers over the next month indicated a worst-case scenario. 
On Thursday, Dec. 10,the vaccine advisory committee for the federal government will review the Pfizer vaccine and submit recommendations to the FDA, which will then make a decision on issuing emergency use authorization. 
It is expected that the first vaccines may arrive next week, with the anticipated first 76,000 doses being reserved for health care workers.
Officials also reiterated that the holiday season is not going to be a normal one, due to health risks associated with holiday gatherings and other activities.
Murphy urged residents to continue mask wearing and social distancing, reminding them that relief was coming. 
Today's numbers
As of Dec. 9, officials reported 4,665 new cases, down from 5,820 reported yesterday, bringing the total to 381,486. The positivity rate now stands at 13.18 percent, and the virus transmission rate now stands at 1.10. 
Last night, hospitals reported 3,533 total patients, including 630 in intensive care and 412 on ventilators, compared to 3,482 patients, 671 critical care patients and 423 ventilators on Dec. 7. 
By comparison, Murphy said, at the height of the first wave in the spring, hospitals reported 8,270 patients, including 2,051 critical care patients and 1,872 patients on ventilators. 
Officials confirmed another 91 new deaths, slightly up from the 90 reported on Dec. 8. The state's death toll now stands at 15,674 total deaths, with 1,868 probable COVID-19 deaths.
Essex County officials reported 337 new cases on Dec. 9, compared to 434 on Dec. 8. The total is now 39,306. Another seven deaths were reported, compared to 10 on Dec. 8, bringing the total to 2,046. 
Montclair health officials reported six new cases on Dec. 9, down from 12 on Dec. 8. The total now stands at 1,089. The number of deaths remains at 57.