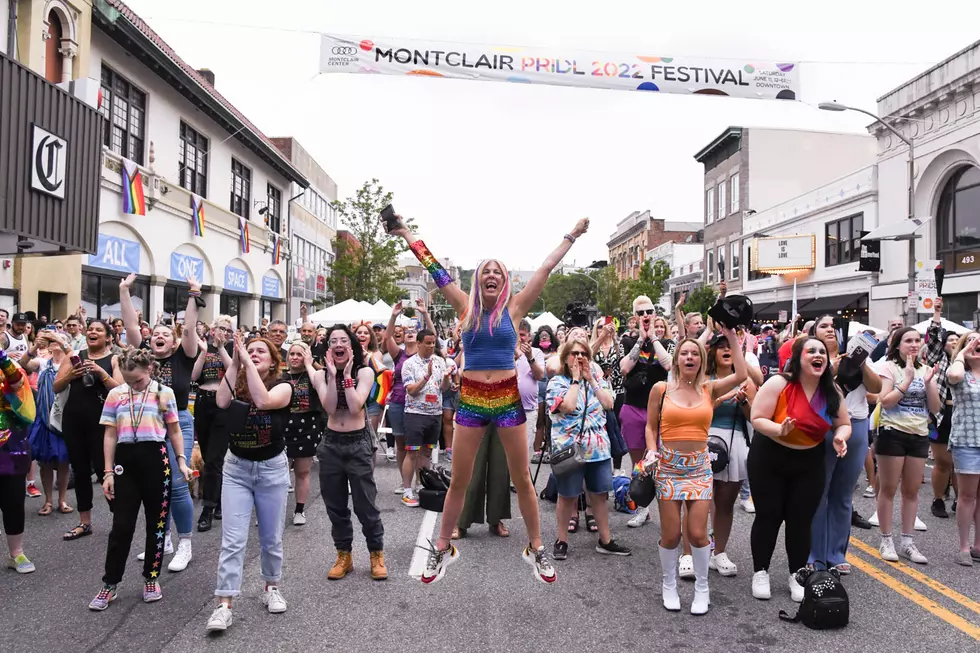 At first-ever Montclair Pride Festival, 'my inner child is so proud and beaming'
Attendees enjoy a performance at the Montclair Pride Festival. (KATE ALBRIGHT / FOR MONTCLAIR LOCAL)
Carmen Carrera looked out over a sea of faces — gay and straight; young and old; trans, nonbinary and cis; people of innumerable and varied identities, some still discovering how their own are evolving. 
"It was just beautiful to see so many people here, so many allies — and just [being] able to share this space with you means a lot, " Carrera, a model, actress, trans activist and former RuPaul's Drag Race contestant, said from the main stage of the first-ever Montclair Pride Festival. "I think my inner child is so proud and beaming right now."
That sentiment was shared by many attendees and participants in the festival, which closed off parts of Bloomfield Avenue, Church Street and Park Street Saturday afternoon to accommodate more than 150 vendors and sponsors, two performance stages and thousands of Montclair residents and visitors. And as appropriate to the theme of the event, many expressed pride — not only in their own LGBTQ identities or allyship, but in a community that embraced the same. 
The event was organized by Out Montclair, a nonprofit organization formed last year by Peter Yacobellis, the first out gay member of the Montclair Township Council, to celebrate and provide a space for the Montclair area's LGBTQ community. For Pride Month, Out Montclair and other participating community groups organized two weeks of events, including Pride Night at the Montclair Art Museum, Reading Scripture with Pride at the Unitarian Universalist Congregation at Montclair and Drag Queens and Doughnuts at Rabble Rise Doughnuts.
The festival itself was capped off by the Montclair Pride Concert at the Wellmont Theater, featuring  Australian singer/songwriter Betty Who, known for "Somebody Loves You," "All of You" and "All Things," her cover of "Queer Eye's" opening number. The event drew dozens of sponsors, including Montclair Local, which had a table on Park Street. 
U.S. Rep. Mikie Sherrill, a Montclair resident whose district includes most of the township, took to the main stage to speak about her time in the U.S. Navy, while the military's "Don't Ask, Don't Tell" policy remained in effect. The policy, from 1994 to 2011, barred discrimination against gay or bisexual service members, but only so long as they remained closeted; people who were out were barred from service.
"I had so many friends who couldn't share their personal lives or experiences without friends, who had to hide who they were, who were afraid that if anybody found out who they loved they would no longer have a job, they would no longer be welcomed to serve their country," Sherrill said. 
Discussions of policy and LGBTQ rights were addressed in Yacobellis' own speech, which highlighted the festival's theme of "Be You. Be Heard." He urged the crowd to celebrate its LGBTQ members, but reminded attendees that there are still many obstacles that LGBTQ individuals, particularly trans youth, face.
Several states have passed or are considering restrictions on gender-affirming care for trans youths, including puberty-blocking drugs and surgery. Several states and organizations have also restricted participation in sports, so that athletes can only compete with others assigned the same sex at birth; for instance, a trans girl wouldn't be allowed to play on a team with cis girls. 
"We're living in a time of terrible verbiage and violence against anyone different," Yacobellis wrote in his prepared remarks, shared with Montclair Local. "All of us have to band together to defeat that darkness. You do that by being you."
He highlighted his own work in cooperation with others in Montclair's government to advance LGBTQ protections, and thanked the community for showing an "outpouring of love and support."
In between speakers, the main stage hosted a variety of performances, including by singer Mariah Ayscue, Fab the Duo and the Broadway cast of "Jagged Little Pill."
"They were so talented," Hope Riel, a festival attendee, said. "It was incredible to see 'Jagged Little Pill' since they closed on Broadway."
The second stage — dubbed the School of Rock stage, for one of the event's sponsors and participating organizations — included performances oriented toward younger attendees, such as by the Montclair School of Rock House Band and Drag Queen Story Time.
One of the books included in Drag Queen Story Time was "Mighty May Won't Cry Today," written by couple Claire-Voe and Kendra Ocampo.
The book was written in response to a lack of books showcasing families with two mothers or two fathers. The Ocampos were also sponsors of the festival, and had a booth set up where they sold their book and told their story.
Other vendors included Veronica Johnson (on Instagram as atomic_demon_art), a trans woman illustrator and artist who shared her booth with friend and fellow illustrator Elise Miguel (on Instagram as elisemghell). The pair's booth was stationed in front of the Eclectic Chic boutique, where Johnson works, and which let Johnson use its street space.
"I was shocked at how many people attended today," Johnson said. "Folks loved my artwork and were excited to support local artists. I love this community so much and I'm glad I'm a part of it."
Miguel described the festival as "absolutely incredible."
"It's really amazing and heartwarming to see the entire Montclair community come together and celebrate pride in such a big way," Miguel said.
Some booths were dedicated specifically to providing support to members of the LGBTQ community, like that of Nicolle Maroulis' nonprofit organization, No More Dysphoria. The group's primary mission is to aid transgender and gender noncomforing individuals with paying for care for their transitions. Maroulis, who identifies as a nonbinary trans masculine queer person, began the nonprofit in 2015.
"Growing up in this area, I always looked up to Montclair and felt disappointed that there were no outlets for LGBTQIA+ youth to explore and express themselves," Maroulis said. "Now seeing everyone come out for the queer kids of our generation means a lot."
— Includes reporting by Talia Adderley
Montclair Pride Festival 2022
Journalism like Montclair Local's is only possible because of the continued support of our members. Sustaining memberships of $10 a month or more entitle you to our print edition, and help provide us with the stable, predictable financial base that helps us plan to bring you important journalism for years to come. If you value this article or others from Montclair Local, consider becoming a sustaining member; sign up with the form below.